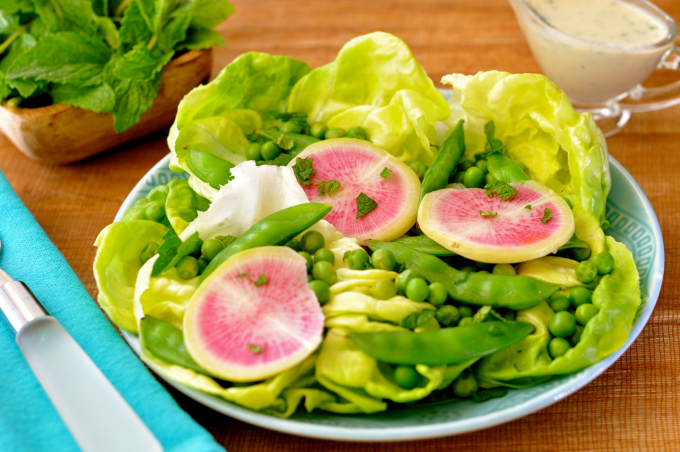 Pea Salad with Oil-Free Miso Mint Almond Milk Dressing
Happy spring everyone! I love when spring rolls in because it makes me feel so optimistic.
Spring also brings so many vibrant fruits and vegetables like this pea salad with english peas, sugar-snap peas, watermelon radishes, butter lettuce, and fresh mint. Yum!
I also choose to make a fresh and zesty oil-free dressing to compliment spring's best flavors and not mask them.
Before we get to this week's pea salad recipe, I would like to continue the conversation from last month on why the best milk to drink isn't from a cow.
Since I wrote that blog, I taught plant-based cooking classes on the Holistic Holiday at Sea Cruise. I also attended several lectures on that cruise from plant-based gurus Dr. Neal Barnard, Dr. T. Colin Campbell and Dr. Michael Greger.  One of the lectures was about the connection between cow's milk and rheumatoid arthritis.  I wasn't aware of this, and I wanted to share it with you today.
Arthritis is very common. More than 50 million adults have doctor-diagnosed arthritis. The Arthritis Foundation projects that by 2030 there will be 67 million cases of arthritis.
Typical arthritis joint symptoms include swelling, pain, stiffness and decreased range of motion in the joints. When you have arthritis, your body is in an inflammatory state. What you eat can increase inflammation.
What I learned from the doctors is that casein and dairy intolerance can make the inflammatory effect of arthritis even worse. Casein is found in all cow's milk and is also used as an additive in many processed foods.
They also discussed an extensive study by the British Journal of Rheumatology way back in 1985.  The BJR studied the case of an eight-year-old female with severe rheumatoid arthritis. The doctors put her on a non-dairy diet and after avoiding dairy products for only three weeks, all the pain and symptoms were gone.
So there is a colossal amount of information, linking the consumption of cow's milk to arthritis.
If you suffer from any form of arthritis, please consider avoiding dairy products to alleviate your pain. You can read more about the connection between cow's milk and arthritis here. Also, remember to read labels carefully because casein is hidden in many foods as an additive.
Now on to this week's pea salad recipe.
I'm grateful to be teaming up with non-dairy Silk products this year. They provide many delicious non-dairy milk alternatives that don't have casein, pesticides or saturated fat.
My favorite is the Silk Unsweetened Almond Milk.  I use it many of my recipes because it has a delicious clean taste with no added sugar. It is also only 30 calories per serving. Just in case, you were wondering, Silk Unsweetened Almond Milk contains more calcium and vitamin K than cow's milk. It is also non-GMO.
This week I used the unsweetened almond milk to dress a delicious variety of fresh spring vegetables in this pea salad. Which included sugar snap peas, english peas, watermelon radishes, mint and Boston lettuce.
Oil-Free Miso Mint Almond Milk Dressing made with Silk Unsweetened Almond Milk
This is an oil-free dressing. I personally like to keep my oil at a minimum. Regardless of who deems them healthy fats, oils are still 100 % processed fat, and there are so many other ways to add flavor and balance to a salad dressing.
Also, if you have never experimented with miso before, now is your chance.
Miso is a fermented paste made out of cooked soybeans. The miso is aged and used as a base of flavoring in a lot of Japanese cooking. It comes in a variety of colors. The white miso used in the pea salad has the lightest and sweetest taste. You can use it in salad dressing, soups and in place of dairy in many recipes. It tasted delicious combined with the Silk Un-Sweetened Almond Milk.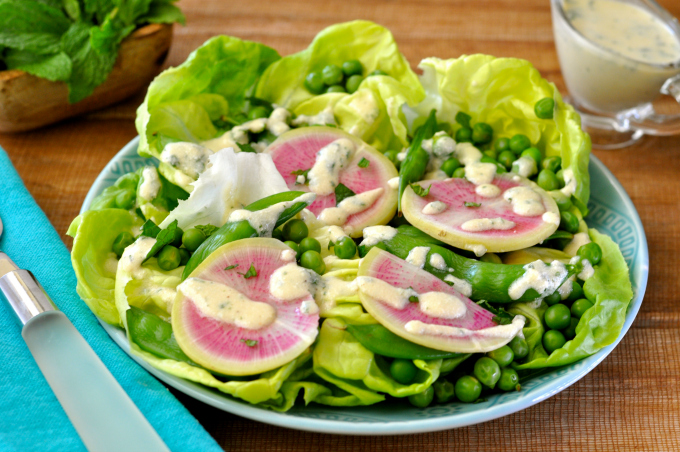 Pea Salad with Butter Lettuce and Watermelon Radishes
Hope you enjoy this pea salad with creamy, oil-free, miso mint, almond milk dressing as much as I did. Don't miss any of Ordinary Vegan's free recipes by signing up here.
Learn more about health, wellness and nutrition on my newly launched podcasts on my website or in iTunes.
You can sign up for the Silk newsletter here for recipe ideas. Here is the store locator just in case you are having trouble locating Silk products.
The next time you go shopping, embrace the best milk to drink. Non-dairy, low-fat, sugar-free, lactose-free, pesticide free, non-GMO almond milk. I promise it will be one of the best decisions you can ever make.
This is a sponsored conversation written by me on behalf of Silk. The opinions and text are all mine.

Pea Salad with Oil-Free Miso Mint Almond Milk Dressing
Spring into spring with this fresh pea salad with oil-free miso mint dressing.
Ingredients
Salad
1 head of butter lettuce
1 cup of english peas
2 cups of sugar snap peas
1 large watermelon radish
Vinaigrette
Juice of 1 4-6 inch knob of fresh ginger
6 ounces of organic soft tofu
2 tablespoons of white miso paste
1 tablespoon of Dijon mustard
4 tablespoons of unseasoned rice vinegar or white wine vinegar
½ cup unsweetened almond milk
Juice from 1 large fresh lime
¼ teaspoon of salt
Fresh ground black pepper
¼ cup fresh mint leaves and some for garnish
Instructions
Trim sugar snap peas. Pull off strings.
Place a steamer basket in a saucepan and add water to come 1 inch up side. Bring to a boil.
Reduce the heat and place sugar snap peas and english peas in the basket. Cover and steam until tender-crisp, approximately 1-2 minutes. Making sure not to over steam and keeping them crisp.
Thinly slice the radish.
Separate the lettuce leaves. Tear the largest leaves in half, leaving the small leaves whole. Wash, rinse and dry the lettuce.
Vinaigrette
Grate the ginger on the large-hold side of a box grater until you have 2 tablespoons. Collect the grated ginger in your hand and squeeze out the juice into a small bowl. You should have about 1 teaspoon of juice. Discard the grated ginger.
In a food processor, add the ginger juice and all the vinaigrette ingredients except for the mint. Process until smooth. Add the fresh mint and give it a couple of pulses. Taste and adjust seasoning if needed.
Arrange the lettuce leaves on four plates. Top with ½ cup of sugar snap peas and ¼ cup of english peas. Top with radishes or any vegetable you desire. Drizzle with dressing. Garnish with some more fresh chopped mint.