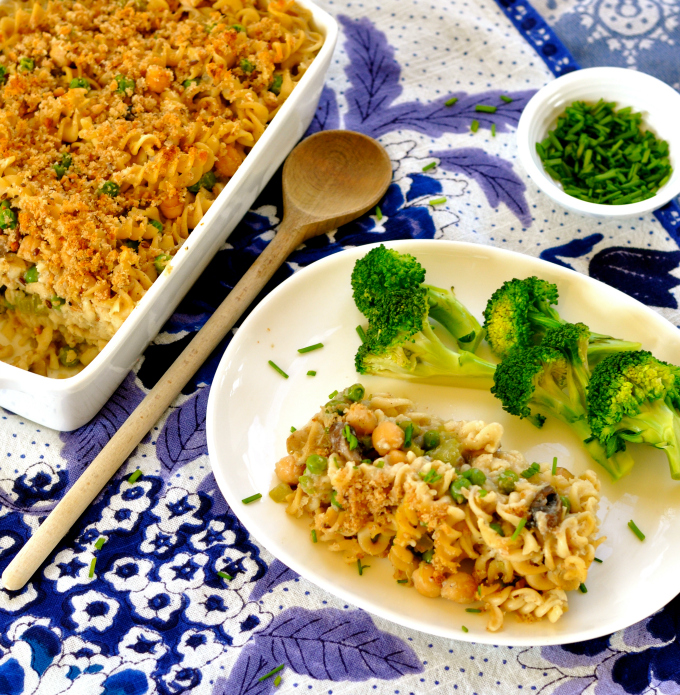 A record number of people have pledged to go on a plant based diet in January. Estimates are at  50,000 and growing every day. The Global Food Forum is calling a plant based diet one of the top 5 trends of 2017.
Knowing that healthy food is accessible and affordable makes a huge difference when you switch to a plant based diet.  It is also part of the reason why people choose to stay vegan.
Over the years, many of you have reached out to me because you are in college or retired without a steady income and you want to go plant based but worry about the expense. I am happy to announce that a mainstream chain called Kroger wants to make sure you can easily find and serve more natural, plant based and organic foods.
Kroger has hundreds of grocery stores across the country under the names of Ralphs, Scott's, Smith's, City Market, Baker's, Jay C, King Soopers, Gerbes Super Markets, Jay C, QVC and Pay Less Super Markets. Here is a store locator.  I visited the Ralphs in Glendale, California and wanted to share my experience.
As I entered the supermarket, I was immediately struck by the first thing I encountered. It was a giant step down solely devoted to nuts. Bags and bags of healthy nuts are an excellent source of protein on a plant based diet.
To the right of that was a large organic produce section. I immediately noticed how less expensive this organic food was compared to many of the grocery stores I have recently been shopping at, and the produce looked amazing.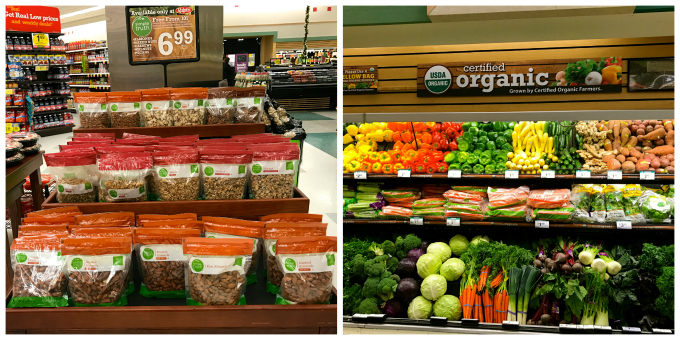 Affordable Healthy Plant Based Diet Food
My next stop was to find Silk non-dairy milk and coconut yogurt for today's recipes. Once again, Ralph's carried a large selection of Silk's non-dairy milk including soy, coconut, protein nut, and cashew. They also carried So-delicious non-dairy yogurt. Both are included in today's plant based diet recipes.
Silk also released a new protein nut milk that has 10 grams of protein and only 2 grams of sugar. I'm sure it will fly off the shelves. I tried it and it was delicious.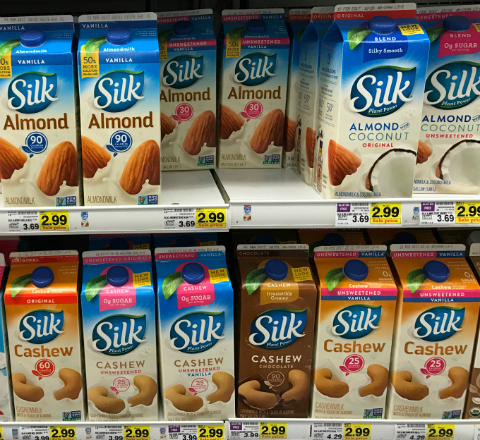 Kroger also developed a new line of food called Simple Truth Products. Simple Truth Products specialize in organic and natural foods. For example, you could buy organic beans for as little as a $1.00 a can. As many of us know, most organic beans can run from $2.00 to $3.00. They also carry affordable grains.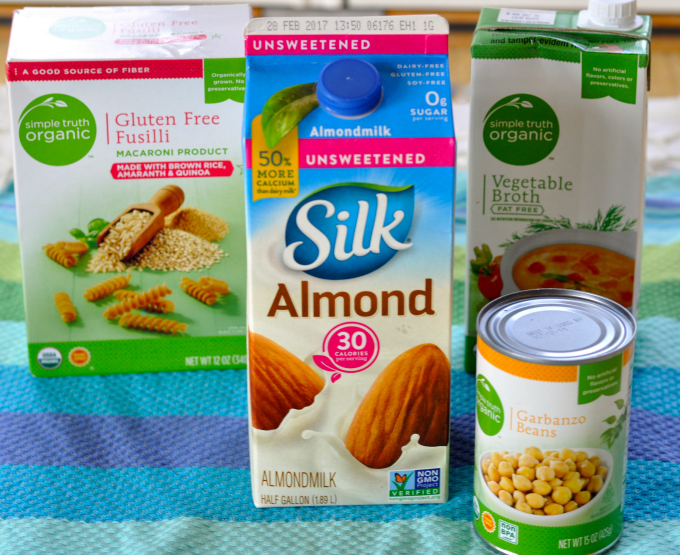 Plant Based Diet Ingredients For Mock Tuna Casserole
Always remember, a healthy plant-based diet consists of grains, legumes like beans and lentils, vegetables, fruit, and healthy fats like nuts and seeds.
I am happy to say that the Kroger-owned stores have all of these elements and the best part, Kroger is making them affordable.
Hope you enjoy today's recipes. I decided to create three simple recipes to highlight what a day's worth of food can be on a plant-based diet especially if you keep it simple.
Start your day with some organic So-Delicious non-dairy coconut yogurt. Top it with all your favorite nuts, fruits, and seeds. Create your own unique flavor of yogurt by blending your favorite fruit, a touch of vanilla and a teaspoon of maple syrup. Today I created a creamsicle yogurt with So-Delicious vanilla non-dairy yogurt and Cara oranges. I must say, vitamin C has never tasted so good!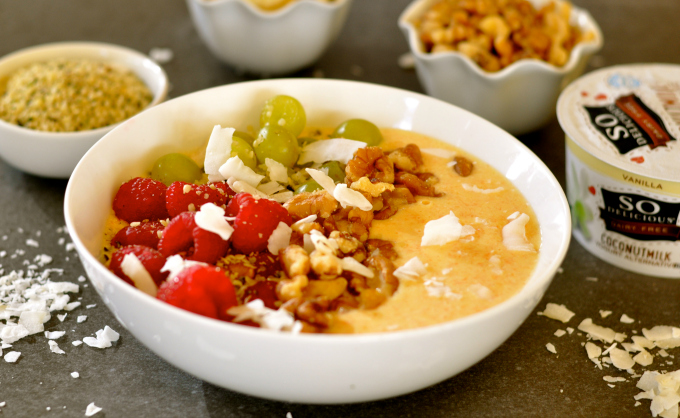 Plant Based Diet Breakfast Bowl
Lunch is one of my new favorite grab 'n' go ideas that has all the nutrition you need in one jar. The basic idea when packing salads in jars is to start with the heaviest and most non-absorbent ingredients with the dressing on the bottom of the jar. Then work your way up. I made sure I include a legume, grains, nuts, seeds, fruit and vegetables.
Any jar with a tight lid can work, but wide-mouthed jars are the easiest for packing the salad and shaking them out. As long as your jar doesn't accidentally tip over, the delicate portions of your salad will be protected from the dressing until you're ready to eat. I like to stuff the entire salad into some whole-wheat pita bread and serve with a side of fruit.
Here is a link to one of my favorite vegan salad dressings; Creamy Vegan Ranch which I created with Silk non-dairy milk. When it comes to non-dairy milk, Silk has the most options. I like the Silk unsweetened cashew milk for my Alfredo sauce, Silk's unflavored soy for all my baking and my favorite Silk's unsweetened almond milk when making rich, creamy baked macaroni dishes like today's mock-tuna casserole.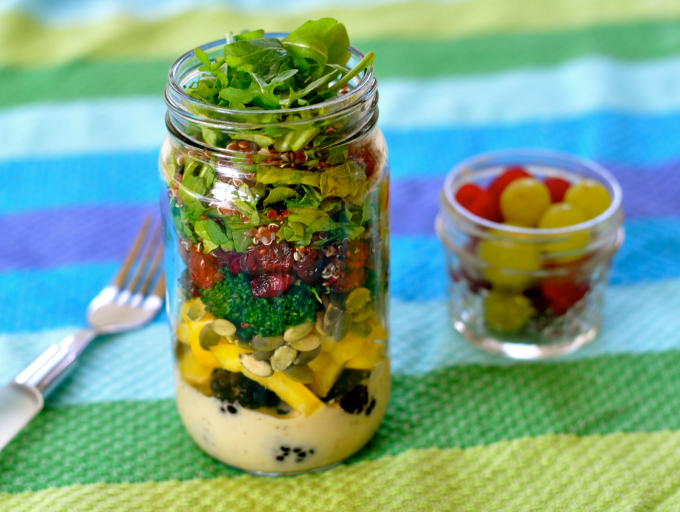 Plant Based Diet Salad In A Jar with Creamy Vegan Ranch Dressing
Blackberries, Bell Peppers, Pumpkin Seeds, Broccoli, Cranberries & Arugula
For dinner, I created a mock tuna casserole. This dinner is a good reminder that it is not about the animal protein, it is about the flavors. I have taken most of my favorite recipes and recreated them with plant protein. And today I used healthy chickpeas instead of tuna and fresh mushrooms and Silk unsweetened almond milk instead of the traditional can of Cream of Mushroom soup. The Silk unsweetened almond milk has a nice clean flavor and contains no cholesterol or saturated fat. It is also free of GMOs, gluten, and lactose.  So this quintessential American dish has all the flavors of a traditional tuna casserole without all the saturated fat and calories.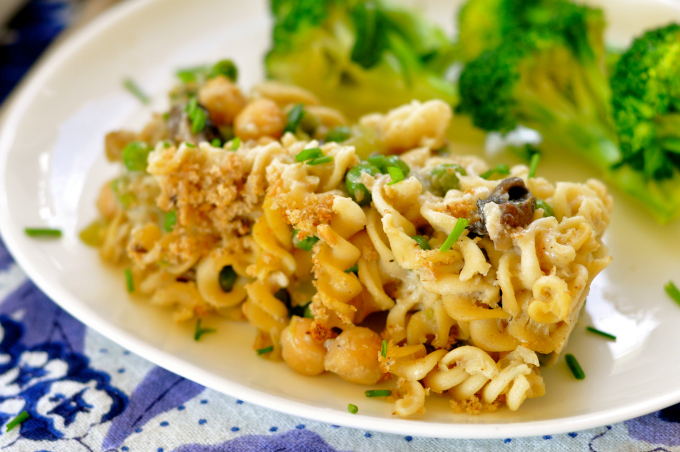 Creamy Plant Strong Mock Tuna Casserole with Chickpeas, Peas and Mushrooms
If you are just getting started on a plant based diet,  I congratulate you. I hope today's posting reassures you that mainstream grocery stores like Kroger know you want to eat healthier and are trying to make it as affordable as possible.
I would like to thank Silk for sponsoring today's post. Silk and I have been on a mission to convert more people to a healthy plant-based diet. You can find Silk products at most mainstream grocery stores or use this handy store locator. You can also sign up for Silk's newsletter here.  It contains lots of recipe ideas and money saving coupons.
Sending you lots of peace and compassion in 2017.
This is a sponsored conversation written by me on behalf of WhiteWave Foods. The opinions and text are all mine.
Mock Tuna Casserole
Ingredients
1 pound fusilli pasta or elbow macaroni
½ cup nutritional yeast
1 small onion, chopped
1 leek, chopped
1 cup celery, chopped
2½ cups chopped mushrooms (portobello, white or Cremini or a combination of all)
3 cloves garlic, chopped
½ cup vegetable broth for sautéing plus 1½ cups
2 cups non-dairy unsweetened milk (soy or almond)
¼ cup all-purpose flour
1 teaspoon salt
½ teaspoon ground black pepper (or more to taste)
2¼ cups of cooked chickpeas (aka garbanzo beans)
1 cup frozen peas, thawed
3 tablespoons chopped fresh parsley (or more to taste)
¼ - ½ cup breadcrumbs for topping (optional)
Instructions
Preheat oven to 400 degrees F.
In a large pot of boiling water, cook pasta 2 minutes less than package instructions. It will be slightly undercooked. Drain. In a large bowl, toss the pasta with the nutritional yeast and ¼ teaspoon salt and some fresh black pepper.
Heat ½ vegetable broth over medium heat. Add onion, leeks and mushrooms and cook until soft about 5-7 minutes. Add the garlic and cook until fragrant and soft another 2 to 3 minutes.
Add flour and whisk to coat onion mixture. Slowly whisk in broth, then milk.
Cook, stirring constantly until sauce comes to a boil. Reduce heat and simmer, stirring frequently, until sauce is thickened, about 6-8 minutes.
Stir in salt, pepper, peas, chickpeas and fresh parsley.
Add the mixture to the bowl of pasta. Transfer chickpea mixture to a 9-by-13-inch baking dish and top with breadcrumbs. Bake until sauce is bubbling and crust is golden about 20-25 minutes.