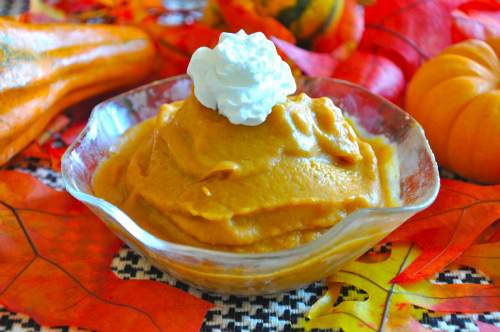 Avoiding GMOs When Eating Out & Vegan Pumpkin Ice Cream
When we eat packaged and processed foods, most of the time they contain ingredients we didn't count on including pesticides, herbicides and genetically modified organisms(commonly known as GMOs).
According to The  Institute for Responsible Technology, large manufacturers of these packaged and processed foods are playing "genetic roulette" with your body,  and they document at least 65 serious health risks from genetically modified foods. I find it easy to avoid GMOs while cooking at home, but it is increasingly difficult when eating out.
I foresee a future when restaurants will advertise that they do not serve GMOs.  Until that time, here are some precautions you can take when eating out and avoiding GMOs.
How To Avoid GMOS When Eating Out
1. Consult the list of at-risk ingredients on the Non-GMO shopping guide and avoid them. These foods include derivatives of soy, corn, cottonseed oil, canola oil, sugar betts, zucchini & yellow squash
2. Always choose pure cane sugar over other varieties of packaged of processed sugar. Ask what kind of sugar the kitchen uses in their deserts.
3. Ask  what type of oil the kitchen uses. Canola, cottonseed,  and corn oils,  are often genetically modified. If they say olive oil, make sure it is a pure oil, and not a blend with canola oil,  which is,  a common practice. Ask if your meal can be made with olive oil.
4. Choose restaurants that cook from scratch, rather than those serving a lot of fast or processed foods.  Processed foods contain GMOs.
Some people may think I am a pain in the butt,  but we all have the right to know what a restaurant is putting into the food that we are paying for.
The main issue with GMOs is the tendency to provoke allergic reactions and toxins in your body. Pregnant women and babies are at an even a greater risk. To make matters worse, there are unknown health and environmental issues that we may face in the future. To read more about GMOs and your health – click here.  Also, read about the fight over legislation that is going on in California regarding GMO labeling. The more you ask questions about GMOs at your favorite restaurants and food establishments, the more likely they will respond. Avoiding GMOs shouldn't be a task, it should be a right. Now on to food.
Fall is an lovely time of year and it is my favorite time to cook. Last week I bought a 10 lb pumpkin and created multiple recipes from that one pumpkin.  Here is a recipe for some very yummy vegan ice cream I made for my God Child Sawyer. I am happy to say, he loved it and I did too. Don't miss any of Ordinary Vegan's free recipes by signing up here.

Vegan Pumpkin Ice Cream
Vegan Pumpkin Ice Cream
Ingredients
2 13 oz cans of coconut milk
1½ tsp cornstarch
1 cup roasted pumpkin puree, canned or fresh
½ cup + 2 tbsp maple syrup
1 tbsp vanilla
1 tsp cinnamon
dash of nutmeg
½ tsp salt
Instructions
In a small bowl, whisk together the cornstarch with ¼ cup of the coconut milk, until the cornstarch is dissolved. Set aside.
In a medium size suacepan, whisk together the remaining coconut milk, pumpkin, maple syrup, vanilla, cinnamon, salt and nutmeg. Heat over medium heat and continue whisking until the mixture starts to bubble.
Reduce the heat to low and slowly whisk in the cornstarch mixture. Contnue to simmer for about 3 to 5 minutes, stirring frequently. Remove fro heat and chill the mixture completely.
Once chilled, you can whisk in a tbsp of Grand Marnier if you would like. I didn't use because I was making the ice cream for children.
Pour liquid into your ice cream machine bowl, and churn for 30 minutes, or according to manufacturer's instructions. Serve immediately. So yummy, kind of soft serve.
If you like a firmer consistency, Transfer the left-overs into a freezer safe container with lid, and freeze for about tow hours to thicken.
Notes
I like to drizzle my ice-cream with some maple syrup. Enjoy!