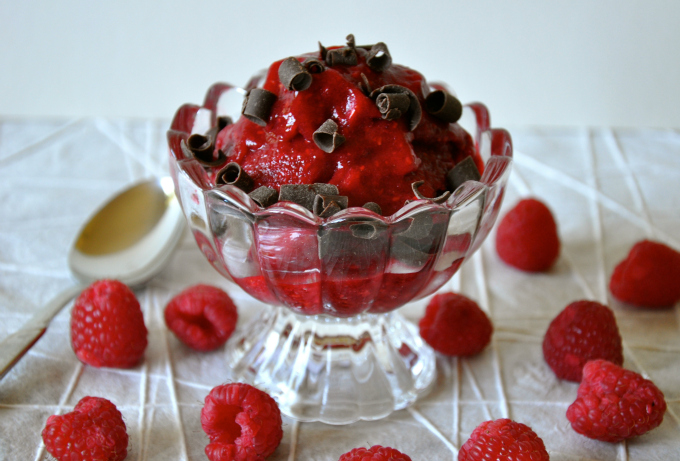 Raspberry Lime Vegan Sorbet with Dark Chocolate Curls
If you think making sorbet requires a lot of hard work and an ice cream machine – think again. This plant-based vegan sorbet  is so simple to create and only requires a blender or food processor.
Did you know that eating one cup of raspberries is only 64 calories and provides you with 54% of your vitamin C needs and 41% of manganese? One cup also has 1.5 grams of protein and 8 grams of fiber. Also, several studies have shown a correlation between raspberries and memory improvement. All berries can help prevent the decline of cells in the brain associated with memory loss. This is particularly important as we get older.  I recommend eating a handful of berries a day.
I have been having a blast creating all these sexy red Valentine's Day plant-based recipes for all of you. Hope you enjoy this vegan sorbet as much as I did. If you don't want to miss any of Ordinary Vegan's free recipes, sign up here.

Raspberry Lime Sorbet
Ingredients
3 pints fresh or 2 10 ounces frozen raspberries
½ cup fresh orange juice (juice from 2 medium oranges)
3 tablespoons lime juice (juice from 2 limes)
4 tablespoons organic maple syrup
1 ounce vegan dark chocolate curls (optional)*
Fresh mint, for serving (optional)
Instructions
In a shallow, glass dish, combine the raspberries, orange juice, maple syrup and lime juice. Stir well to combine. Cover and put into the freezer until frozen solid, approximately 5 hours.
Remove from the freezer and let it sit for 10 minutes. Break off chunks with a knife or large spoon and transfer the mixture to a food processor and process until smooth and creamy about 5 minutes. Serve immediately or place back into the freezer for up to 1 hour before serving. The sorbet will freeze solid again but can be processed again until creamy just before serving.
To serve, place a scoop into an ice-cream dish. Garnish with fresh raspberries, mint and dark chocolate curls.
To make dark chocolate curls - Using a vegetable peeler, scrape the blade lengthwise across the chocolate to create pretty, delicate curls. Refrigerate the curls until ready to use.