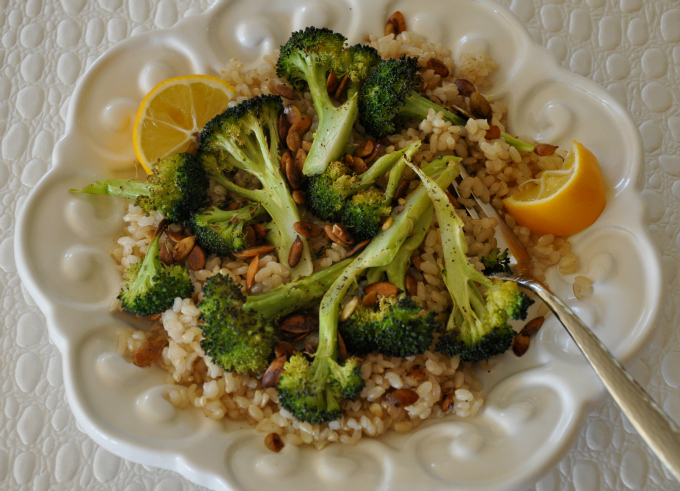 Roasted Broccoli & Pumpkin Seeds Over Brown Rice
If you love broccoli, you will love this easy plant-based recipe. If you are not a broccoli fan, you may even like this dish.  What I found out is roasted broccoli tastes very different than steamed or sautéed broccoli. It becomes caramelized and full of complex flavors.  The addition of the high-protein pumpkin seeds (also known as pepitas) adds another nutty complexity, and pumpkin seeds pack a nutritional wallop!  Did you know that there are 12 grams of protein in one cup of pumpkin seeds? Pumpkin seeds are also rich in essential minerals like zinc and magnesium which build muscle and ward off disease. In addition, the fatty acids contained in the seeds can help lower cholesterol.  Add that to all the minerals, vitamins and protein in the broccoli and brown rice, and you have the perfect simple meal. Hope you enjoy this nutritious and easy vegan recipe as much as I did. Wishing you a peaceful and compassionate day.

High Protein Roasted Broccoli & Pumpkin Seeds Over Brown Rice
Ingredients
½ cup raw, shelled pumpkin seeds
2 pounds broccoli, florets cut into ½ inch thick pieces
2 teaspoons extra-virgin olive oil
¼ teaspoon salt (or more to taste)
¼ teaspoon ground black pepper (or more to taste)
2 lemons, cut into wedges
2 cups cooked short-grained brown rice
Instructions
Pre-heat oven to 425 degrees
In a large bowl, toss the broccoli and pumpkins seeds with the olive oil, salt & pepper.
Arrange broccoli and pumpkin seeds in a single layer on 2 rimmed baking sheets.
Roast, rotating pans once, until golden and tender, about 20 minutes.
Divide rice among serving dishes and top with broccoli mixture. Squeeze a lemon wedge over each and serve.
Add a lemon wedge to each serving for more lemony flavor.