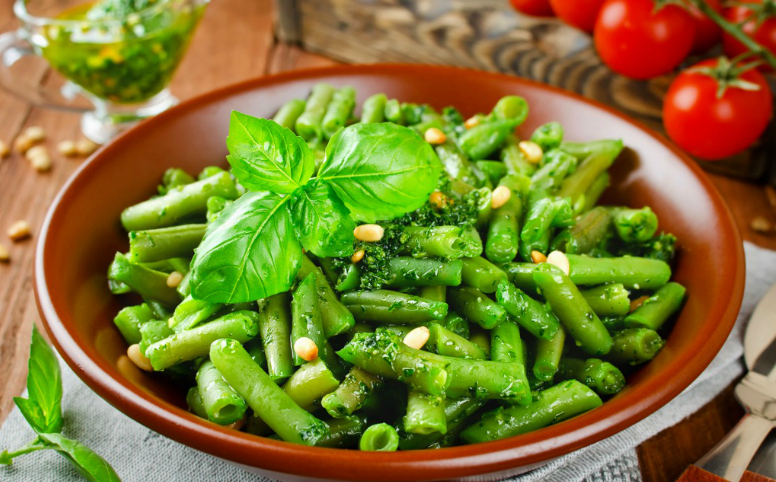 BBQ's and cookouts aren't just for animal protein.
Summer vegetables deserve a space at the table as well. Like this string beans recipe that is garnished in a fresh oil-free basil pesto with a touch of lemon zest and garnished with pine nuts.
I like to take advantage of all the summer has to offer, and I love dressing my vegetables up.
This string beans recipe is just one example of taking your green beans to a higher level without oil or butter.
Besides basil, green beans pair well with oregano, thyme, parsley, dill, and tarragon.
But the key to any green beans recipe is to keep the green beans crisp and never soggy.
When choosing the beans, make sure they are fresh and firm. There should be no discoloration or soft spots.
Store unwashed fresh beans in a plastic bag in the refrigerator crisper. If you are going to store them for a few days, add a paper towel to absorb any extra moisture.
I like to prepare them by blanching them quickly in rapidly boiling water for 4 to 5 minutes.
Immediately transfer the string beans to an ice bath after they have turned bright green and are still crisp. Pat them dry and dress.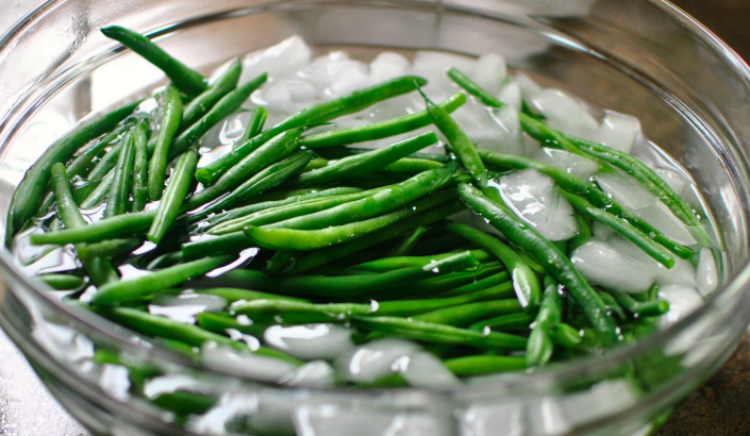 Hope you enjoy this string beans recipe as much as we did.
Always remember to purchase vegetables in season for the brightest and tastiest flavor. But when your favorite vegetable isn't in season, don't hesitate to buy frozen vegetables.
Many frozen food companies package vegetables like peas, carrots, beans, broccoli, and corn when they are fresh, preserving them by deep freezing. These vegetables can also maintain their nutritional value.
Thanks for stopping by. Don't miss any of Ordinary Vegan's free recipes by signing up here.
You can listen to Ordinary Vegan's podcasts on plant-based nutrition here or on iTunes.
String Beans Recipe with Fresh Oil-Free Basil Pesto
String Beans with Fresh Oil-Free Basil Pesto
The pesto will stay fresh tightly covered up to a week in the refrigerator. It also tastes delicious over potatoes.
Ingredients
2 pounds fresh, green beans, trimmed
Pesto
2 cups fresh basil, tightly packed and dried
2-3 garlic cloves, chopped
⅓ cup pine nuts (and a few for garnish)
2 tablespoons nutritional yeast
2 tablespoons fresh lemon juice
¼ cup vegetable broth (or more if needed)
Salt and ground black pepper to taste
Teaspoon lemon zest for garnish (optional)
Instructions
Bring a large pot of water to a full boil over high heat.
Add the beans and cook until bright green, tender and still crisp. Approximately 4-5 minutes.
Transfer the string beans to an ice bath to stop the cooking. Put them in a large bowl and pat them dry before dressing.
Zest your lemon if using.
Add all the pesto ingredients to a food processor and combine. Add more vegetable broth if too thick. Taste and adjust the seasoning adding salt and ground black pepper.
Combine some of the pesto to the string beans making sure not to overdress. Garnish with some extra pine nuts and lemon zest.