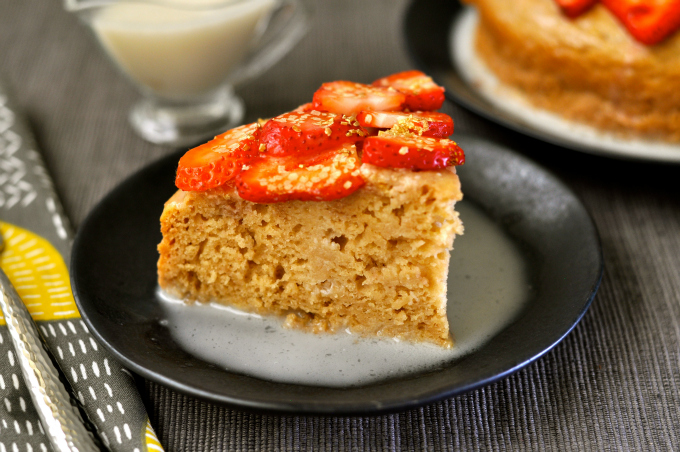 Vegan Tres Leches Cake with Strawberries Using Nature's Charm Vegan Sweetened Condensed and Evaporated Milk
Before I became vegan, my birthday cake of choice was always Tres Leches. Up until yesterday, I haven't had a Tres Leches cake for over 5 years and figured I could live without it. Until last week. That's when Nature's Charm gifted me with their new vegan sweetened condensed coconut milk and vegan evaporated coconut milk.  I asked our Ordinary Vegan Facebook community what I should make and I was surprised by all the enthusiasm. I guess I wasn't the only vegan who missed sweetened condensed milk. If you have never had Tres Leches cake before, it is a spongy dense but light white cake that has been soaked in three kinds of milk including sweetened condensed milk and evaporated milk. It should be served well chilled with at least a few hours of soaking time in the refrigerator. In fact, it tastes even better after an overnight soaking. The best thing is, there's no chance of serving a dry cake.
There are also many other fun things you can do with Nature's Charm vegan condensed milk. Our Facebook community recommended using it for satay sauce, macaroons, fudge, pumpkin pies and even cocktails. Please check out our Facebook page to see all their fabulous suggestions. I recommend using it in Vietnamese iced coffee, Boba or Thai-style iced tea. Actually you could pour it on any fruit for a simple, extra sweet, delicious dessert. There are also hundreds of ideas for the vegan evaporated milk including using it in place of cream in casseroles, soups, baked goods and all food Indian inspired.
Baking is not very forgiving so I don't make many fancy desserts, but I promise this cake is simple to prepare.  With the holidays coming up, you couldn't present a more impressive dessert to your friends and family! Hope you enjoy this vegan Tres Leches cake as much as I did. Don't miss any of Ordinary Vegan's free recipes by signing up here. Here is a link to purchase the Nature's Charm condensed and evaporated vegan milk online. It is also available at Sprouts and Mother's Market. You can follow @naturescharm on Instagram for more yummy recipes. For your information, this is a sponsored post.
P.S. I also included a recipe for my tofu vanilla cream frosting just in case you wanted some extra enhancement on your vegan Tres Leches cake.

Nature's Charm Sweetened Condensed Milk & Evaporated Coconut Milk
Vegan Tres Leches
Nature's Charm now has a vegan sweetened condensed milk and vegan evaporated milk. Here is the link to buy over the Internet.
Ingredients
Cake
¾ cup almond milk
1 teaspoon apple cider vinegar
2 tablespoons apple sauce
2 teaspoons vanilla extract
2 flax eggs *see note below or 2 tbsp Bob's Red Mill egg replacer with 6 tbsp of water
1 cup cake flour or all-purpose flour
1½ teaspoons baking powder
¼ cup vegan sugar
¼ teaspoon salt
Non-dairy milk mixture
½ cup Nature's Charm vegan sweetened condensed milk
½ cup Nature's Charm vegan evaporated skim milk
½ cup almond milk
Vanilla Frosting (optional)
½ cup firm silken tofu, drained
2 tablespoons of pure maple syrup
2 tablespoons of confectionary sugar
½ teaspoon of pure vanilla extract
1 tablespoon of Nature's Charm vegan evaporated milk
Instructions
Pre-heat oven to 350 degrees F
Lightly coat an 8-inch round cake pan with non-dairy butter and dust it with flour, making sure to shake off any excess flour. Set aside.
Curdle the non-dairy milk by whisking together the almond milk and apple cider vinegar. Set aside for 10 minutes.
In a large bowl, sift the flour, baking powder and salt into a bowl. Add the sugar and combine.
In a smaller bowl whisk together the curdled milk with the apple sauce, vanilla and flax eggs.
Add the wet ingredients to the dry ingredient bowl and mix well.
Pour the batter into the prepared pan.
Check the cake after 20 minutes. The cake is done when a toothpick inserted into the center of the cake comes out clean. Remove from the oven and cool in pan 15 minutes. Transfer to a wire rack to cool completely.
Whisk together the condensed milk, skim milk and almond milk in a bowl.
Arrange the cake on a serving platter. Poke holes all over the cake with a skewer. Slowly spoon the milk mixture over the cake until you have the desired wetness. Cover the cake and chill in the refrigerator for a few hours giving it time to absorb the milk. You may not use all the milk depending how wet you want the cake. I only used half. Cover and refrigerate the remaining milk mixture and spoon some on a plate before serving your cake.
Meanwhile, make the frosting if using. Combine the tofu, maple syrup, vanilla, confectionary sugar and evaporated milk in a food processor or blender. Process until smooth. Transfer to a bowl.
Remove cake from refrigerator and frost. Garnish with strawberries. Or just garnish with fruit.
*Flax eggs - 2 tablespoons of ground flax whisked with 6 tablespoons of water. Put in refrigerator for 10 minutes to thicken.