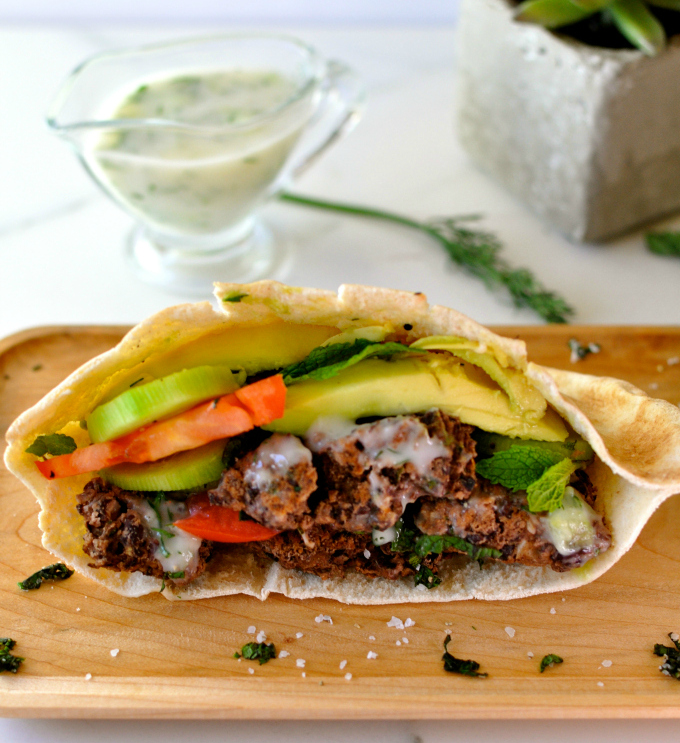 Healthy Vegan Burger with Creamy Cucumber Sauce
I love this vegan burger. It had an excellent texture, nice spices and held up pretty well. I bring that up because burgers made with animal protein have lots of sticky saturated fat which holds them together, but vegan burgers don't have all that fat, so they need a vegan egg replacer. I used the vegan flax eggs, but you could also just add some vegan mayonnaise to help hold the mixture together.
I was able to get a nice crunch on the outside by sautéing in a tiny bit of oil, but you could also bake these healthy little burgers and omit the oil.
They fell apart a little, but once they were packed into the pita bread, I didn't care because they were delicious. I then stuffed lots of vegetables like tomatoes, cucumbers, avocado and fresh mint inside. Then I topped it with this creamy yogurt cucumber dill sauce which mimicked a Greek sauce called Tzatziki. It was yummy and worked perfectly with the black bean cumin mixture.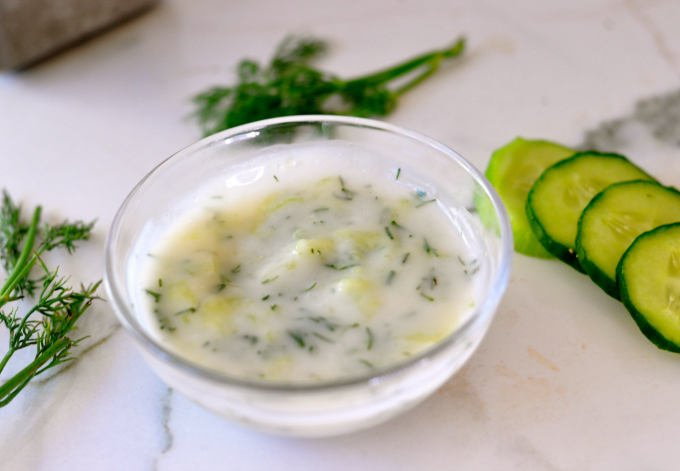 Vegan Burger Sauce with Yogurt, Cucumber & Dill
I think this vegan burger could satisfy your family members who aren't vegan so make a big batch, and you can always reheat them.
Vegan Burger with Spicy Black Beans, Tomatoes, Avocado and Fresh Mint
Make sure when you sauté them that you treat them gently when flipping. I have tried every vegan egg binder imaginable, and I still haven't found one that can hold a vegan burger together perfectly.
Try not to skip on the fresh herbs. They add a nice balance and fresh flavor to the creamy sauce and to the black bean burger mixture. Spring heading into summer is a good time of year to find fresh herbs reasonably priced. Especially at Farmer's Markets.
Well that is it for today. It has been a very busy couple of weeks. I did a plant-based cooking demonstration for an Earth Day event and Whole Foods in Glendale, CA served my recipe on their hot bar. It was very exciting to see Ordinary Vegan's Grilled Portobello Mushroom Over Cauliflower Mash Smothered in Gravy at Whole Foods.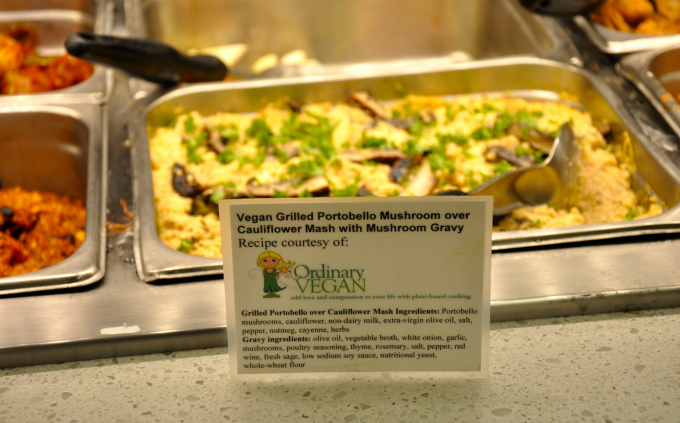 Thanks everyone for your continued support and kind words. I appreciate every comment and every voice mail message you leave me. If you haven't had chance, please listen to my podcasts. You don't need iTunes or any fancy equipment, you can listen right here on my site.  Or in iTunes. Just search for Ordinary Vegan. Till next time!

Vegan Burger with Creamy Cucumber Sauce
Ingredients
Black Bean Burgers
1 15-ounce carton cooked black beans
2 vegan eggs (*see note below) or 3 tablespoons of vegan mayonnaise
3 tablespoons bread crumbs (use gluten-free if you wan't a gluten-free burger)
2 garlic cloves, minced
1 teaspoon grated fresh ginger
⅛ cup grated onion or a fine mince (*see note below)
½ teaspoon ground cumin
¼ teaspoon ground allspice
¼ teaspoon cayenne (optional - it adds heat)
¼ teaspoon of ground black pepper
½ teaspoon salt (or more to taste)
¼ cup fresh chopped mint or parsley
2 pita breads
¼ cup tzatziki sauce (recipe below)
1 cucumber, sliced
1 tomato, sliced
1 avocado, sliced (Cut the avocado in half. Then grasp the outer dark layer of skin and pull it away from the inner green flesh of the fruit. Remove the pit by sticking it with a knife and twisting.)
Tzatziki Sauce
¼ plain dairy-free almond yogurt (I don't recommend using coconut yogurt)
¼ cup peeled, grated cucumber (*see note on grating below)
1 large garlic clove, minced
¼ teaspoon salt (or more to taste)
½ tablespoon fresh dill
1 teaspoon fresh lemon juice
fresh ground black pepper to taste
Instructions
Bean Burger
Pulse the black beans in a food processor with vegan eggs, garlic, onion, ginger, onion, cumin, allspice, salt, ground black pepper and cayenne.
Transfer to a bowl and stir in the mint and bread crumbs. Form mixture into 6 small patties.
Heat oil in a large skillet over medium-high heat. Cook burgers until outsides are crisp and brown, turning once,about 8 minutes total. Be very careful when turning that it doesn't fall apart. I like to use two large spoons to turn them.
Slice off the tops of the pita bread. Add the 3 black bean burgers into one pita and stuff with tomatoes, cucumbers and sliced avocado. Do the same with the second pita.
Drizzle with tzatziki sauce and serve.
Tzatziki Sauce
Mix all the ingredients together and refrigerate for 1 hour for flavors to intensify.
**Vegan Egg Replacer - you can use a store bought egg replacer or combine 2 tablespoons with 5½ tablespoons of water - whisk - put in refrigerator for 10 minutes to thicken. Or use 3 tablespoons of vegan mayonnaise
***Grating an onion***
Using a sharp knife, carefully peel the outer layer of the onion and trim the edges.
On a board of over a bowl, hold the grater with one hand firmly. In the other hand, hold the onion !and rub it agains the medium size holes of the grater in an up and down motion. Make sure you !scrape off any grated onion stuck on the inside of the grater. Grating an onion spreads flavor !throughout a recipe.
Nutrition Information
Serving size:
3 4 inch patties
Calories:
350
Fat:
5 grams
Trans fat:
0
Fiber:
13 grams
Protein:
29 grams