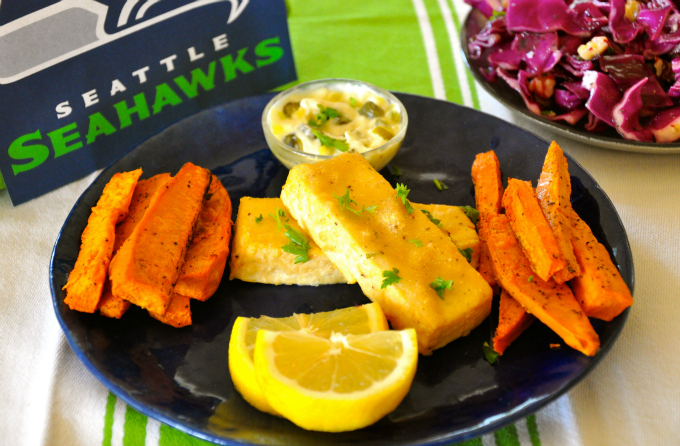 Vegan Fish n Chips with Red Cabbage Slaw
As promised, here is my contribution to Seattle Super Bowl fans who want to celebrate the flavors of Seattle without the animal protein. Today I made a beer battered vegan fish n chips with red cabbage slaw. As many of you know, Seattle is famous for their seafood and seafood was one of the toughest things for me personally to give up when I went vegan. I grew up in a town surrounded by water and like Seattleites, seafood played a significant food role in my childhood. We all have such an emotional connection with food and particularly the food we grew up on so, like many,  it took me a while to stop desiring it. Just goes to show, it's all what you get used to.
This beer battered tofu tasted very good with all the accoutrements like a squeeze of lemon and dip of vegan tartar sauce. Often, it is more about the flavors we add to any protein than the actual flavor of the protein. I choose to bake the tofu because I just couldn't wrap my mind around deep frying it, and I have no experience in the deep frying department. If you want a little more seafood bite, wrap the tofu in half a sheet of nori secured with a toothpick then dip it into the batter. It works with or without but the nori adds another layer of seafood flavor.  I used a vegan beer in the batter which is very easy to find using the website called Barnivore . Barnivore is an online directory of vegan beer and wine and they have an app called Vegaholic to make it easy to find vegan beer and wine on the go. I chose a local Los Angeles vegan beer from Golden Road Brewing called Hefeweizen, and it was the perfect balance of flavor for the batter.
I also had some leftover cabbage from earlier in the week so I tossed that with a three citrus dressing and scattered some walnuts on top. It went well with the vegan fish n chips.  Hope you enjoy this healthy, plant-based recipe as much as I did.  Wishing you a safe and compassionate Super Bowl 2015.

Vegan Super Bowl 2015 - Beer Battered Vegan Fish n Chips with Red Cabbage Slaw
Celebrate the flavors of the sea without the animal protein with this nori wrapped beer battered tofu. You can also dip the tofu into the batter without the nori sheets. I opted to bake but it would definitely be a more traditional vegan fish n chips deep fried.
Author:
inspired by Norman's Coach & Horses
Ingredients
Cabbage
½ red or green cabbage, cut into bite sized ribbons
¼ cup chopped walnuts
1 tablespoon lime juice
2 tablespoons lemon juice
2 tablespoons orange juice
2 tablespoons maple syrup
1 tablespoon dijon mustard
1 tablespoon shallots, minced
2 tablespoons capers
1 tablespoon chopped parsley
½ cup rice wine vinegar
⅛ cup extra-virgin olive oil (or more to taste)
Salt and pepper to taste
Beer Battered Tofu
1 14-ounce package of extra-firm tofu, drained
½ cup dry white wine
2 tablespoons fresh lemon juice
¼ teaspoon salt
1½ nori sheets, halved (optional)
½ cup flour
3 tablespoons organic cornmeal
⅛ teaspoon ground black pepper
⅛ teaspoon salt
½ cup vegan beer (or more depending on consistency)
Lemon wedges, for garnish
Vegan tartar sauce (mix together 2 tablespoons of vegan mayonnaise and 2 teaspoons of sweet relish per person)
Instructions
Cabbage Slaw
Whisk together all the ingredients except for the cabbage and walnuts. Toss a little of the dressing with the cabbage and walnuts. Taste and add more as needed. Season with a little salt and pepper. Place covered in refrigerator. The remaining dressing will last approximately 5 days in the refrigerator.
Beer Battered Tofu
Stir together the ¼ teaspoon salt, lemon juice and white wine. Cut the tofu block into 6 slices. Add the tofu to the marinade. Place in the refrigerator for one hour turning once.
Heat oven to 375 degrees.
Drain the tofu and pat dry.
Wrap a half sheet of nori around each tofu slice securing with a toothpick (Optional)
In a medium bowl whisk together the flour, corn meal, ⅛ teaspoon of salt and pepper. Whisk in beer until smooth. Add more beer if the batter is too thick.
Dip each slice of tofu in batter to coat. Place on a greased cookie sheet or on parchment paper. place in oven for 30 minutes or until golden brown.
Serve with vegan tartar sauce and lemon wedges. I also like to serve with some baked sweet potato fries.