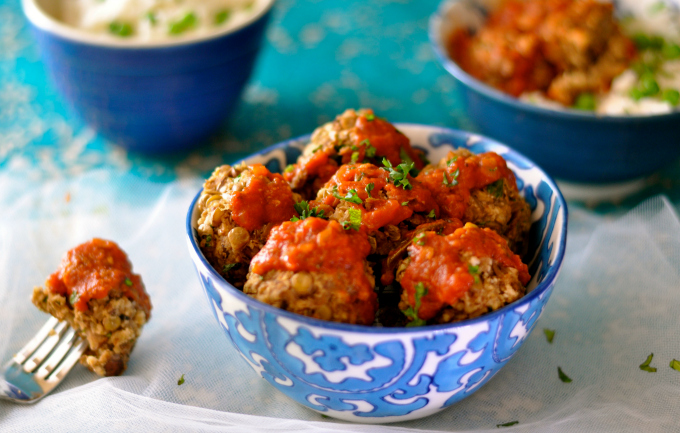 Growing up Italian, I always loved meatballs. As a matter of fact, my childhood nickname was meatball because that was all I would eat. Now all I eat are vegan meatballs.
I still haven't found an egg replacer that mimics eggs well enough to really hold a meatball together, but this comes pretty close. I think the oil from the walnuts help and I used flax eggs to bind and add structure. You can find a full list of vegan egg substitutes here.
But let's focus on flavor. These vegan meatballs contain all the Italian spices, onion, bread crumbs, parsley, and garlic that are used in traditional meatballs. I also added lentils, some cremini mushrooms and ground walnuts. So, it has a wonderful flavor profile.
Instead of frying them, I baked them for about 30 minutes. I did this for two reasons. I wanted to keep them healthy, and I wanted to make sure they didn't fall apart. You could gently saute them in oil to get an additional crust, but baking worked just fine.
Instead of serving them over pasta, I served them with white basmati rice seasoned with fresh peas and mint. I was inspired by east coast Italian restaurants that serve meatballs with peas and tomato sauce.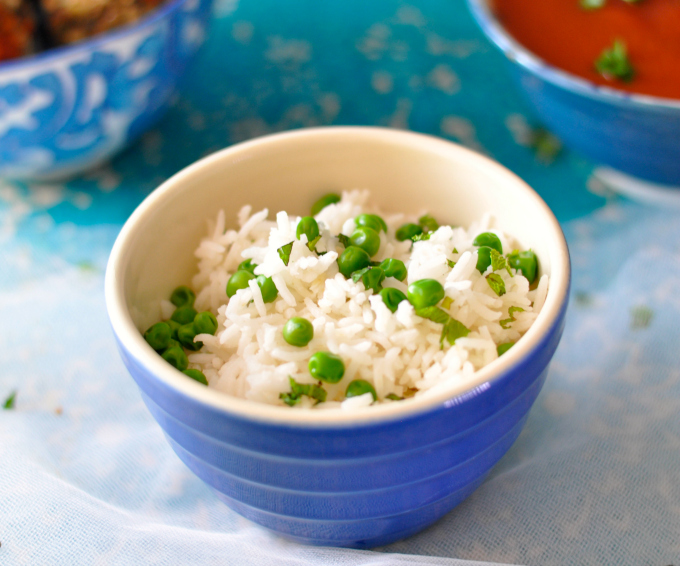 I know many of you don't like to eat any white rice, but sometimes I think it gets a bad rap. Some of the healthiest nations in the world, including Japan, enjoy white rice at most meals. It does have a high glycemic index so if you are a diabetic I don't recommend it.  But for the rest of you, when you add fiber and protein to white rice it will significantly reduce the glycemic speed of digestion. Also, a little goes a long way.

Vegan meatballs with Basmati Rice and Peas
I also included a recipe below for my basic tomato sauce.
Hope you enjoy these vegan meatballs, and if you don't want to miss any of Ordinary Vegan's free recipes, please sign up here.
I also have an Ordinary Vegan bi-weekly podcast which discusses plant-based nutrition, health, wellness, recipes and guidance. You can listen to all my podcasts on iTunes or right here on my website.
Our Ordinary Vegan health and wellness community on Facebook is now over 300,000 strong. Hope you can join us.
Wishing you a peaceful and compassionate week!

Vegan Meatballs
There are many ways to serve these vegan meatballs. Make a vegan meatball sandwich or serve traditionally with pasta. I especially like these vegan meatballs with basmati white rice and peas.
Ingredients
½ cup uncooked lentils
⅓ cup vegetable broth
½ onion, chopped
3 cloves garlic, chopped
2 teaspoons of Italian seasonings
2 tablespoons of ground flax
4 tablespoons of water
½ cup walnuts
2 cups of chopped Cremini mushrooms (small pieces)
½ cup gluten-free bread crumbs (or regular)
1 teaspoon salt (or more to taste)
½ teaspoon of ground black pepper (or more to taste)
¼ cup fresh chopped parsley
Instructions
Rinse your lentils with fresh water before boiling to remove any dust and put into a large saucepan.
Add 2 cups of water to the saucepan. Be sure to use a large enough saucepan as the lentils will double in size.
Bring to a boil, cover , reduce heat and simmer until they are tender. The cooking time is typically 20-25 minutes. Keep a close eye on them just in case you need to add more liquid.
When they are done, give them a mash with the potato masher leaving some whole and some mashed. Set aside.
Make the flax eggs by combining the 2 tablespoons or ground flax with 4 tablespoons of water. Place in refrigerator to thicken. This usually takes about 10 minutes but you can leave it in longer.
Meanwhile, heat a large non-stick sauté pan. Add the walnuts and toast for one minute or two. Make sure you watch them and keep stirring them around so they don't burn.
Put the walnuts in a food processor and process until they are medium fine crumble.
In the same non-stick saucepan, heat the ⅓ cup of vegetable broth. Season it with the salt and pepper. Add the onion and mushrooms and cook until soft and translucent. Adding more vegetable broth if sticking. Add the garlic and cook another minute until soft. Stir in the Italian seasonings.
In a large bowl. Add the cooled, cooked lentils, flax eggs, cooled onion mushroom mixture, bread crumbs, fresh parsley and ground walnuts. Combine well. Taste for seasonings adding more salt, ground black pepper or Italian seasonings,
Pre-heat oven to 350 degrees F.
Line a baking sheet with parchment paper. Shape the lentil mixture into bolls and pack them tightly so they hold together. Add more bread crumbs if they are falling apart.
Place them on the baking sheet about an inch or two apart.
Bake for approximately 30 minutes, flipping them over carefully half way through.
Serve them with tomato sauce over pasta or make a meatball sandwich. Anything goes!
Basic Tomato Sauce
Slow-roasting the tomatoes brings out
Ingredients
1 tablespoon extra-virgin olive oil
1 onion, chopped
4 garlic cloves, chopped
3 tablespoons fresh thyme (or 1 tablespoon dried)
2 tablespoons fresh basil (1/2 tablespoon dried)
2 28-ounce cans kitchen ready crushed tomatoes
1 teaspoon of salt (or more to taste)
½ teaspoon of ground black pepper (or more to taste)
Instructions
In a large saucepan, heat the olive oil over medium heat. Add the onion and cook until soft and translucent approximately 4-5 minutes. Add the garlic, thyme and basil and cook for another minute or two making sure you don't brown the garlic.
Add the tomatoes and bring to a boil, stirring often.
Lower the heat and simmer for 30 minutes.
Season with salt and pepper.