CLICK ON LINK BELOW TO DOWNLOAD THE
Vegan Nutrition Checklist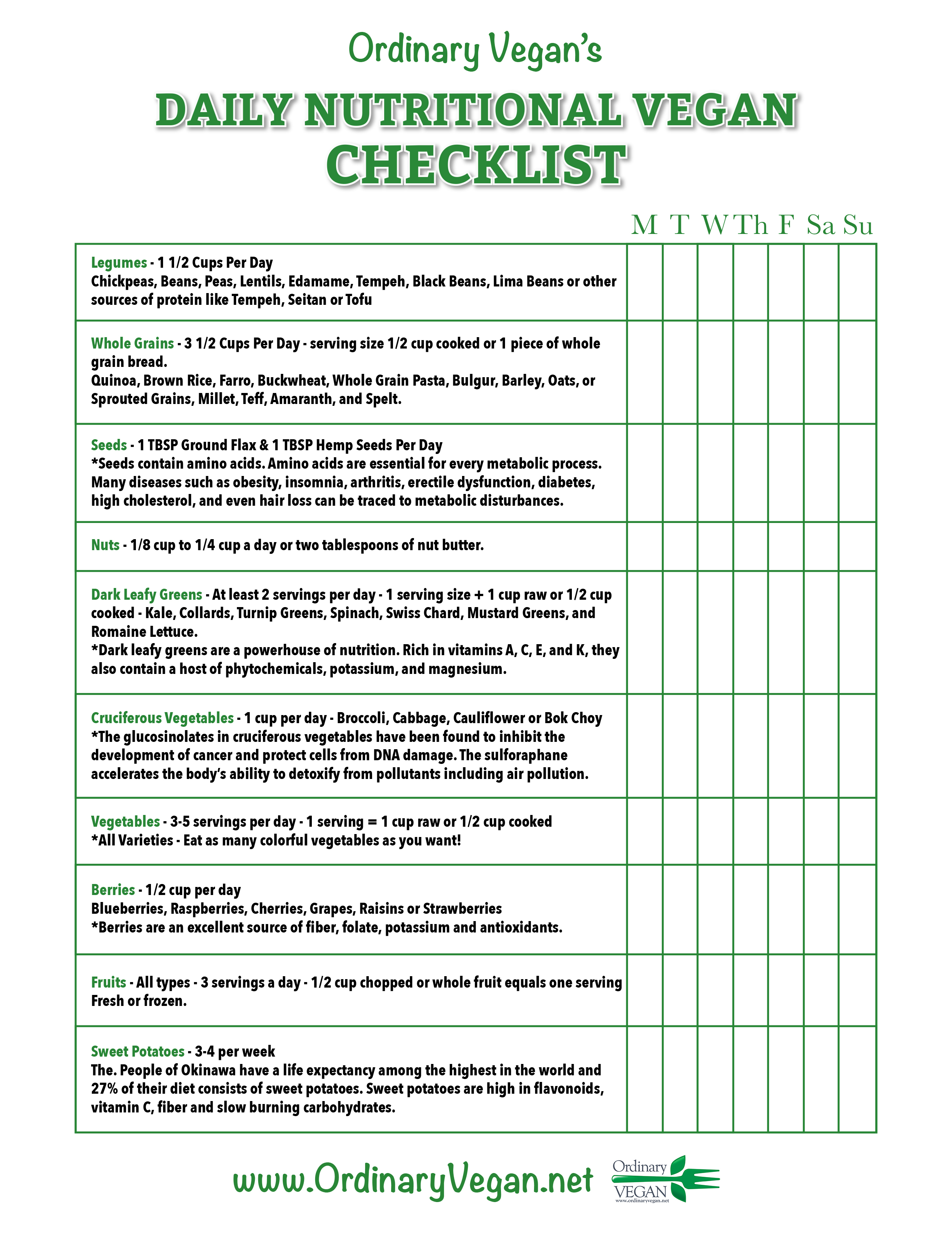 A poor diet high in saturated fat and processed foods is a major contributor to the leading causes of chronic disease and death.
On the other hand, research suggests that clean whole-food vegan nutrition can improve your odds of never suffering from any chronic disease.
As more people become aware of this, many are choosing to adopt a plant-based lifestyle.  Not only for health, but also for animal welfare or the environment.
Whatever the reason, please remember that all vegan foods are not created equal.
While it's possible to find all sorts of vegan, cruelty-free, processed foods at your local supermarket, they may be as unhealthy as processed animal foods.
Lastly, the most significant difference between a healthy and unhealthy vegan diet is the lack of whole foods.
Vegan Nutrition For A Healthy Plant-Based Diet
So, I created this vegan nutrition checklist to help serve as a roadmap to what you should eat on a healthy vegan diet.
Not only for new vegans, but also for those who want to assess the quality of their current vegan diet.
I promise, getting back to real food and real vegan nutrition will put you on the fast track to feeling your best.
You can print this vegan nutrition checklist and post it on your refrigerator. Or download it to your phone. In no time, you  won't need it anymore,  because eating a healthy vegan diet will become second nature.
Sending you lots of compassion. If you have any questions about this vegan nutrition or this checklist, don't hesitate to ask me at questions @23.235.200.4.
To learn even more about vegan nutrition, listen to the Ordinary Vegan Podcast available on iTunes, Spotify, and on this website.
Worried about protein? Download a free vegan protein list here.
Last but not least, many people in the wellness world are turning to cannabidiol, commonly referred to as CBD Oil from Hemp for its powerful natural anti-inflammatory properties for regulating muscle pain and stress response.
No matter what your particular ailment may be, CBD oil from hemp may help. You can now purchase a safe and effective vegan CBD Oil from Ordinary Vegan.
My mission is to provide you with the highest quality CBD Oil from Hemp on the market. I hope it can help you.