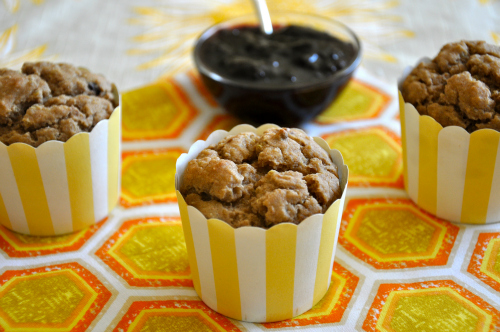 Quinoa Muffins with Dried Cherries and Walnuts
VEGAN DAY 54 (July 2011) – A letter to my carnivorous life
Dear Ciccia,
This letter is to inform you that I am breaking up with you. You lied to me. There is a side to you that I never knew. The first week I left you, I felt lost because you weren't there. Nothing felt the same without you. Going out to eat with my friends, shopping for food, dining at home…everything seemed empty and confusing.
Do you remember when we first met? I was around two years old and my family fed me my first meatball. I loved them so much, my nickname was 'Meatball" most of my life. Yes, we have been together for longer than I care to admit. I never knew that leaving you would make me feel light as a feather – as if I could fly across a room. My skin became dewy and I no longer needed to take medication for cholesterol and high blood pressure.
Best of all, I have experienced a higher consciousness that has made me more creative and energetic. God only knows what took me so long. I will admit – it hasn't been easy. At first, I didn't even know what I was fighting for but the longer I stayed away from you the more enlightened I became. I can't give you my life anymore. You are not worthy of me and I will never let you hurt me again.
Ordinary Vegan
Now on to healthy plant based food. Today's recipe is a high protein quinoa muffin with dried cherries and walnuts. Individually freeze the left-overs for a delicious vegan grab-and-go snack. Wishing you a peaceful and compassionate week.

High Protein Quinoa Muffins with Dried Cherries and Walnuts
High Protein Quinoa Muffins with Dried Cherries and Walnuts
Ingredients
1 tsp vegetable oil
½ cup dried cherries or cranberries
⅓ cup apple juice or water
1½ cups flour
½ cup plain cooked quinoa
½ cup chopped walnuts
2 tsp baking powder
½ tsp baking soda
1 tsp ground cinnamon
½ tsp kosher salt
1 cup almond milk
½ cup silken tofu
¼ cup maple syrup
1 tsp pure vanilla extract
1 tbsp vegetable oil
1 ripe banana
Instructions
Preheat the oven to 350 degrees F. Spray or grease a 12-cup nonstick muffin tin with vegetable oil
Combine The dried cherries or cranberries and apple juice or water in a small bowl; soak for 10 minutes
Combine the flour, cooked quinoa, walnuts, baking powder, baking soda, cinnamon and salt in a large bowl - stir to blend
Place the almond milk, silken tofu, maple syrup, vanilla, oil and banana into a blender or food processor fitted with metal blade: process until smooth
With a spatula mix the soy milk/tofu batter into the dry ingredients. Add the soaked cherries or cranberries and the soaking liquid; mix to distribute evenly. Do not over mix
Pour the batter into the prepared muffin cup, filling them about ⅔ full. Bake for 35 to 40 minutes, or until the tops of the muffins are lightly browned and a toothpick inserted into the center of a muffin comes out clear. Turn onto a wire rack; serve warm or let cool
Notes
I individually wrap them and put them in a plastic bag in the freezer and take one out either the night before or that morning. They thaw quickly and still taste great great for people who are vegan, have severe food allergies or are lactose intolerant