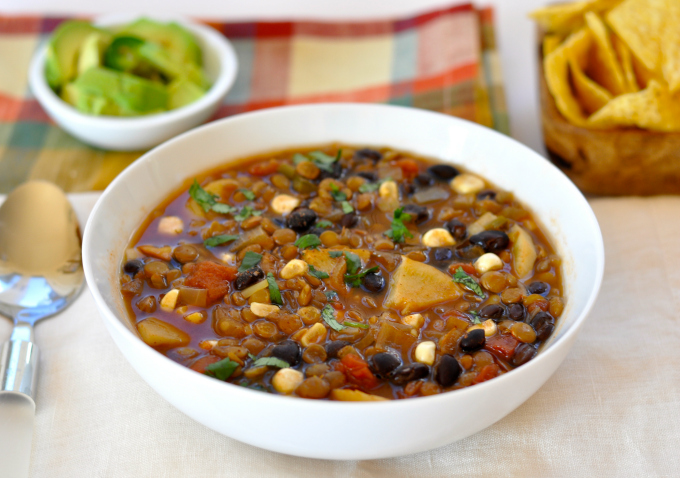 I love to throw Super Bowl parties, but I don't like spending a lot of money on them. So I was very happy to find a supermarket that offers all the ingredients I need to entertain friends at a low, low PRICE! That store is called Save-A-Lot.
Now that we are closing in on Super Bowl 51 , it is menu time and I need to create some vegan super bowl recipes. Did you know more food is eaten on Super Bowl Sunday than any other day in the US besides Thanksgiving?
Big bowls of chili are the perfect food for the big game.  It can be made ahead of time and it is a super-affordable crowd-pleaser especially when you shop at low-cost grocery stores like Save-A-Lot.
This year I decided to serve a lentil based chili. Lentils are great for a crowd because they double in volume when cooked. Not only that, one cup of cooked lentils only contains about 230 calories, no fat and they are filled with numerous beneficial nutrients like fiber, protein, minerals and vitamins. So enjoy as many bowls as you want.
I also included many other affordable healthy foods in my chili like black beans. As you can see from my Save-A-Lot receipt, two cans of cooked black beans were only 89 cents each. Black beans also add flavor and depth to chili without all the fat and calories. Then I threw in some frozen corn, crushed tomatoes and chopped sweet potato to round it out.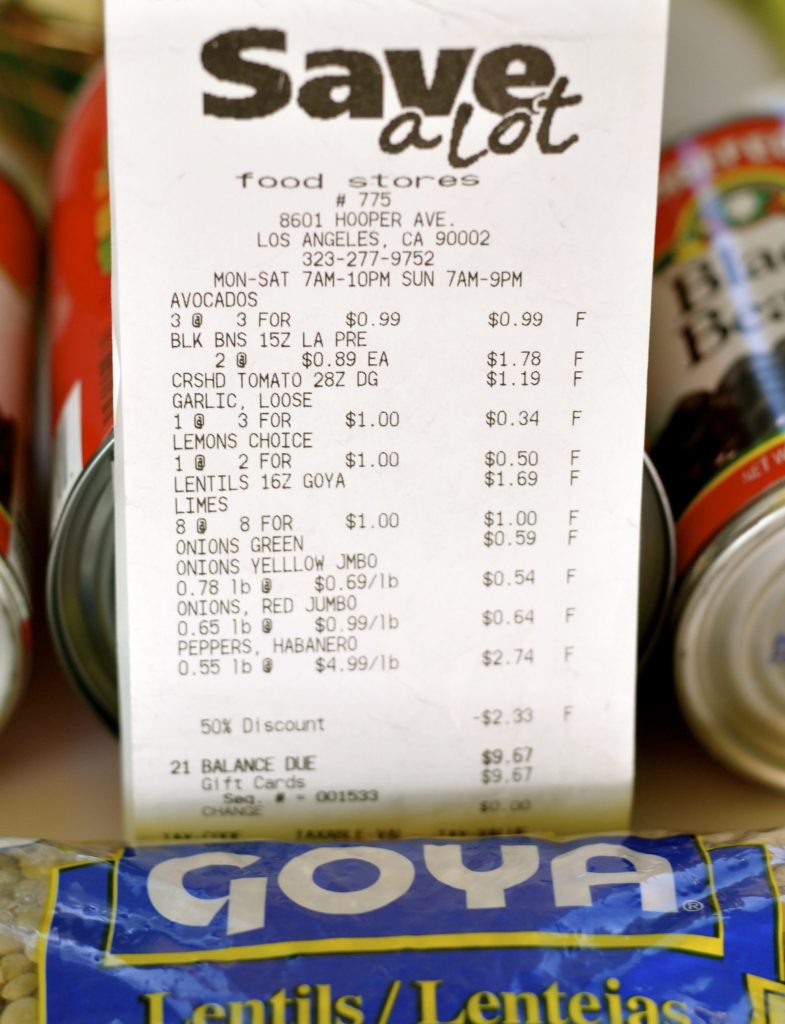 In addition to their sweet, delicious flavor, sweet potatoes are yet another bona fide powerhouse of nutritional goodness. Your guests will want to run a marathon after they eat this chili, and I promise no one will miss the animal protein.
This chili recipe can serve approximately ten people and your total cost from Save-A-Lot would be approximately $7.79. Here is how it breaks down.
16-ounce bag uncooked lentils                    $1.69
1 28- ounce can crushed tomatoes           $1.19
Garlic                                                               $0.34
1 Jumbo yellow onion                                   $0.54
2 15-0unce cans black beans                       $1.78
2 large sweet potatoes                                  $1.38
12-ounce frozen corn                                    $0.88
          TOTAL                                                   $7.79
You can also use limes and avocado as garnish for the chili which is also super affordable at Save-A-Lot. Eight limes for $1.00 and three avocados for $1.00. You can't beat those prices.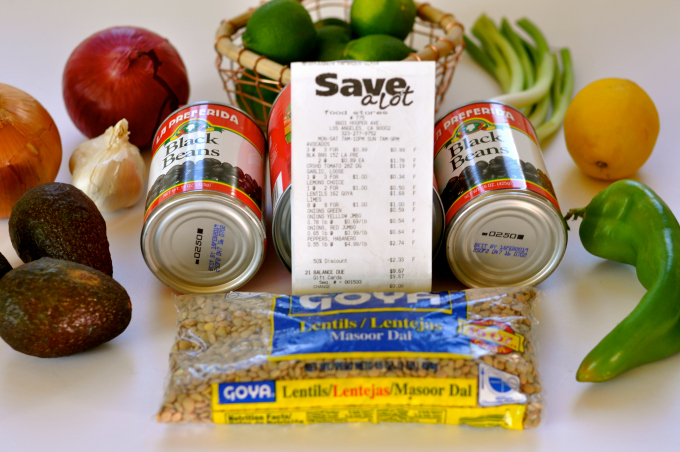 Vegan Super Bowl Recipes That Everyone Can Afford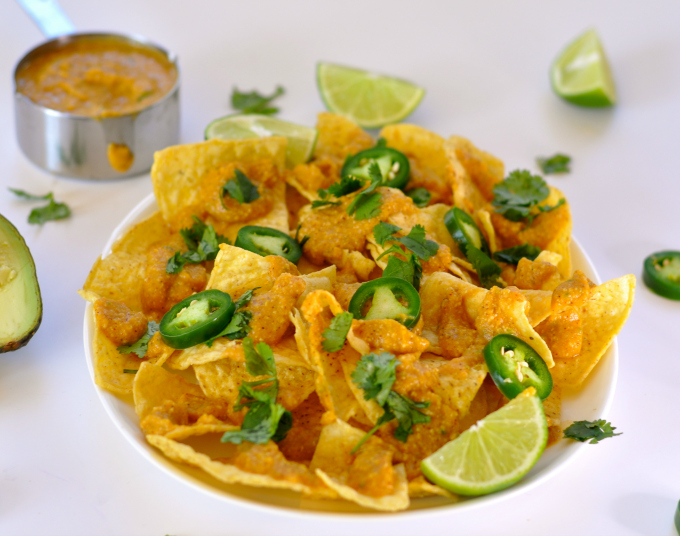 Vegan Super Bowl Recipes
Hope this post helps you plan an economical Super Bowl Party. Simple steps like shopping at affordable grocery stores like Save-A-Lot can reduce the cost. You can find the closest store near you with this handy store locator. Save-A-Lot also has a Smart Shopper Club which delivers the latest specials to your inbox. They also provide tasty and affordable recipes and cooking tips. You can find Save-A-Lot's weekly specials here.
Happy Super Bowl everyone. Hope you enjoy these vegan Super Bowl recipes and I hope your favorite team wins!
This is a sponsored conversation written by me on behalf of Save-A-Lot. The opinions and text are all mine.


Lentil, Black Bean & Sweet Potato Chili
Like most chilis, if you don't have an ingredient, such as corn, leave it out or substitute another favorite ingredient. The sky is the limit when it comes to chili.
Ingredients
1 large onion, chopped
3 cloves garlic, chopped
½ cup vegetable broth for sautéing
4-5 cups water or vegetable broth
1 16-ounce bag of uncooked lentils
1 28-ounce can crushed tomatoes
1 teaspoon salt (or more to taste)
½ teaspoon ground black pepper (or more to taste)
2 15-ounce cans of cooked black beans, rinsed
2 large sweet potatoes, chopped into bite-sized pieces
2 cups frozen corn
2 teaspoons chili powder (or more to taste)
1 teaspoon of paprika
Lime wedges for garnish (optional)
Chopped avocado for garnish (optional)
Fresh chopped cilantro for garnish (optional)
Instructions
Heat ½ cup of vegetable broth in large saucepan. Add the chopped onions and sauté until they become soft and translucent. About 3-5 minutes. Add the garlic, paprika, chili powder, salt and pepper and cook for another 2 minutes.
Add the crushed tomatoes and 4 cups of water or vegetable broth. Add the lentils and bring to a boil. Lower the heat to a simmer and cook on low for approximately 20 minutes adding more broth or water if necessary. The lentils should be almost cooked.
Add cooked black beans and sweet potatoes. Add more broth if needed. Simmer for another 10 minutes or until sweet potato is soft. Add the frozen corn and cook for another 5 minutes.
Taste and season with more salt, pepper and chili powder if needed.
Serve in large bowl and top with avocado, lime wedges or fresh cilantro. Serve with tortilla chips and hot sauce.
Vegan Butternut Squash Queso Dip
Ingredients
6 cups frozen thawed butternut squash or 1 medium butternut squash
2 garlic cloves, chopped
1 small Jalapeno, chopped
1 large shallot, chopped
¼ cup raw cashews, soaked for one hour and rinsed
¼ cup nutritional yeast
1 teaspoon salt
2 teaspoons chili powder
1 teaspoon cumin
1 cup vegetable broth
Instructions
Preheat the oven to 400 degrees F if using a fresh butternut squash. Line a baking sheet.
Cut the squash down the middle lengthwise. Scoop out the seeds with a spoon. Place the squash halves, cut side down onto the baking sheet. Roast until the squash is tender when pierced with a knife. This will take approximately 35-45 minutes.
Scoop the cooked squash or frozen defrosted squash into a food processor. Add all the ingredients except for the 1 cup of vegetable broth. Start with ¼ cup of vegetable broth and process until smooth. Adding more broth if needed. It should be a smooth puree and thick enough to scoop on to tortilla chips.
Serve with chips.