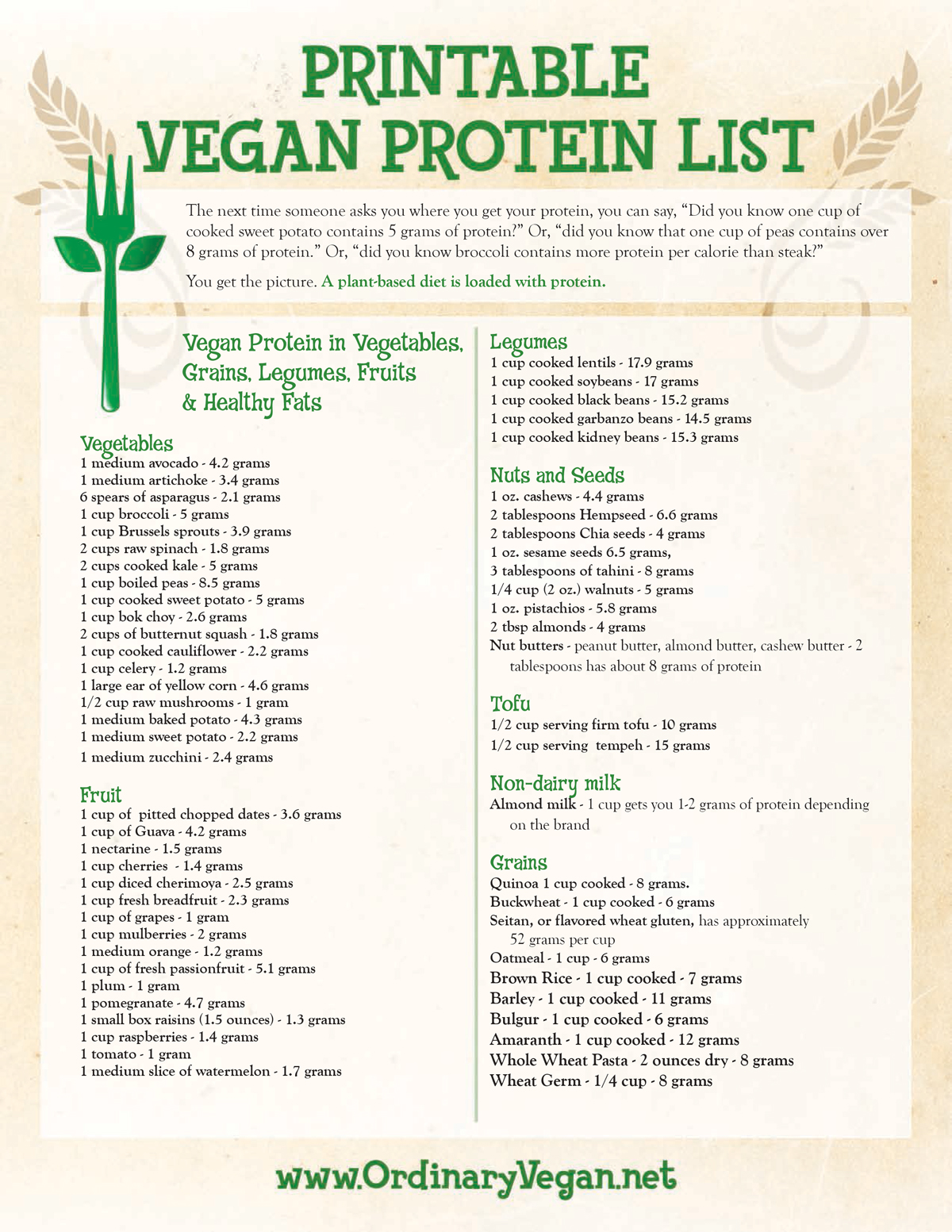 Vegan Protein & Seed Comparison
(Download your FREE Vegan Protein List here)
Most vegans will agree that the first question we are ever asked about our diet is "where do you get your protein?"
I don't know how the vegan protein myth got started, but getting enough protein on a vegan diet is simple.
Eat a healthy whole foods plant-based diet that includes grains, legumes, vegetables, fruit, leafy greens and small amounts of healthy fats like nuts, seeds and avocado. That's it. That is all you have to do.
I would also like to mention that a healthy plant-based diet contains a robust balance of omega-3 and omega-6 fatty acids when you include seeds.
Omega-6 and omega-3 fatty acids are "essential fats" that your body can't produce and must obtain from food. These fatty acids play an important role in heart and brain function, along with normal growth and development.
Studies have shown that people who have a good balance of these fatty acids are less likely to develop chronic disease.
That is why I am a big advocate of hemp, chia and ground flax seeds because all of these seeds contain both omega-3 and omega-6 fatty acids.
Let's start with my favorite – hemp seeds. Hemp seeds provide more protein than flax or chia seeds and no other food contains the ideal ratio of omega-3 and omega-6 like the mighty hemp seed.
Eating hemp seeds is as simple as sprinkling them on top of beans, greens, salads or mixed in your morning oatmeal. They are delicious and have a pleasant, nutty taste.
Chia seeds have the added bonus of soluble fiber. Soluble fiber fills you up quickly and helps slow down the absorption of sugar. Great for diabetics.
Now on to flax seeds. Besides being an excellent source of 3 and 6 fatty acids, ground flax seeds are rich in lignans which add extra protection against many types of chronic disease. I include ground flax seeds when baking muffins, cookies etc., and in my morning oatmeal.
The beautiful thing about all these seeds is that there are easy ways to include them in all your daily meals without relying on smoothies. I recommend 2 tablespoons of hemp, chia or ground flax seeds every day.
So how do these seeds compare? Here is a chart for my favorite seeds and vegan protein information for all the foods we love to eat on a plant-based diet.
My Favorite Seeds Comparison Chart (1 tablespoon)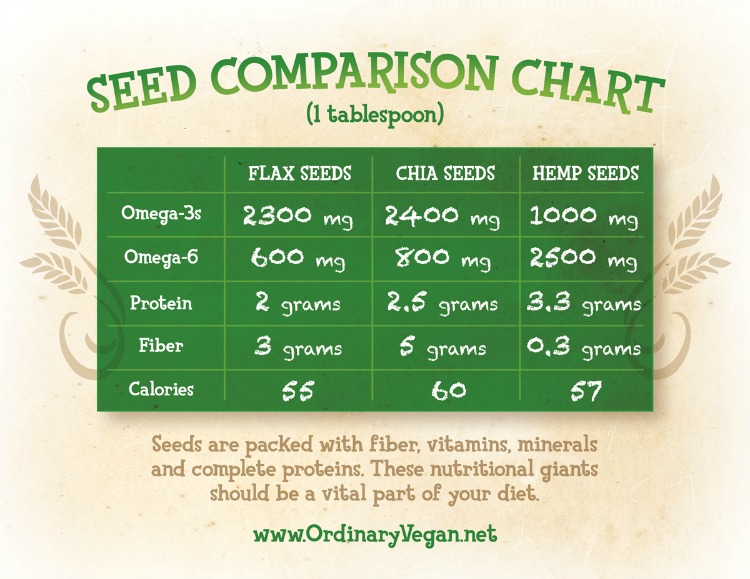 FLAX SEEDS CHIA SEEDS HEMP SEEDS
Omega-3s 2300 mg 2400 mg 1000 mg
Omega-6 600 mg 800 mg 2500 mg
Protein 2 grams 2.5 grams 3.3 grams
Fiber 3 grams 5 grams 0.3 grams
Calories 55 calories 60 calories 57 calories
Vegan Protein in Vegetables, Grains, Legumes, Fruits and Healthy Fats
Vegetables
1 medium avocado – 4.2 grams
1 medium artichoke – 3.4 grams
6 spears of asparagus – 2.1 grams
1 cup broccoli – 5 grams
1 cup Brussels sprouts – 3.9 grams
2 cups raw spinach – 1.8 grams
2 cups cooked kale – 5 grams
1 cup boiled peas – 8.5 grams
1 cup cooked sweet potato – 5 grams
1 cup bok choy – 2.6 grams
2 cups of butternut squash – 1.8 grams
1 cup cooked cauliflower – 2.2 grams
1 cup celery – 1.2 grams
1 large ear of yellow corn – 4.6 grams
1/2 cup raw mushrooms – 1 gram
1 medium baked potato – 4.3 grams
1 medium sweet potato – 2.2 grams
1 medium zucchini – 2.4 grams
Fruit
1 cup of pitted chopped dates – 3.6 grams
1 cup of Guava – 4.2 grams
1 nectarine – 1.5 grams
1 cup cherries – 1.4 grams
1 cup diced cherimoya – 2.5 grams
1 cup fresh breadfruit – 2.3 grams
1 cup of grapes – 1 gram
1 cup mulberries – 2 grams
1 medium orange – 1.2 grams
1 cup of fresh passionfruit – 5.1 grams
1 plum – 1 gram
1 pomegranate – 4.7 grams
1 small box raisins (1.5 ounces) – 1.3 grams
1 cup raspberries – 1.4 grams
1 tomato – 1 gram
1 medium slice of watermelon – 1.7 grams
Legumes
• 1 cup soybeans – 28 grams (1 cup tofu – 22 grams, 1 cup tempeh – 30 grams) Organic only
• 1 cup lentils – 18 grams
• 1 cup black turtle beans – 39 grams
• 1 cup garbanzo beans (and hummus) – 14.5 grams
• 1 cup pinto or kidney beans – 13-15 grams
Nuts and Seeds
1 oz. cashews – 4.4 grams
2 tablespoons Hempseed – 6.6 grams
2 tablespoons Chia seeds – 4 grams
1 oz. sesame seeds 6.5 grams,
3 tablespoons of tahini – 8 grams
1/4 cup (2 oz.) walnuts – 5 grams
1 oz. pistachios – 5.8 grams
2 tbsp almonds – 4 grams
Nut butters – peanut butter, almond butter, cashew butter – 2 tablespoons has about 8 grams of protein
Tofu
1/2 cup serving firm tofu – 10 grams
1/2 cup serving tempeh – 15 grams
Non-dairy milk
Almond milk – 1 cup gets you 1-2 grams of protein depending on how many almonds they actually use.
Soy milk – 1 cup can get you up to 8 grams of protein
Cashew milk – 1 cup equals 1 gram of protein
Coconut milk – under o.5 grams in one cup
Grains
Quinoa is versatile and delicious. 1 cup cooked – 8 grams.
Buckwheat – 1 cup cooked – 6 grams
Seitan, or flavored wheat gluten, has about 52 grams per cup, but it may not be a good idea to eat too much of it.
Oatmeal – 1 cup – 6 grams.
Amaranth, bulgur, brown rice, wheat germ, oat bran are other grains with a high protein content.
Sprouted grain bread products – buns, tortillas, bread. Pack a sandwich or a wrap and you'll get 4-5 grams from the bread alone, but always check the ingredients to make sure there isn't any processed ingredients, dairy or high sodium. Better yet, make your own!
**Seitan – Often called "wheat meat" used to substitute the texture of meat made from wheat gluten.  Low in calories and carbohydrates yet high in protein. A three-ounce portion can contain 21 grams of protein.

I hope all this information helps you understand how easy it is to get your vegan protein on a healthy plant-based diet. To learn more about vegan protein and for more free plant-based recipes, sign up here.