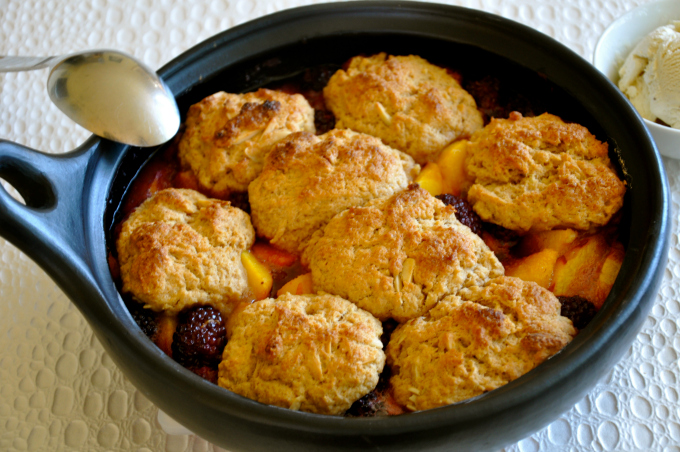 I do a lot of research on food safety, but even I was utterly confused about cookware safety.
Following my research, I peered into my dark cupboards, and started pulling out all my cookware.
First, it was shocking how much I had stocked over the years, and more surprising was how much non-stick cookware were in those cupboards. I tossed out a lot of old pans and here is why.
How Safe is Your Cookware
Non-Stick Cookware also known as Teflon
One of the main chemicals used in nonstick cookware, is perfluoroocatanoic acid also known as PFOA.
That chemical is what keeps food from sticking to nonstick cookware and it has been on the market since the 1940s. The Environmental Working Group (EWG) did a study in 2005 and it showed that more than 95% of Americans have the chemical PFOA in their blood.
In 2011, the EWG issued a report that suggests that PFOA is toxic to human health.
Another chemical in non-stick pans is called polytetrafluroethylene (PTFE), and its safety has also become the subject of a health debate.
In 2003, the EWG petitioned the U.S. Consumer Product Safety Commission to put labels on PTFE-coated cookware to warn of potential safety concerns to both pet birds and humans.
The petition cited multiple cases of bird deaths due to fumes from PTFE nonstick coating. They also said that toxic fumes from Teflon chemicals released from pots and pans at high temperatures can cause people to develop flu-like symptoms called Teflon flu.
The EPA is still investigating the dangers of PTFE but do agree that the chemical causes developmental and other adverse effects in laboratory animals and is very persistent in the environment.
One thing everyone agrees upon is never use a non-stick pan over high heat.
Cast Iron
Many recommend cast iron pans knowing that cast iron cookware "leaches" iron into food in significant amounts.
While this can serve as a nutritional advantage for some, there are certain dangers associated with cast iron in food.
Hemochromatosis or iron overload disease affects as many as 1 million people in the US alone, and they should not use cast iron pans.
Also children under age three are particularly susceptible to iron toxicity, and parents should avoid using iron cookware when cooking for children.
Safe Cookware Options
Although opinion differs on safe cookware alternatives, most recommend stainless steel, tempered glass cookware, ceramic or my new favorite unglazed clay cookware.
I personally love cooking in clay because it is the most natural cooking alternative, and does not leach into food. It also holds heat and moisture which cooks the food more evenly.
Clay pots also have the ability to interact with acidity in food, neutralizing the PH balance. Something naturally acidic will take on some natural sweetness when cooked in a clay pot.
Last year I bought my first clay pot called La Chamba for soups, stews and sauces. Everything tasted better in that clay pot and I became a believer.
These Chamba pieces are not glazed so there is no lead in the clay. There are also no toxins used in the production of La Chamba cookware and dishes.
They can be used in the oven, on the stovetop and even over an open fire for all you campers.  Not only that, they look beautiful on your table. Now on to food.
I came across a version of this peach and blackberry dumpling recipe in the LA Times and decided to veganize it. I cooked it in my new favorite La Chamba clay saute pan and wow it was spectacular.
The fruits stayed really moist and juicy and the dumplings turned a gorgeous golden brown. You can use any fruits you like but I always go for in season organic fruits. That is when you will get the best price and your produce will be at the peak of its flavor.
Hope you enjoy this yummy, healthy, plant based recipe as much as we did. Wishing you a peaceful and compassionate week. Don't miss any of Ordinary Vegan's delicious free recipes by signing up here.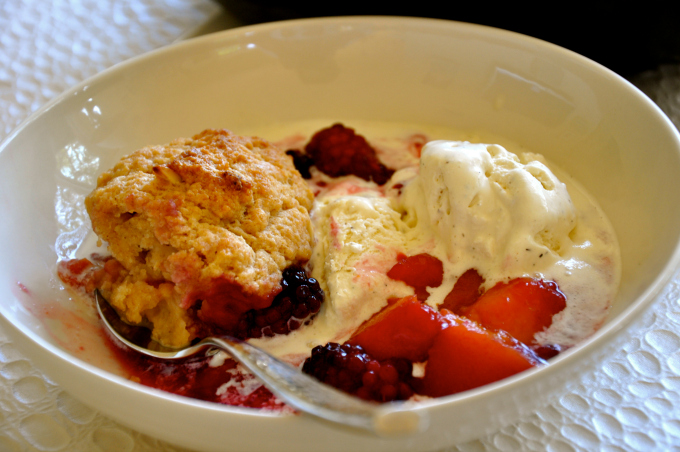 Blackberry & Peach Dumplings
Ingredients
2 pints blackberries
2½ pounds peaches, peeled and quartered
2 tablespoons maple syrup
½ teaspoon almond extract or vanilla
zest of 1 orange
1½ cups flour
3 tablespoons sugar
½ teaspoon salt
2 teaspoons baking powder
6 tablespoons of Earth Balance vegan butter diced into ½-inch pieces
¾ cup almond milk
1 tablespoon lemon juice
⅓ cup sliced almonds
Instructions
Pre-heat oven to 425 F
Lightly grease a 4-quart (10-inch) Dutch oven.
Pour ¾ cup of almond milk into a bowl. Whisk in 1 tablespoon of fresh lemon juice and let sit for 10 minutes.
Combine the peaches and blackberries in the dutch oven, and toss with 2 tablespoons maple syrup, the almond extract and orange zest.
In a large bowl , whisk together the flour, sugar, salt and baking powder. Cut in in the cold butter using a pastry cutter or fork until the butter is reduced to small pea-sized pieces. Pour in the buttermilk, and stir until the mixture is combined to form a thick, sticky batter. Gently stir in the almonds to combine.
Scoop the batter into 8 or so portions, using a large soup or small serving spoon. Space the dumplings evenly over the peaches and blackberries.
Place the Dutch oven into the pre-heated oven and cook until the dumplings are puffed and a rich golden color and the fruit is soft. Approximately 30 minutes.
a Rafflecopter giveaway