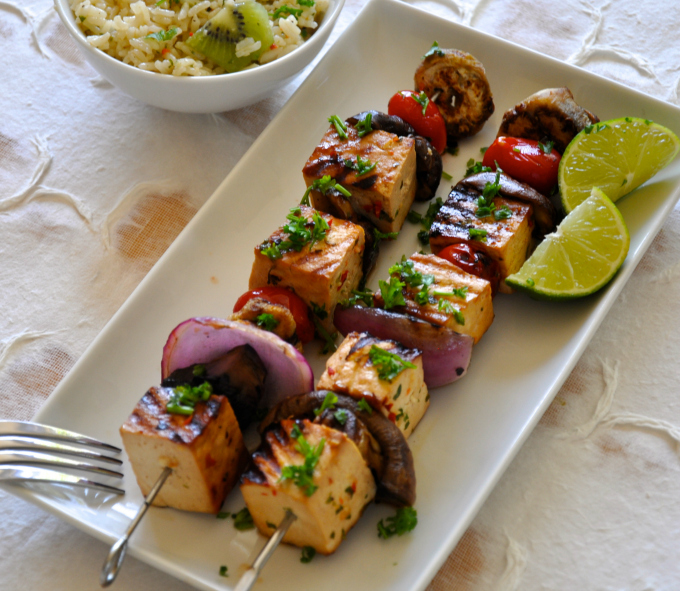 Grilled Tofu & Vegetable Shish Kebab with Cold Rice Salad
Everything we choose to consume will directly or indirectly affect our organs, and some foods we consume will affect us more than others. Here are five of the most important organs in our body, and the foods that can put us on the fast track to organ health or organ damage.
1. Brain
Dietary deficiency of omega-3 fatty acids in humans has been associated with increased risk of several mental disorders.
A UCLA study has shown that children who had increased amounts of omega-3 fatty acids performed better in school, and had less behavioral problems.
Omega-3 fatty acids are found in walnuts, kiwi fruit, flax seeds, soybeans, tofu, brussels sprouts, and cauliflower, and provide many benefits for the brain including improved learning and memory.
They also help fight mental disorders. According to another study, foods that have potentially adverse effects on the brain are junk foods, processed foods and saturated fat.
In one recent study of 6183 older participants, higher intakes of saturated fat were shown to be associated with worse cognitive and verbal memory skills whereas higher intakes of monounsaturated fats like avocados, nuts and seeds improved cognitive function including memory, problem solving and comprehension.
2.  Heart
It is no secret that a poor diet of high fat and sugar can contribute to weight gain, raise cholesterol levels and raise blood pressure.
Trans fat is a primary culprit and can be found hiding everywhere including commercial baked goods, shortenings, processed food, meat and dairy products. L-carnitine turns into a compound called TMAO which has been shown to cause arteriosclerosis that leads to clogged arteries.
According to the American Journal of Nutrition, foods that can improve heart health are fruits, vegetables, whole grains,  turmeric, cinnamon and healthy fats from nuts, seeds and avocados.
3. Lungs
The Centers for Disease Control estimates over 15 million people in the US and 300 million worldwide suffer from asthma, and that number is increasing not decreasing. Why are asthma rates soaring?
Some studies suggest that causes could include the rise in sedentary lifestyle and obesity which could affect lung strength.  A recent study of asthma and diet showed that teens with poor nutrition were more likely to have asthma symptoms.
We may not know all the reasons why, but we do know that people who eat diets higher in vitamins C and E, beta-carotene and omega-3 fatty acids have lower rates of asthma.
Foods that can improve your lung function include sunflower seeds, almonds, carrots, spinach, avocado, papaya, bell peppers, broccoli, brussels sprouts, strawberries, oranges, pineapple, flaxseeds and chia seeds.
4. Kidneys
Did you know that as many as 20 million Americans are at risk for reduced kidney function but don't know it?
According to the American Journal of Kidney Disease, deadly kidney disease is on the rise and six in ten Americans will develop this disease in their lifetime. Eating and drinking lots of sugar can damage your kidneys. Unfortunately, sugar can be hiding in some surprising places like salad dressings, bread and all processed foods.
Also, large quantities of sodium can increase blood pressure levels and high blood pressure damages the kidneys over time. Changing your diet can help protect your kidneys. You can avoid unhealthy amounts of sugar and salt by avoiding all processed, fast and junk food.
Foods that have antioxidants can help protect the kidneys by neutralizing free radicals. Free radicals can damage healthy cells and DNA. Foods that contain antioxidants include red bell peppers, cabbage, cauliflower, garlic, onions, blueberries, cranberries, apples, strawberries, cherries and red grapes.
5. Pancreas
The pancreas is responsible for producing enzymes that aid in the digestion of proteins, fats and carbohydrates in foods. It is also responsible for producing insulin. Certain foods can contribute to pancreas inflammation or damage the pancreas including processed foods and food high in saturated fats like bacon, ham and red meat.
Studies have found that dietary fat of animal origin was also associated with increased pancreatic disease risk. You can lower the risk of  of pancreatic disease by eating a variety of fruits, vegetables and whole grains including blueberries, cherries, broccoli, garlic, red grapes, mushrooms, sweet potatoes, spinach and tofu.
Regardless of all the above studies, it should be easy to understand why good nutrition is essential for maintaining healthy organs. Now is the time. You deserve a flourishing existence. Make ordinary food your new medicine and live a long and healthy life.
Now on to food.
I love to grill and there are so many fantastic vegan grilling recipes out there. Often I enjoy a simple grilled, smoked eggplant and tomato sandwich with a smidge of cashew cheese on top, and even vegetables like radicchio and pineapple taste delicious from the open fire. So be adventurous with that summer grill and bring out your favorite fruits and vegetables.
Last weekend I had company and decided to grill some delicious thai style tofu and vegetable kebabs for my non-vegan family. There wasn't a crumb left.
Hope you enjoy this easy, healthy grilled tofu recipe as much as we did. Wishing you a lifetime of taking care of your vital organs and your health with plant based nutrition.

Thai Grilled Tofu & Vegetables Shish Kebab
Choose your favorite vegetables to be grilled. I also like carrots, asparagus and radicchio on the grill.
Ingredients
1 package of extra firm tofu, cut into large chunks
Marinade
¼ cup chopped fresh cilantro
4 scallions, chopped
1½ inches ginger, minced
1 garlic clove, chopped
1 tablespoon maple syrup
1 large lime, squeezed of juice
1-2 serrano peppers, chopped (depending on heat - add one, taste and add more if you want more heat) or jalapeno
3 tablespoons soy sauce
2 tablespoons rice wine vinegar
Vegetables
16 white or brown mushrooms
1 portablella mushroom, cut into four pieces
1 Asian eggplant, cut into large chunks
1 red bell pepper, cut into large chunks
½ red onion, cut into large chunks
12 cherry tomatoes
1 teaspoon olive oil
salt & fresh ground black pepper
Instructions
Combine all the marinade ingredients in a food processor and process until smooth.
Pour marinade over tofu and refrigerate for 30 minutes or more.
Soak wooden skewers in water for 10 to 20 minutes.
Preheat grill for medium heat and lightly oil the grate. Alternatvely thread the red pepper, mushrooms, eggplant, onion and cherry tomatoes onto the skewers.
Whisk olive oil, salt and pepper in a bowl. Brush mixture over vegetables.
Remove tofu from the marinade and thread onto the wooden skewers. Reserve the marinade.
Cook skewers on the preheated grill, occasionally turning, until the vegetables are tender and the tofu has nice golden brown grill marks and color.
Meanwhile heat the reserved marinade and drizzle over tofu and vegetables.
Serve with cold rice salad with water chestnuts and fruit. Recipe here
Recipe for the Chilled Rice Salad with Water Chestnuts & Kiwi Fruit
here