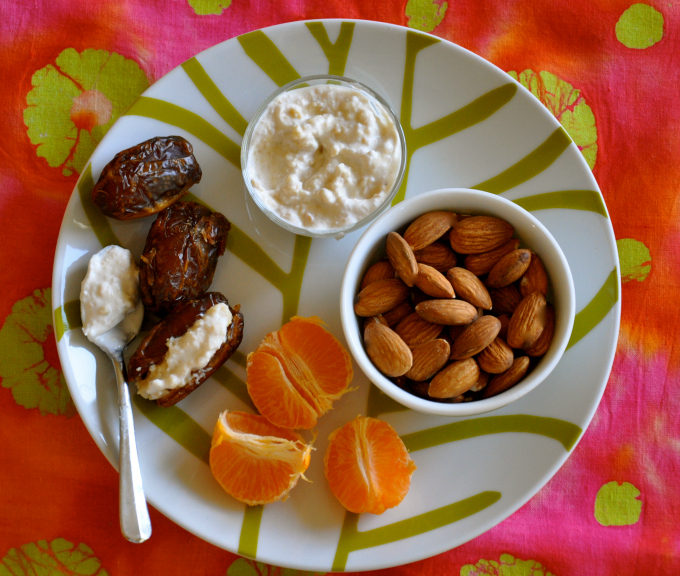 Vegan Snack Attack
Dates Stuffed With Cashew Cream, Almonds & Tangerines
I love a healthy, nutritious vegan snack, and it doesn't take many plant-based ingredients to feel full and satiated. Just think fruit, nuts, seeds and vegetables. All of those foods are guaranteed to make you feel sharper, brighter and energized. Just think,  a snack that tastes great and makes you feel like running a marathon.
Today's vegan snack attack inspired this lovely plate of effortless, high protein goodness, and it was simple to prepare. Just cut up some of your favorite fruit, add some sweetness like these dates stuffed with cashew cream and then add your favorite nuts or seeds. You could also add some veggies like sliced carrots or celery. Hope you enjoy this vegan snack as much as I did. For more delicious vegan snack ideas, check out my top 15 favorite vegan snacks. Don't miss any of Ordinary Vegan's free recipes by signing up here.

Sweet Cashew Cream
This sweet cashew cream is delicious stuffed in dates or as a topping for fruit salad
Ingredients
1 cup organic raw cashews (soaked for 2 hours or more)
1 tablespoon maple syrup, or more to taste
¼ tsp vanilla extract, or more to taste
¼ cup almond milk (or more depending on desired thickness)
Instructions
Rinse your soaked cashews and place them in a food processor. Add the remaining ingredients. Process until creamy. Add more almond milk if necessary.