Want to sweep a vegan off their feet this Valentine's Day? All it takes is a trip to the grocery store.
Why? Because the food you consume on Valentine's Day can have a direct impact on your romantic evening.  It is said that aphrodisiac foods can actually boost your libido and create "feel good" hormones in your body which can increase your sexual desire.
So definitely ditch the meat which clogs the arteries with saturated fat, and inhibits blood flow to important organs.
Instead, buy plant-based aphrodisiacs like almonds, asparagus, walnuts, avocado, bananas, basil, chocolate and figs and create a fun and easy laid back Valentine's dinner like the one below.  Doesn't that sound nice?
No fighting the crowds for dinner reservations. No traffic. Just a quiet, romantic night in with the one you love.
Although I included a pizza dough recipe, feel free to buy your dough already prepared. I hear Trader Joe's carries a delicious fresh dough, and less time in the kitchen means more time for other fun things.
The main course for this menu is "Pizza Amore" which contains four of the top 5 aphrodisiac plant-based foods – avocado, asparagus, walnuts and basil.
Serve it with a simple "Sexy Salad" of lettuce, sliced almonds and shaved radishes with a red wine vinaigrette.
And for desert, "A Puddle of White Chocolate Love", which is  a delicious combination of melted vegan white chocolate topped with sauteed bananas, figs and two spoons. Meant to be shared. Recipe below.
Or my "Four Ingredient Chocolate Pudding." Easy, breezy and delicious.
Hope you enjoy these plant-based recipes as much as I did. Happy Valentine's Day everyone.
Don't miss any of Ordinary Vegan's recipes by signing up here.
Ordinary Vegan has a podcast on plant-based nutrition and vegan recipes. You can listen here on this website or in iTunes.
Join our health and wellness community on Facebook. There are over 315,000 strong, vibrant community members waiting to embrace you.
Last but not least. Many people in the wellness world are turning to cannabidiol, commonly referred to as CBD, for its powerful anti-inflammatory and anti-anxiety effects. You can now purchase safe and effective CBD Oil on Ordinary Vegan. Link here.
Get Your Sexy On With An Aphrodisiac Valentine's Day Dinner
Pizza Amore
This easy and delicious pizza contains four of the top 5 aphrodisiac plant-based foods. Perfect for a laid back romantic evening. Store bought dough makes this recipe even easier. If you can, invest in a pizza stone. Heat it for 40 minutes in the oven before using. It can transform your pizza and you will never want store bought again.
Ingredients
Dough
¼ ounce package of active dry yeast
1 teaspoon of maple syrup
1¼ cups lukewarm water
1 cup whole wheat flour, plus more for dusting
1⅔ cups unbleached all-purpose flour (you can use all whole wheat flour)
1 tablespoon olive oil
2 teaspoons salt
2 tablespoons of cornmeal
Pesto
2 cups of fresh basil
½ cup walnuts or pine nuts
½ teaspoon salt
fresh ground black pepper
1 tablespoon nutritional yeast
1 tablespoon lemon juice
2 tablespoons extra-virgin olive oil
2 tablespoons vegetable broth (or more for desired consistency) I like it a little on the thin side for covering the pizza.
1 garlic clove, chopped
Pizza
1 store-bought or homemade pizza dough
10 asparagus stalks, cleaned
jar of artichoke hearts, drained and cut into fours
1 tablespon extra-virgin olive oil and a drizzle for the top
pinch of salt
pinch of red pepper flakes
1 avocado, sliced into ½ inch slices
Instructions
Dough
Dissolve the yeast, sugar and ¼ cup of luke-warm water. Let mixture stand until yeast begins to foam - 5-10 minutes.
Put 1 cup of flour in the mixing bowl fitted with a dough hook. Add the yeast mixture and begin mixing. Add more flour, salt, warm water and olive oil and continue mixing. Adding more flour as you go. Mix until the dough forms a ball, pulls away from the sides of the bow and is smooth and elastic. Transfer to an oiled mixing bowl, cover, and let rise in a warm area for 20 minutes, or until the dough has doubled in volume.
Spray a 19-inch pizza pan with olive oil and sprinkle with the cornmeal. I prefer an oven pizza stone that has been heated up for 40 minutes in a 500 degree oven. I use the corn meal on the pizza board for easy sliding.
Turn the dough out onto a lightly floured work surface and knead for about 5 minutes. Transfer to the prepared pizza pan. Add your toppings and bake.
Pesto
Place all the ingredients in a food processor with with an S blade. Pulse to desired consistency.
Pizza
Pre-heat the oven to 500 degrees
Using a vegetable peeler, shave the aspagus lenghth-wise into thin ribbons. Place in a small bowl and toss the asparagus ribbons and artichoke hearts with the olive oil.
Spread the basil pesto mixture thinly all over the pizza, leaving a ½-border around the the edges. Evenly distribute the the asparagus ribbons and artichoke hearts. Top with a drizzle of olive oil, a small amount of red pepper flakes and a pinch of salt.
Bake the pizza for 10-12 minutes, until the crust is fully baked and golden brown.
Remove the pizza from the oven to a cutting board. Top with avocado slices, and a drizzle of olive oil. Slice with a sharp pizza cutter and serve.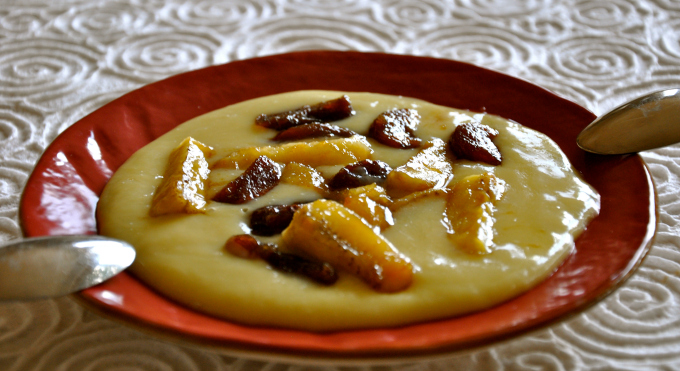 A Puddle of Chocolate Love with Bananas & Figs
Figs and chocolate are two of the top 5 vegan aphrodisiacs. Serve this with two spoons and share with the one you love.
Ingredients
6-8 ounces of vegan white chocolate
⅛ cup coconut milk
6 figs, cut in half
1 banana, sliced
1 tablespoon light brown sugar
2 teaspoons of vegan butter
*Optional - a little splash of dark rum
Instructions
In a small saute pan, melt the butter. Add the banana, figs, brown sugar and splash of dark rum if using. Saute until golden.
Meanwhile, melt your chocolate using a double broiler. If you don't own one, heat some water in a saucepan until it boil and reduce to a simmer. Place the chocolate in a bowl or saucepan that fits securely over the saucepan. Let the chocolate begin to melt while stirring it gently with a spatula. Add the coconut milk and continue until all the chocolate is melted.
Place the white chocolate in a bowl or on a plate. Top with sauteed bananas and date mixture. Serve.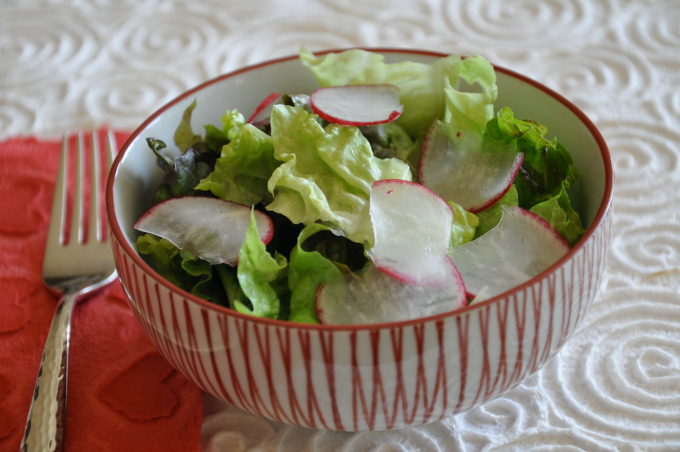 Make this simple, sexy salad using your favorite lettuce and shaved radishes.

Ordinary Vegan's Favorite Vinaigrette Recipe
Recipe type:
Salad dressing
Ingredients
4 cloves garlic, crushed
4 tablespoons dried oregano
2 tablespoons lemon juice (1 lemon)
¼ cup red wine vinegar
¼ cup extra virgin olive oil (you can use less if you are cutting back on oil - It will still taste great but a little more tart)
Instructions
Combine all ingredients in a container and lightly shake until mixed. Assemble salad and drizzle dressing on top.