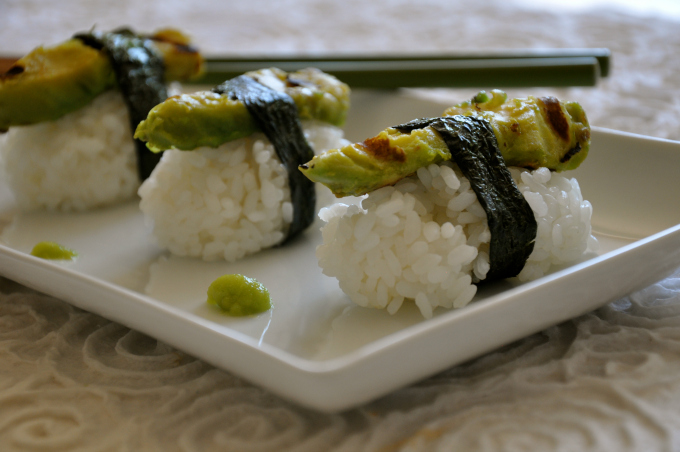 Happy Friday everyone.
The weekend is upon us and perhaps like me you will be serving some appetizers to friends and family.
Tonight I plan to serve some vegan sushi and edamame.
You can use your own imagination for the toppings on the rice like grilled mushrooms, tofu or even roasted eggplant. I personally love grilled avocado sushi for its elegance and simplicity. Just brush the avocado with lemon juice and olive oil,  and place it on the grill.
Serve the vegan sushi with some traditional fresh red ginger, wasabi and soy.
I also like to serve the grilled avocado in it's shell with a side of chips and salsa. Equally as yummy. Hope you enjoy this avocado sushi as much as I did.
Don't miss any of Ordinary Vegan's recipes by signing up here..
Ordinary Vegan now has a podcast on plant-based nutrition and vegan recipes. You can listen here on this website or in iTunes.
Join our health and wellness community on Facebook. There are over 315,000 strong, vibrant community members waiting to embrace you.
Thanks for stopping by and hope you have a peaceful and compassionate day.

Avocado Sushi
Use your imagination for the toppings like grilled mushrooms, tofu or roasted eggplant.
Ingredients
1 cup sushi rice
1⅛ cups of water
2 firm avocados
1 nori sheet cut into one inch strips long enough to wrap around sushi
1 lemon, squeezed
2 teaspoons extra-virgin olive oil
1 tablespoon rice vinegar
soy sauce
fresh pink sushi ginger
Instructions
Wash the rice with running water for 1 to 2 minutes until clear.
Place rice in a medium saucepan and add 1⅛ cups of cool water. Place over high heat, stir every minute or two until the water boils.
Reduce the heat to the lowest setting and cover the pot. After 6-8 minutes check the water level. If there is no more water, that means the rice is ready. If not, check back every minute until all the water is gone.
Remove from heat and let stand covered for 10 minutes.
Combine the rice vinegar and rice. Remove cover and allow to cool to room temperature before making sushi.
Preheat grill to medium-high heat or use a stove top grill
Remove the pit of each avocado by cutting into the pit with a large sharp knife and turning the knife counter-clockwise. Once the knife is properly wedged into the avocado pit, it should be easy to remove the pit from the flesh of the avocado, as you twist and remove the knife.
Whisk together the lemon juice (or lime) and olive oil in a small bowl.
Brush each avocado half with the lemon juice marinade.
Place each prepared avocado half, flesh side down, over the hot grill. Cook for about 5-7 minutes, or until grill marks appear and the avocado is warm, but not mushy.
Remove the avocado halves from the grill and carefully remove from skin keeping it in one piece. Slice into one inch slices.
Making sure your hands are moist, scoop a small amount of sushi rice (about ¾ the size of your palm). Roll and squeeze it together until it rolls into a firm "log" sized rectangle.
Place a dab of wasabi on one side of the avocado slice and then place the avocado on the rice log.
Wrap with nor strip.
Serve with fresh sushi pink ginger, wasabi and soy sauce.