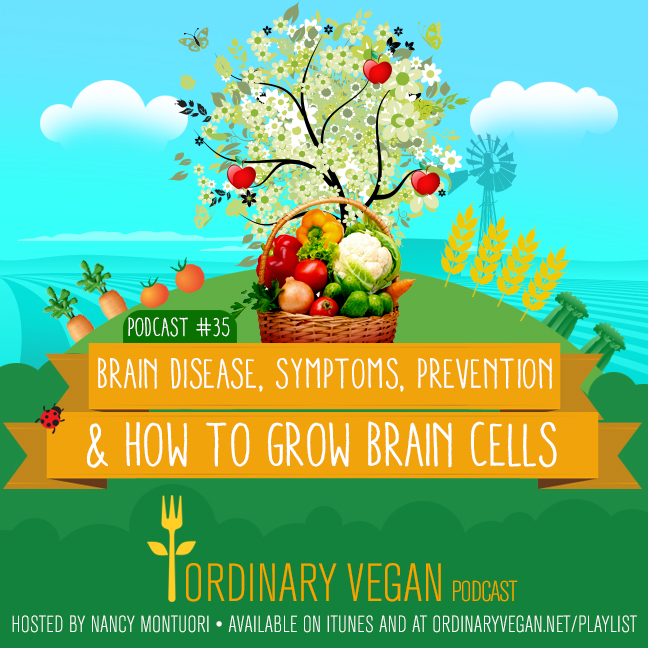 With the sharp rise in dementia and other brain disorders, it is vital to do everything we can to prevent brain disease. In this week's podcast, we learn brain disease symptoms and how to grow healthy brain cells for extra protection.
Many people understand the importance of having a healthy body, but many overlook the value of brain health. The human brain is an exceptional and complex mechanism, and we need to treat it with the utmost respect.
Brain scientists in recent years have discovered a number of surprising ways our brain affects our overall health. Some scientists even believe we have the ability to grow healthy neurons.
Today, we explore all the possibilities of cranial fitness to help you live a long, healthy, cognitive life.
We also go into Ordinary Vegan's kitchen and make a recipe to keep your brain free of toxins.
Thanks so much for listening and for being part of our healthy community.
If you have a chance, please leave a rating and review on iTunes and please subscribe. iTunes works in mysterious ways, but the more ratings and reviews the podcast gets, the better the visibility the podcast receives.
Don't miss any of Ordinary Vegan's recipes by signing up here.
You can also join our health and wellness community on Facebook. There are over 317,000 active, vibrant community members waiting to embrace you.
Finally, many people in the wellness world are turning to cannabidiol, commonly referred to as CBD.  You can now purchase safe and effective plant-based CBD Oil made from Hemp on Ordinary Vegan. Link here.
Still have questions about CBD oil? Learn more about how CBD oil works here.

Brain Enhancement Juice
Studies have shown that sulforaphane in broccoli can help get rid of toxins and harmful pollutants in the body. I recommend drinking this 3 times a week.
Ingredients
2 tablespoons 100% pure, organic freeze-dried broccoli powder
½ cup of pineapple chunks
½ cup of water
Juice of one lime
Instructions
Place all the ingredients in a blender and process until smooth.
Brain Disease, Symptoms, Prevention & Growing Brain Cells Sources Cited:
https://www.ncbi.nlm.nih.gov/pubmed/21182713
https://www.ecowatch.com/is-farmed-salmon-safe-to-eat-1881879121.html
http://www.pcrm.org/health/medNews/fish-oil-does-not-benefit-heart
http://www.abta.org/about-us/news/brain-tumor-statistics/
https://www.theguardian.com/environment/2018/mar/15/microplastics-found-in-more-than-90-of-bottled-water-study-says
https://www.saferemr.com/2017/09/5G-moratorium12.html
https://www.ted.com/speakers/sandrine_thuret
https://orbmedia.org/sites/default/files/FinalBottledWaterReport.pdf
http://www.abta.org/about-us/news/brain-tumor-statistics/
https://www.ncbi.nlm.nih.gov/books/NBK215128/