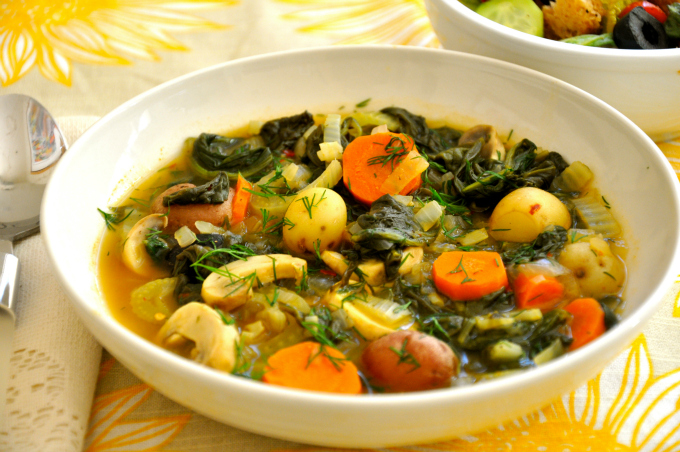 Braised Greens, Potatoes & Mushrooms with Lemon, Dill and Fennel
Some people look at me skeptically when I start talking about the connection between spirituality and veganism. But the truth is once you stop eating dead animals your energy changes.
Your body becomes clean for the first time in your life, and the highly potent plants you consume become a fresh, immaculate fuel that takes your body and mind to new heights.  In the beginning, for me, it was just about the health benefits.
I was only 120 days into my plant-based diet when I found out I no longer had to take high cholesterol medication and my blood pressure had drastically improved. Of course, I also loved the weight loss and plumper, prettier skin.
But after awhile I noticed something else. I became aware of a heightened sensitivity and deeper appreciation of beauty. It was "as if" life became more sharp and vivid.
I always say becoming vegan is like taking a truth serum because it made me stop and think about everything I did and the repercussions of my actions.
I needed and wanted 100% truth in my life and I was finally able to obtain it because my energy became crisp and pure.  Life was finally in perfect balance.  In retrospect, it is so easy to understand this huge metamorphosis.
High levels of dietary animal protein and fat slowed down my body and my mind. A body runs off what you feed it and I spent decades walking around with a sluggish frame and foggy mind because of the food I was consuming. Even though I perceived myself as healthy, I wasn't even close to being the best I could be.
Now I live my life healthy and truthfully, and going on a plant-based diet was the best thing I have ever done. I encourage you to try a plant-based diet even for a month and see what a difference it makes in your life.
You deserve a healthy future and the best way to predict that future is to make it happen, and I am here to help and support you.  Now on to this week's delicious, healthy plant-based recipe – braised greens and potatoes with mushrooms and fennel.
Today I was intrigued by a fennel and dill vegetable soup I saw in the LA Times. Actually it wasn't really a soup, but more of a braised greens dish. You can make it a soup depending on the amount of vegetable broth you want to use.
The LA Times instructions were adapted from a cookbook called "Mediterranean Vegetarian Feasts." The recipe had way too many ingredients so I simplified it and added my own favorite vegetables. The combination of dill and fennel was what really intrigued me and I often use that combo in my cabbage soups.
But my favorite part of this recipe was the abundance of leafy greens. Dark leafy greens are one of the healthiest foods you can consume and can help prevent many chronic diseases. Don't hesitate to use any or all of your favorites including arugula, kale, spinach, chicory or swiss chard.
Nothing beats a healthy braised greens recipe  to start the new year off right.
Happy New Year everyone! Wishing you a healthy plant-strong 2015. Don't miss any of Ordinary Vegan's free recipes in 2015 by joining our list.

Braised Greens, Potatoes & Mushrooms with Lemon and Fennel
Adapted from the LA Times recipe from Aglaia Kremezi's "Mediterranean Vegetarian Feasts"
Ingredients
¼ cup vegetable broth for sautéing (or more if needed)
1 large onion, chopped
1 - 11/2 cups sliced mushrooms
12 fingerling potatoes (or 8-10 gold potatoes halved or quartered depending on size)
2 carrots, chopped
1 fennel bulb, trimmed and coarsely chopped
10-15 ounces of mixed greens (spinach, swiss chard, kale)
1½ cups of vegetable broth (or more if you like a more brothy soup)
¼ cup fresh lemon juice
1 teaspoon fennel seeds, finely ground in food processor or crushed with mortar and pestle
½ teaspoon salt
½ teaspoon ground black pepper
½ cup chopped fresh dill (save some for garnish)
½ teaspoon red pepper flakes
Instructions
In a large soup pot, heat the vegetable broth over medium heat. Add the onions and cook until soft, about 5-7 minutes. Add the mushrooms, carrots, fennel bulb, potatoes, salt, pepper and ground fennel seeds. Sauté for another 3-5 minutes adding more vegetable broth if needed.
Add the greens and vegetable broth and stir for another 2 minutes.
Reduce the heat to low and simmer until the vegetables are tender, approximately 20 minutes.
Add the lemon juice, dill and sprinkle in the red pepper flakes. Taste and adjust seasonings. Cook for an additional few minutes and serve warm. Garnish with some fresh dill.