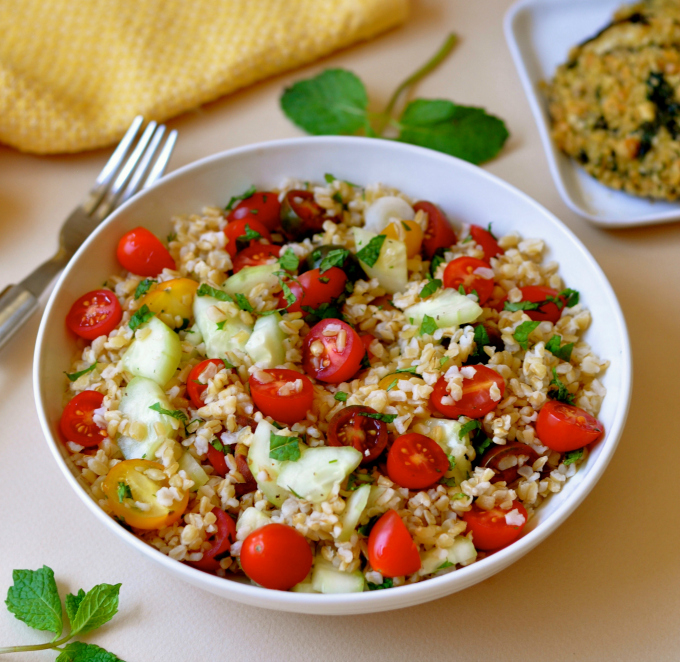 Bulgur is a whole grain that often takes a back seat to more traditional grains like quinoa. Did you know quinoa with 222 calories per cup has nearly twice the calories of bulgur, which has 112 calories per cup?
Cup for cup, quinoa has more macronutrients except for dietary fiber. However, if you eat two cups of bulgur, you'll be eating the same amount of calories and nutrients that are in one cup of quinoa.
Protein wise, quinoa contains approximately 8 grams of protein per cup and bulgur 4 grams of protein per cup serving, but calorie wise, bulgur contains just as much protein as quinoa.
One of the biggest benefits of eating bulgur vs. quinoa is the fiber. You get 8 grams of dietary fiber in one cup of cooked bulgur vs. quinoa which is 5 grams.
When you eat fiber-rich foods like bulgur, the soluble fiber swells with water and slows down the rate at which you digest food and absorb both glucose and cholesterol. Slower digestion allows you to feel full faster and longer.
Bulgur also contains resistant starch. Resistant starch has been called nature's fat-burning breakthrough because resistant starch is bulky, so it takes up space in your digestive system. Because you can't digest it or absorb it, the starch never enters your bloodstream.
That means it avoids the issue of some carbs which can get socked away as body fat when you eat more than you burn.
According to some studies, adding just 1/2 cup to one cup of resistant starch-rich food per day can lower blood sugar and shut down hunger hormones. Other starch resistant foods include bananas, black beans, oats, potatoes, barley, and brown rice.
Don't worry about getting fancy with this nutty whole grain. You can add it to salads, soups, and stir-fries.
I am still celebrating tomato season, so I made a delicious oil-free tomato cucumber bulgur salad with a lemon mint vinaigrette. For crunch, I added some baked breaded eggplant as a side dish which is very easy to prepare.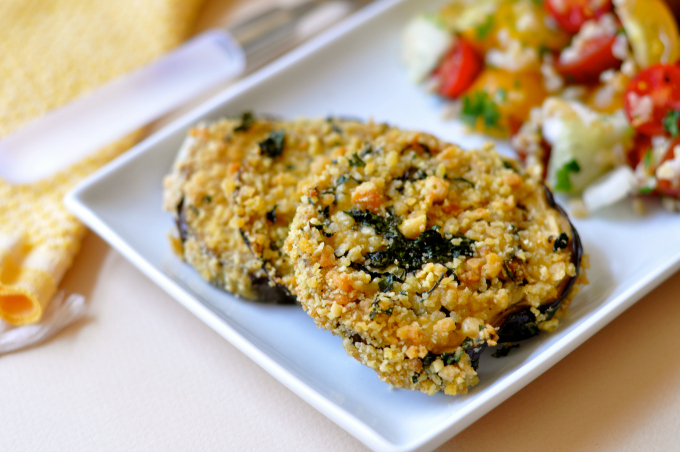 All you do is slice a medium eggplant into 1/2 inch slices. Dredge into some vegan eggs and than into some seasoned vegan breadcrumbs. I ended up using about 1/2 cup of bread crumbs and three vegan eggs for one medium eggplant. Bake at 400 degrees F for 30-40 minutes or until the eggplant is soft and golden brown. I seasoned the bread crumbs with chopped mint, chopped parsley, 1/4 cup of ground pine nuts and some ground black pepper.  Don't skimp on the herbs because that is what makes these breadcrumbs so delicious.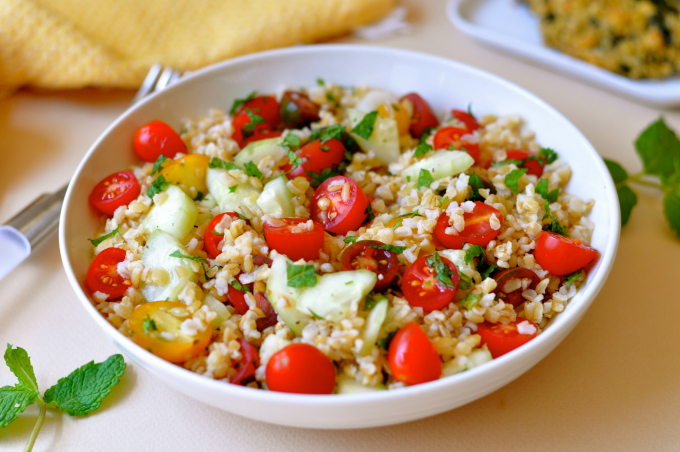 Bulgur Salad with Tomatoes, Cucumbers & Lemon Mint Vinaigrette
So the next time you are food shopping, grab a bag of this nutritious fat-burning grain. I like to make a big batch and add it to soups and salads. I also love it warmed up with a little soy sauce and veggies or for breakfast with almond milk, hemp seeds and a little drizzle of maple syrup.
Hope you enjoy this healthy recipe as much we did. Don't miss any of Ordinary Vegan's healthy, plant-based recipes by signing up here.
Learn everything you need to know about health and nutrition on my newly launched podcasts. You can listen to them here on my website or in iTunes.

Bulgur Salad with Tomatoes, Cucumber & Lemon Mint Vinaigrette
Ingredients
1 cup of bulgur
2 cups of water
¼ teaspoon salt
10-ounces of cherry tomatoes, cut in half
1 cucumber, peeled, sliced and diced
Vinaigrette
1 lemon juiced
2 tablespoon chopped shallot
2 tablespoons apple cider vinegar
1 tablespoon dijon mustard
1 tablespoon maple syrup
¼ cup water + 2 tablespoons
2 tablespoons chopped mint
2 tablespoons chopped parsley
¼ teaspoon ground black pepper (or more to taste)
Instructions
Add 1 cup bulgur to 2 cups salted cold water. Bring to a boil, cover and simmer for 12-15 minutes or until tender. Drain off excess liquid. Makes 2 to 2½ cups cooked bulgur.
Combine 2 cups of the cooked bulgur with the tomatoes and and cucumber.
Vinaigrette
Add all the ingredients to a food processor and process until smooth. Taste and adjust seasonings.**note: if you want to add some olive oil to this vinaigrette - add it in the end and process a few more seconds. I personally don't use a lot of oil but if you miss this ingredient, feel free to add it - all you need is a tablespoon or two**
Combine a few heaping tablespoons of the vinaigrette to the bulgur mixture. Taste and keep adding until it is dressed. I don't like to overdress this salad so I would add a little at a time.
Garnish with some extra chopped mint and parsley.