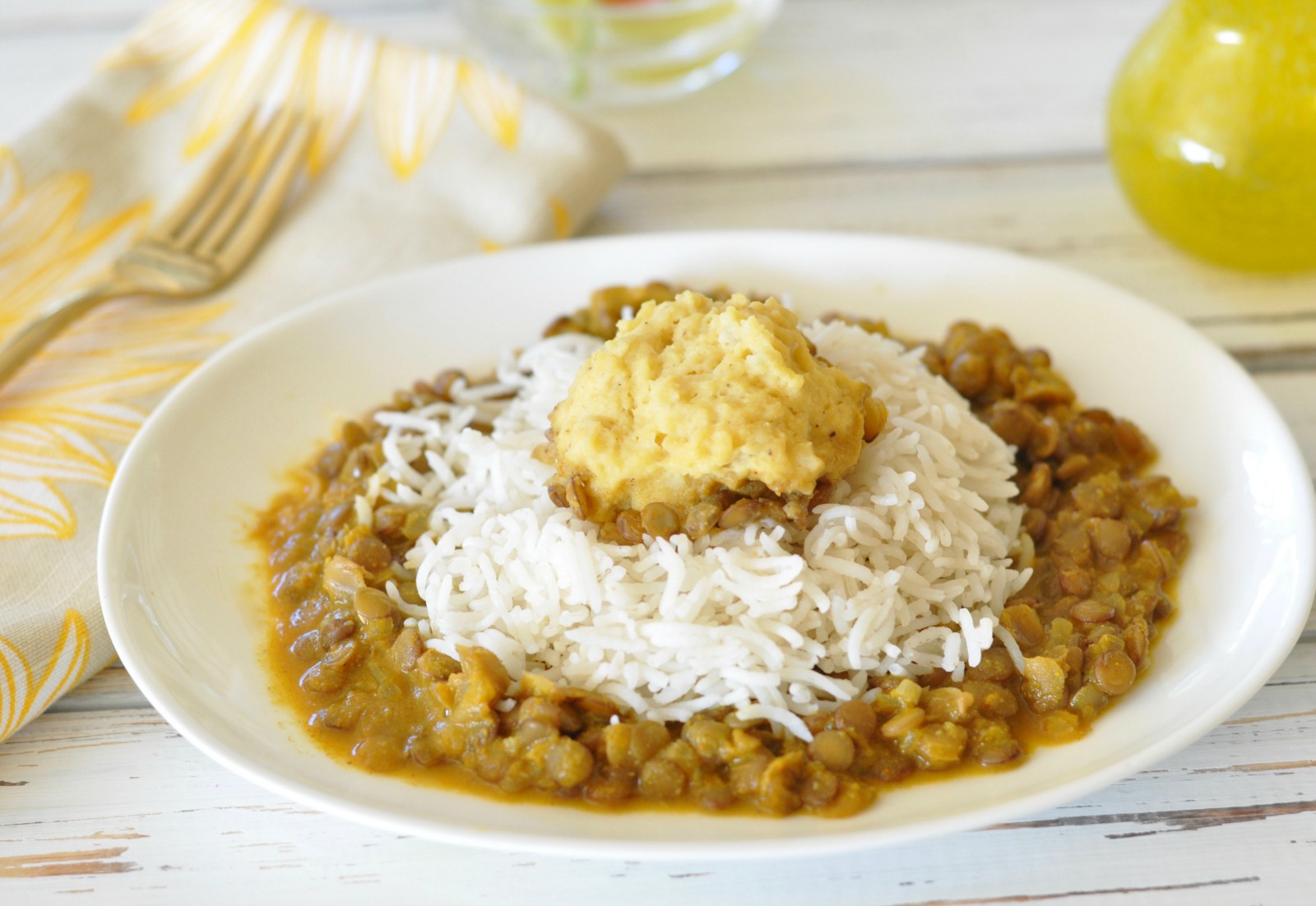 Chickpea dumplings are my new favorite flavor bomb.
These chickpea dumplings are very versatile, and you can poach them on top of most soups and stews.
All you do is divide the dumpling mix into heaping tablespoons and drop them into the cooking sauce or broth. Reduce the heat to low, cover, and gently simmer the chickpea dumplings until tender and cooked through, about 12 to 15 minutes.
Most dumpling recipes use white flour, milk, butter and even eggs, but there is no reason for that.
Chickpea flour is a unique flour because of the nutritional benefits. It is full of healthy protein, fiber, and vitamins. It doesn't taste bland like white flour and has a nutty, buttery taste.
Did I mention that these chickpea dumplings are also gluten-free?
Another reason I love these chickpea dumplings as a flavor bomb is that they amp up the flavor and make your soup or stew more satiating and satisfying.
Today I served them over a very basic and delicious yellow curry lentil stew. I like to serve this stew with a side of roasted bok choy and jasmine rice.
If you enjoy this chickpea dumplings recipe as much as we did, you may enjoy my Vegan Chicken and Dumpling Soup and my Easy Cape Malay Curry with Tofu,
Don't miss any of Ordinary Vegan's recipes by signing up here.
Just getting started on a plant-based diet? Here is a free downloadable list of delicious vegan protein and don't miss my #1 podcast – "Getting Started On A Vegan Diet."
To discover more delicious plant-based recipes and learn more about plant nutrition, don't miss the Ordinary Vegan podcast! Listen to them here on this website or on iTunes.
Finally, in 2018, after two years of research, I launched my first product – Ordinary Vegan plant-based CBD Oil from Hemp. My fact-finding, research and testimonials from our vegan community proved to me that this natural food supplement could help people.
You can learn more about vegan CBD oil from hemp here. Please don't hesitate to reach out to me with any questions you may have at questions@23.235.200.4.
Chickpea Dumplings
Chickpea Dumplings
Ingredients
Chickpea Dumplings
½ cup Garbanzo flour (chickpea flour)
¼ cup unsweetened, non-dairy plain yogurt
1-2 tablespoons of unflavored non-dairy milk
¼ teaspoon baking powder
2 tablespoons finely chopped onion
1 tablespoon of any herb of your choice (dill, basil, parsley, turmeric depending on your recipe)
Instructions
Dumpling Mix
In a medium bowl, combine the garbanzo bean flour, baking powder, yogurt, chopped onion and herb of your choice. Add one tablespoon of the non-dairy milk and combine. If it needs more moisture, add a little bit of the remaining non-dairy milk until it is the right consistency. It should have a doughy feel.
Divide the dumpling mix into six heaping spoonfuls and drop them into the sauce. Reduce the heat to low, cover and gently simmer the dumplings until tender and cooked through, about 12-15 minutes.
Yellow Curry Lentil Stew
Yellow Curry Lentil Stew
This is a little on the spicy side so add your curry paste slowly and tasting until you have your desired heat level.
Ingredients
½ cup vegetable broth for sautéing
1 onion, chopped
2 cloves garlic, chopped
2 inches fresh ginger, peeled and grated
1 cup dried lentils
2-3 cups vegetable broth
3-4 tablespoons yellow curry paste
4 tablespoons coconut milk
½ teaspoon salt
Fresh ground black pepper
½ cup frozen peas, optional
Instructions
Place a medium saute pan over medium heat and heat a ½ cup of vegetable broth. Add the onions, ginger and garlic. Saute until softened, about 3-4 minutes. Add 2 cups of vegetable broth and lentils. Bring to a boil and simmer until the lentils still have a little bite, about 12-15 minutes adding more vegetable broth if needed.
Whisk in the yellow curry paste, coconut milk, frozen peas (if using) salt and ground black pepper. Cook another 5-7 minutes or until it has thickened, adding more vegetable broth if needed.
Serve over rice,