Wow! I have been so busy lately, but I love every minute of it.
I keep searching for new inspiration for my recipes and this week's apple cinnamon bread was inspired by realizing I bought too many apples. Funny but true. But it was mighty delicious!
The reason I'm so busy is because of my new ventures include my Ordinary Vegan podcast.
I had no idea when I launched the podcasts that I would tap into another audience of folks who are interested in starting a plant-based diet but don't know how to move forward. If you have never listened to a podcast before, it's like listening to the radio except you listen to the shows right from my site or on iTunes.
I also had no idea how much I would love podcasting.
Thanks to all of you who have supported the podcasts and for your generous reviews and ratings on iTunes. They mean so much to me and I thank you from the bottom of my heart.
Ordinary Vegan will also be launching a plant-based course in the spring.
I will keep you updated through my blog and mailing lists. If that wasn't enough, I am creating a breakfast food that will not only appeal to vegans but to anyone who wants to start their day with an enormous amount of energy and nutrition.
Wish me luck. Now on to food.
This apple cinnamon bread was delicious and a sweet, healthy alternative for snacking. You can easily make this cinnamon bread gluten-free by switching to a rice flour. You could also switch up the walnuts to pecans or almonds. Anything goes. I recommend freezing some individual portions for a grab-n-go healthy snacks.
I hope you enjoy this apple cinnamon bread as much as we did. If you like healthy snack breads, you may  also like this Golden Pumpkin Bread with Rolled Oats and Walnuts.
Don't miss any of Ordinary Vegan's free recipes by signing up here.  Wishing you a peaceful and compassionate week.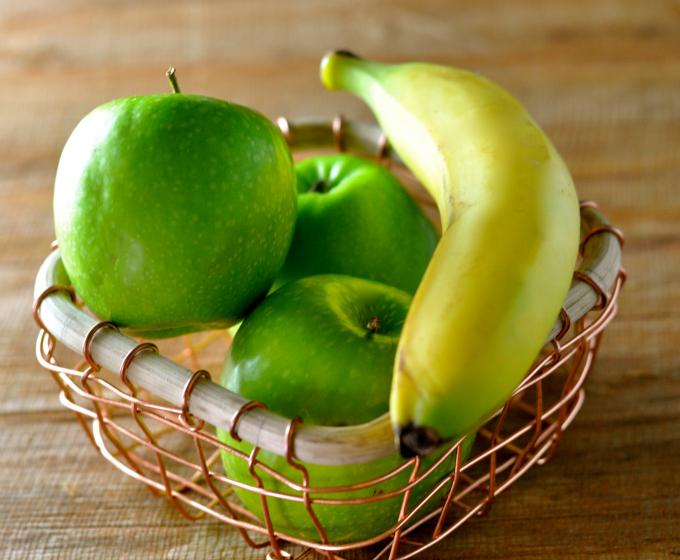 Cinnamon Bread with Apples & Walnuts Recipe
Apple Bread with Cinnamon & Walnuts
Ingredients
Dry ingredients
1½ cups of white or whole wheat flour (you can also use sprouted or gluten-free)
1½ teaspoon baking powder
½ teaspoon baking soda
1 teaspoon cinnamon
¼ teaspoon nutmeg
¼ cup vegan sugar
½ teaspoon salt
1 cup of grated organic apple (anything tart) Usually 1 medium apple does the job
¼ cup walnuts plus some for sprinkling on top
Wet Ingredients
1 large very ripe banana
¾ cup almond milk
¼ cup maple syrup
2 flax eggs **see note** (or 6 tablespoons aqua-faba)
1 teaspoon vanilla
Cinnamon topping
½ tablespoon vegan sugar
⅛ teaspoon cinnamon
Instructions
Preheat the oven to 350 degrees F. Grease and flour a loaf pan.
Combine the 1 tablespoon of sugar and ¼ teaspoon of cinnamon. Set aside
In a medium bowl, stir together the flour, sugar, baking soda, baking powder, salt, cinnamon and nutmeg.
In a food processor, add all the wet ingredients and process until smooth.
Add the wet ingredients to the dry ingredients. Combine well.
Add the apples and walnuts and fold in well.
Scrape the batter into the prepared pan and smooth the surface. Sprinkle with the cinnamon sugar mixture.
Bake for 50-60 minutes or longer, or until a toothpick inserted in the center comes out clean.
Let the loaf cool in the pan for 15 minutes before turning it out onto a rack to cool completely.
**Flax Eggs - for one egg whisk 1 tablespoons of ground flax with 3 tablespoons of water - place in the refrigerator for 10 minutes to thicken
**Aquafaba is the liquid from a carton of cooked chickpeas