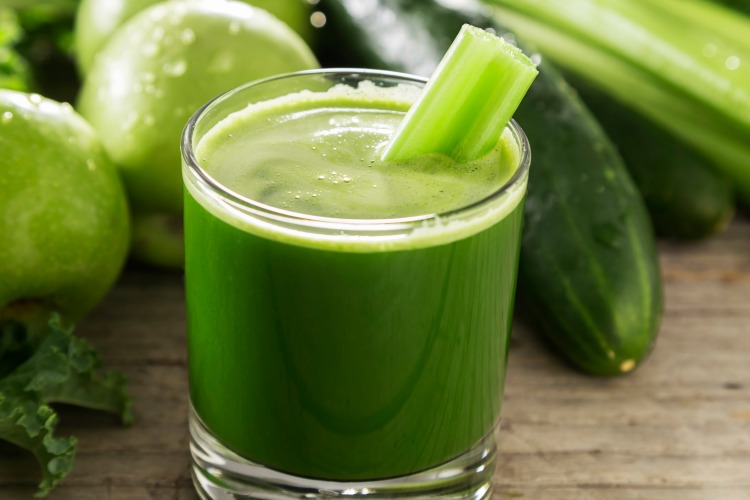 Before we discuss cortisol levels, I am excited to announce my latest passion. It is called juicing and here's how it all began.
This past March I attended a week long cruise devoted to plant-based nutrition. They had an entire bar and lounge where they created all kinds of juices made from fresh fruits and vegetables. It was always packed, and one day my energy was a little low, so I thought I would try it.
I know you're probably thinking; what! you have never juiced before?
Well, the truth is I hadn't. Because in the past I didn't believe that pure juice straight from the fruit or vegetable would satiate me.  But I immediately learned that I was wrong, and that wasn't my only discovery.
About 10 minutes after consuming the juice, I felt a strong boost of energy.  Here is why.
Our body needs time to digest whole food, and it takes a lot of resources from our body to break food down even when it's plant-based.
What I discovered is Juicing allows you to consume a high percentage of nutrients in just a matter of minutes, because it takes your body less energy to digest food in liquid form. So you immediately feel the nutritional benefits.
Also we often over-cook vegetables resulting in the loss of some important minerals. Juicing keeps the nutrients from escaping and allows your body to receive a larger dose of them.
Fast forward to my return home. I needed and wanted fresh juice everyday. I didn't have a juicer, so I reached out to a company called Champion Juicer. They appeared to be the mothership of juicers. Here's why.
Champion Juicer it is one of the oldest and most trusted companies for juicing because they have been at it since the 1950s. A friend of mine told me she had a juicer made by Champion for more than 25 years and still loved it. I was like 25 years! That must be a reliable juicer. So Champion Juicer became my juicer of choice.
What I learned is when you buy a juicer, you need to know if it is centrifugal or a masticating juicer. If possible, you want a masticating juicer like The Championship Juicer which combines three operations into one. It grates, masticates and then chews the pulp to further break down the flesh leaving no nutrients behind.
Who knew I could be well versed in juicing?  But you know me  I do a lot of research before I recommend anything to our health and wellness community.
So after learning everything I could, I wanted to create juicing recipes to help lower cortisol levels that cause anxiety and depression.
Why?  Because we live in stressful times. From work life, home life, marriage life, relationship life and the constant news feed of life, it is an intense time and we need stress relievers. Here is how our anatomy behaves during difficult times.
There is a steroid hormone in our body called cortisol, and it doesn't react well to anxiety.
Cortisol levels rise when we are stressed out. When cortisol levels build up, you can feel anxious, irritable or depressed. You are also more susceptible to inflammation, digestive problems, weight gain, sleep problems and energy levels that go up and down all day.
Cortisol also prepares the body for a "fight-or-flight" response by flooding us with glucose causing an acute stress response that can cause an increased heart rate and faster breathing.
The good news is you can get your cortisol levels under control naturally.  There are herbs that have been used for centuries to handle these stress related problems.
They are called adaptogenic herbs.
Adaptogenic herbs can help strengthen the body's response to stress and many studies are showing that these herbs can play a dramatic role in lowering cortisol.
When studies like those are released, the supplement industry jumps all over it and adaptogenic supplements are now all the rage. But you don't need supplements. You can go straight to the source; herbs, fruits, and vegetables.
So I have created two cortisol lowering recipes to alleviate some of that stress in your life. I recommend one in the morning and one in the afternoon.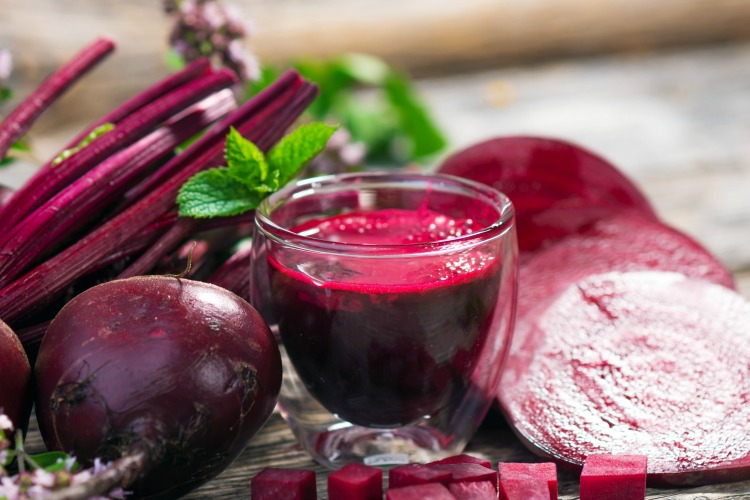 Juicing  To Lower Cortisol Levels
Each recipe includes an adaptogen herb and fruits and vegetables high in vitamin C.
Foods rich in vitamin C have shown to lower cortisol levels. German researchers tested this by asking 120 people to give a speech, then do difficult math problems. Those who had been given vitamin C had lower levels or cortisol and lower blood pressure, and were able to perform better.
There is a long list of adaptogen herbs but I like the ones that are easy to use and find like rosemary and holy basil. You can also use ginseng slices which you can buy at most natural food stores. Although pricey, a little goes a long way.
Other adaptogen herbs include milk thistle, rhodiola rosa, licorice root, ginseng eleuthero,  and Asian ginseng. These are harder to find but are available in  liquids and powders. You have to be careful about not using too much. As a matter of fact, I always recommend that you consult with a qualified healthcare practitioner before using any herbal products, particularly if you are pregnant, nursing, or on any medications.
Foods rich in vitamin C include:
*Berries – strawberries, raspberries, blueberries and blackberries
*Oranges
*Red and Green Peppers
*Kale
*Brussels sprouts
*Broccoli
*Grapefruit
*Guava
*Papaya
*Tomatoes
Just combine a small dose (200mg or less) of your adaptogen herb, with vitamin C rich fruits and vegetables and viola; you have a nutrient packed juice to help lower your cortisol levels.
I like to go heavy on the veggies and light on the fruit and I always include a leafy green like kale or spinach.
Hope you enjoy these juicing recipes as much as I did. If you would like to find more delicious juicing recipes visit Champion Juicer's recipe page.
Don't miss any of Ordinary Vegan's recipes by signing up here. Learn more about plant-based nutrition on the Ordinary Vegan podcast here or on iTunes. Wishing you a peaceful and compassionate week.
This post was sponsored by Champion Juicer. The opinions and text are all mine.
The views and nutritional advice expressed here are not intended to be a substitute for conventional medical service. If you have a medical condition or health concern, please see your physician.
Green with Envy Stress Reliever
Green with Envy Stress Reliever
This tart and refreshing juice helps lower cortisol levels that cause stress and anxiety. For best results use the largest pieces of fruits and vegetables that will fit into the feeding chamber.
Ingredients
3 Granny Smith Apples, quartered, cored, seeds removed
2 lemons, peeled
4 cups chopped Tuscan kale leaves
1 cup parsley sprigs
1 celery rib
1 x ¼ inch ginseng slice
Instructions
Wash and rinse everything thoroughly and cut off any damaged sections or tough ends.
Add the ingredients to the juicer beginning with the apple, then add the kale, lemons, parsley, celery, and ginseng slice. Consume within 24 hours.
Nutrition Information
Serving size:
8 ounces
Calories:
160
Saturated fat:
0
Trans fat:
0
Carbohydrates:
35 grams
Fiber:
5 grams
Protein:
1 gram
Cholesterol:
0
Beet & Berry Juice For Stress
Beet & Berry Juice For Stress
This rosemary infused juice helps lower cortisol levels that causes stress and anxiety, Wash and rinse everything thoroughly and cut off any damaged sections or tough ends. For best results use the largest pieces of fruits and vegetables that will fit into the feeding chamber.
Ingredients
1 red beet, peeled and cut into chunks
1 cup blueberries
1 celery rib
1 Granny Smith apples, halved, cored and cut into chunks
Large handful of kale or spinach
½ tablespoon of rosemary leaves
1 lemon, peeled
Instructions
Wash and rinse everything thoroughly and cut off any damaged sections or tough ends.
Juice kale first then add the beet, berries, celery, apples, rosemary leaves and lemon.
Consume within 24 hours