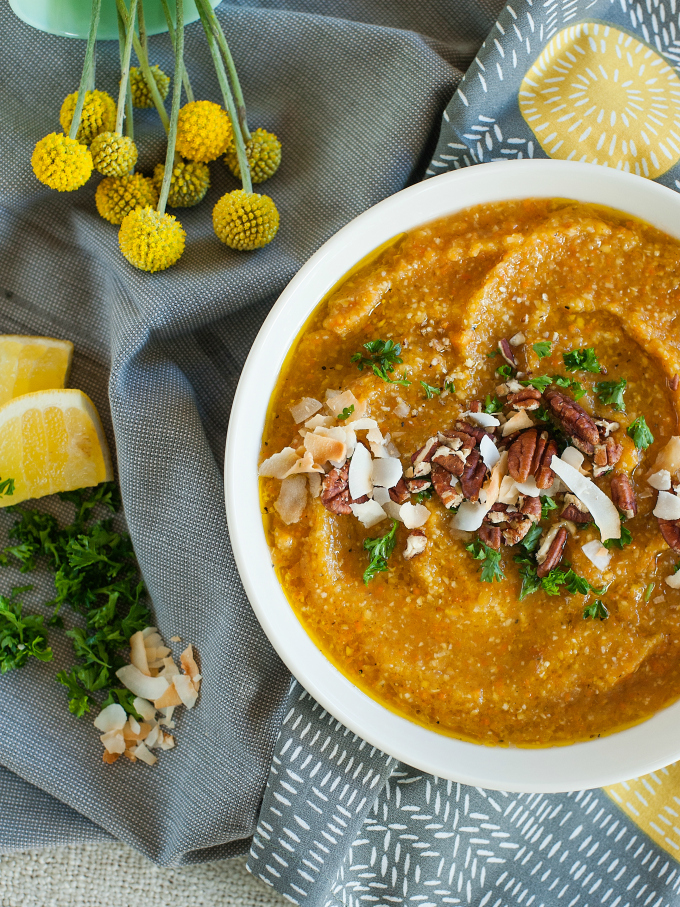 Nothing says fall like a creamy squash soup. Not only is it delicious, it is also an excellent source of many immune-fighting vitamins and minerals.
Here is a nutritional breakdown.
One cup of butternut squash provides 437% of your vitamin A as well as 52% of vitamin C.
Vitamin A and vitamin C are powerful antioxidants. Antioxidants are natural molecules that help neutralize free radicals in our bodies. Free radicals can damage cells and cause oxidative stress.
Oxidative stress is closely associated with chronic disease.
Not only that, the vitamin C in butternut squash can help repair and regenerate tissue, protect against heart disease, aid in the absorption of iron and help decrease bad cholesterol.
If that wasn't enough, butternut squash is also rich in vitamin E, B-6, folate, magnesium and it contains more potassium per cup than a banana.
I think you are getting the picture. One bowl of creamy squash soup is a grand slam of nutritional benefits.
Creamy Squash Soup with Corn, Toasted Pecans, and Coconut
It is also simple to prepare. All you need is some frozen, cooked squash or if you have the extra time use fresh. I decided last minute to add some corn for sweetness.
Don't cheat yourself out of the toppings. Toasted pecans and coconut are a perfect accompaniment to this creamy squash soup, and a little goes a long way.
Hope you enjoy this creamy squash soup with corn, toasted pecans and coconut as much as we did. Don't miss any of Ordinary Vegan's free recipes by signing up here.
Ordinary Vegan's health and wellness podcasts are available on iTunes or here on my website. Just click play to listen.
Sending you lots of peace and compassion this holiday season!

Butternut Squash and Corn Soup
Corn and carrots add just the right balance to this hearty and healthy butternut squash soup.
Ingredients
3-4 cups vegetable broth and ⅓ cup for sautéing
1 12-ounce package frozen, cooked squash
1 medium onion, chopped
2 cloves garlic, chopped
1 tablespoon fresh sage leaves, chopped
½ tablespoon maple syrup
2 large carrots, chopped
1 cup corn kernels (cut from 2 ears of corn or frozen)
½ teaspoon salt
½ teaspoon ground black pepper
¼ teaspoon paprika
⅛ teaspoon ground nutmeg
1 tablespoon chopped parsley, optional for garnish
*Toasted pecans and shredded unsweetened coconut for garnish*
Instructions
In a large pot over medium heat, heat ⅓ cup vegetable broth. Add the onions and cook for 4 minutes or until soft and translucent. Add the garlic and sauté another two minutes. Add more vegetable broth if sticking.
Add the carrots, sage leaves, salt, pepper, paprika, and nutmeg. Cover with 2 cups of broth and bring to boil. Reduce heat and simmer until the carrots are very tender, about 20 minutes.
Add the frozen squash and another cup of vegetable broth. Bring to boil and reduce heat and simmer for another 10 minutes.
Puree soup a portion at a time in a blender or food processor until smooth. Return to pot and add the corn and maple syrup. Reheat the soup until the corn is tender, about 5 minutes.
Add more broth if you want it thinner. Taste for seasoning.
*To toast pecans & coconut - preheat oven to 350 degrees F. Place approximately ½ cup pecans and ½ cup unsweetened coconut on a baking sheet lined with parchment paper. Toast the pecans just until they become aromatic about 5 minutes. The coconut may take an additional 2-3 minutes. Keep a close eye on both so they don't get scorched.
testing