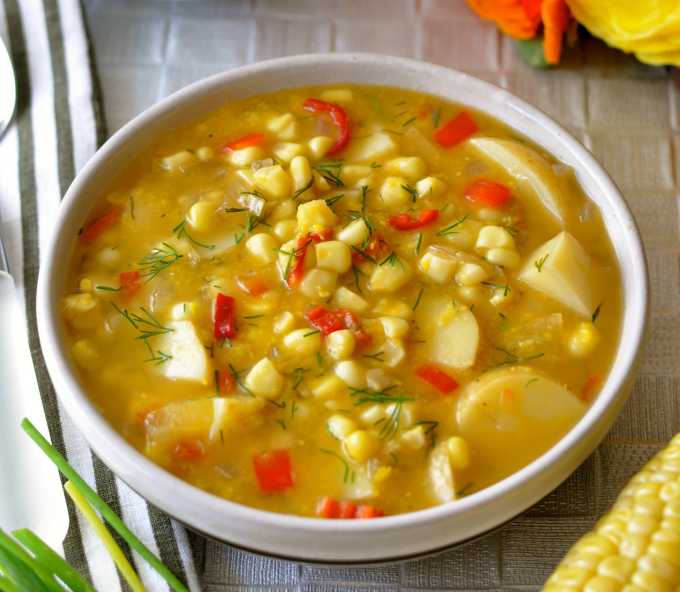 This easy corn chowder highlights the savory taste of seasonal vegetables. Fresh and sweet, corn is one of the summer's greatest pleasures.
What I love most about this easy corn chowder is that it's simple yet hearty and creamy without the cream. I substituted the cream with some Silk unflavored almond milk, and it worked brilliantly without the added calories and fat.
Corn has been getting a bad rap lately. In 2011, Monsanto announced plans to grow genetically modified sweet corn on 250,000 acres, roughly accounting for 40% of the sweet corn market. By the way, the problem isn't that the corn is GMO, the problem is that all GMO crops are drenched in Roundup also known as glyphosate. Glyphosate is an herbicide that has been linked to numerous diseases. GMO crops were created to withstand glyphosate. You can read more about glyphosate here.
GMO corn can be found in the produce department of most grocery stores, farmstands and farmers' markets. It can also be found in processed foods that contain sweet corn.
The best way to avoid GMO corn is to eat certified organic sweet corn. Under the regulations of the National Organic Program, certified farmers are not allowed to knowingly plant GMO seeds.
In the summer I like to shop at my local farmer market for corn. There are lots of apps now available that give shoppers access to information about the farms selling produce. Also, don't hesitate to ask a lot of questions about what kind of pesticides these local farmers are using. You have a right to know what's in your food.
You can also make this easy corn chowder with frozen organic corn. One ear of corn yields approximately 3/4 cup of frozen corn.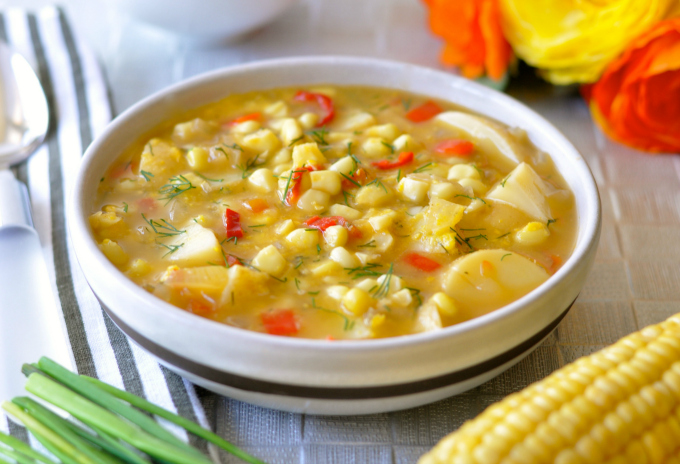 Easy Corn Chowder with Potatoes, Red Pepper & Dill
Hope you enjoy this easy corn chowder as much as we did.  As many of you know, I have teamed up with Silk non-dairy milk this year to spread the non-dairy message. If you missed my post on why cow's milk isn't the best milk to consume; here is the link.
You can learn more about all of Silk's non-dairy milk by signing up for their newsletter which contains lots of delicious vegan recipes. If you are wondering where you can buy Silk non-dairy milk, here is a store locator. It should be available in most mainstream grocery stores.
This is a sponsored conversation written by me on behalf of Silk. The opinions and text are all mine.

Don't miss any of Ordinary Vegan's free recipes by signing up here. Wishing you a peaceful and compassionate week!

Easy Corn Chowder with Potatoes, Red Pepper & Dill
This easy corn chowder highlights the sweet taste of summer corn anytime of the year. A delicious combination of corn, golden potatoes, red pepper and dill.
Ingredients
⅓ cup vegetable broth for sautéing plus 3-4 cups for chowder
1 cup sweet onion, diced
1 celery rib, diced
1 small red bell pepper, diced
3 ears of organic corn, kernels removed (see note below) or 2¼ cups frozen organic sweet corn
2 cups of yellow or red potatoes, ½ inch dice (I don't peel them but you could)
½ cup Silk non-flavored almond milk
3 tablespoons chopped fresh dill
½ teaspoon salt
½ teaspoon ground black pepper
2-3 tablespoons fresh chopped chives and fresh dill for garnish
Instructions
Use a sharp knife to slice down along the cob and remove the kernels **see my note below**
Heat ⅓ cup vegetable broth in a large soup pot.
Add the onions, celery and red pepper. Sauté for approximately 4-5 minutes or until the vegetables are soft.
Add the 3 cups of vegetable broth. Add the potatoes and dill. Season with salt and pepper. Bring to a gentle boil, reduce heat and simmer for approximately 10 minutes. You may need a little extra vegetable broth to cover potatoes.
Add the corn and almond milk and simmer uncovered for another 7 minutes.Taste and adjust seasonings.
Garnish with chopped chives and fresh dill.
**The easiest and safest way to remove kernels from corn is place a small bowl upside down inside a large bowl. Then stand the large end of the corn down on top of the smaller bowl. Use a sharp knife to slice down along the cob. The kernels will collect in the bottom of the bowl.**
Notes
Bonus Nutrients: Vitamin A, Vitamin C, Iron and Calcium
Nutrition Information
Serving size:
1 cup
Calories:
120
Fat:
3.5
Saturated fat:
0
Trans fat:
0
Carbohydrates:
12
Sugar:
4 1//2 grams
Fiber:
4 grams
Protein:
4 grams
Cholesterol:
0