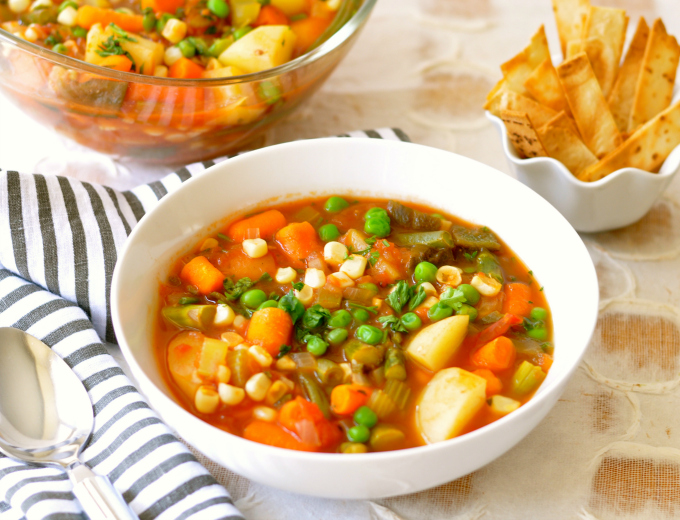 Autumn is in the air and making a big pot of easy vegetable soup for Sunday supper is one of my favorite "cool" night things to do. I always like to step it up a notch with some crunch, texture and a little smokiness.  Foods with lots of textures satiate you faster especially in a plant-based diet.
Also, if you are the only vegan in a carnivore family, my strongest advice is to get as much fresh food as possible on the table with different textures.
For example; green beans with sliced almonds, butternut squash with farro and pecans, grilled portobello mushroom over cauliflower mash, Tuscan beans topped with tomatoes and breadcrumbs, or this easy vegetable soup with crunchy tortillas. Texture and crunch are important to get family members on board.
To amp up the flavor in today's soup,  I roasted and peeled three poblano peppers. I placed the poblanos under the broiler until the skin was blistered and blackened. About 3 minutes on each side. Then I put them in a paper or plastic bag. When they cooled off, all you do is remove the stem, seeds and peel off the skin. Chop them up and add to the soup. It's very simple and adds a lovely smokey flavor.
For crunch, I stacked and cut some tortillas into 1/2-inch strips. Then I spread them, in a single layer, and baked until they were brown and crunchy. They taste delicious on top of this soup or any soup for that matter.

Easy Vegetable Soup
Hope you enjoy this easy vegetable soup recipe as much as we did. Don't miss any of Ordinary Vegan's free recipes by signing up here. Learn more about nutrition by listening to Ordinary Vegan's podcasts here or on iTunes.
I am launching my first product into the market next month, and I am very excited. Stay tuned, and thank you for all the goodwill and kindness you have shown me over the years. I sincerely appreciate it. I want to help make the world as healthy and as happy as possible.

Easy Vegetable Soup With Roasted Poblano Peppers & Crunchy Tortilla Chips
There is nothing better on a chilly night then an easy vegetable soup that pops with flavor because of two very special ingredients.
Ingredients
½ cup vegetable broth for sautéing & 3-4 cups for soup broth
1 medium onion, chopped
4 cloves garlic, chopped
4 stalks celery, chopped
3 cups diced potatoes
3 cups diced carrots
1 25-ounce can low-sodium San Marzano tomatoes, crushed (or diced tomatoes)
2 bay leaves
1 tablespoon fresh thyme
2 ears of corn, kernels removed or 1½ cups frozen
1½ cups fresh or frozen green beans
1 cup of fresh or frozen peas
3 tablespoons fresh parsley
¾ teaspoon salt
fresh ground black pepper
3 roasted, peeled, chopped poblano peppers (see note below)
4-5 tortillas, cut into ½ inch strips (optional) for garnish
Instructions
Heat ½ cup vegetable broth in a large soup pot over medium heat.
Add the onions and celery and sauté 3-5 minutes or until soft and translucent. Add more vegetable broth if sticking.
Add garlic and sauté for another minute.
Pour in 3 cups of vegetable broth and can of tomatoes, breaking up the tomatoes with your hands if using San Marzano tomatoes.
Add the salt, bay leaves, fresh ground black pepper and thyme. Bring to boil.
Add carrots, poblano peppers and potatoes. Lower the heat and cook until the potatoes and carrots are tender. About 20 minutes.
Add the green beans, corn, parsley and peas and cook for 10 minutes longer. Add more vegetable broth if needed. Remove the bay leaves before serving.
Top with crunchy tortilla chips.
**Tortilla chips - preheat oven to 400 degrees F - cut each tortilla into ½ inch strips - arrange in a single layer on a cookie sheet - Bake for 5 minutes or until brown and crunchy keeping a careful watch**
**Roasted Poblano Peppers - turn the broiler on - place peppers on a lined baking sheet - place under broiler - broil until the skins are completely wrinkled and the peppers are charred, turning them 2-3 times during the process. Place in a paper or plastic bag to cool. Remove the stem, skin and seeds. Chop into bite-sized pieces for soup**