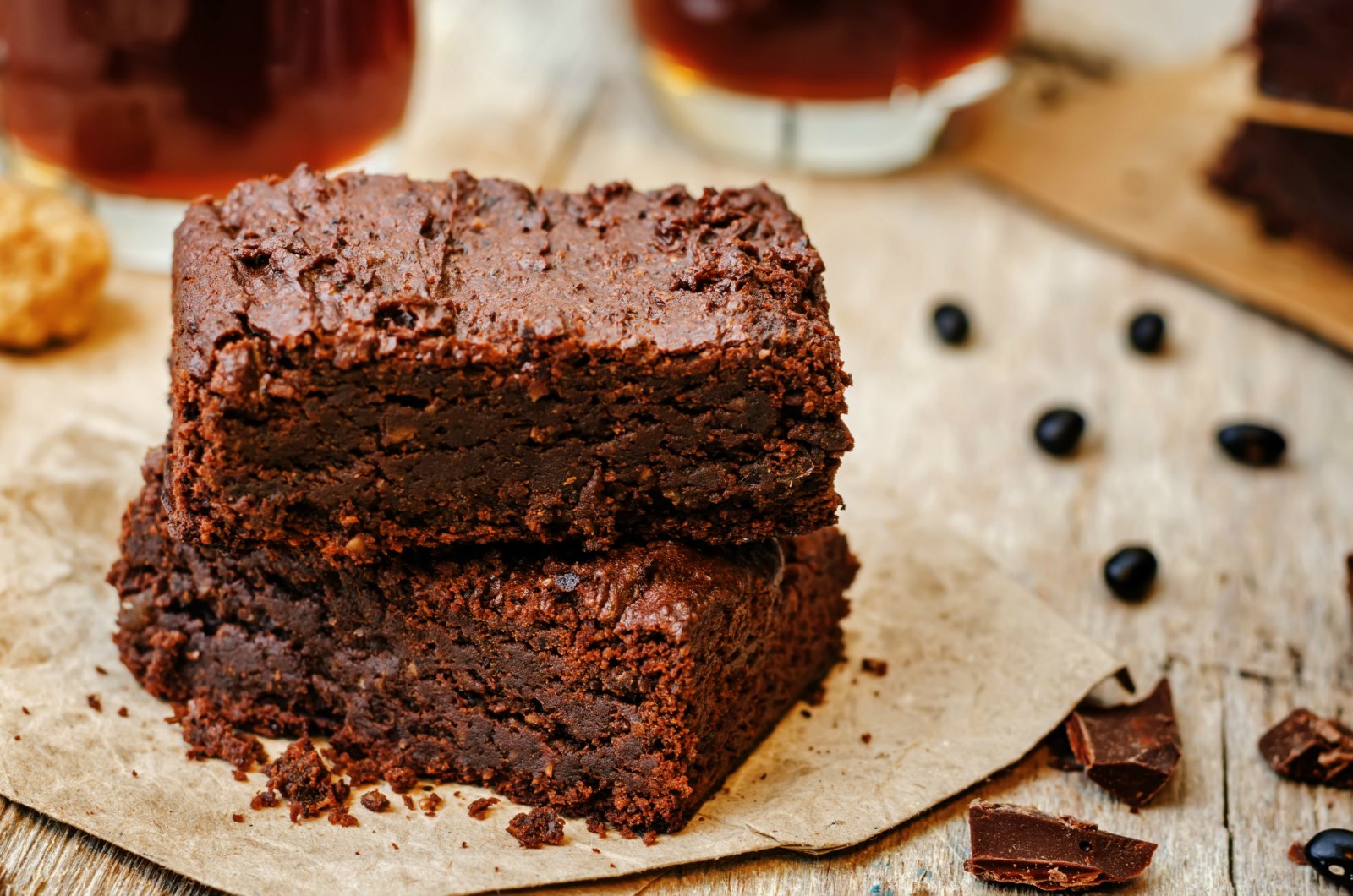 These healthy vegan brownies are created with two unusual and wholesome ingredients.
Cooked black beans replaces most of the flour and avocado replaces the oil component. What you end up with is a fudgy, delicious, dairy-free, gluten-free, oil-free brownie.
There are many ways you can make these healthy vegan brownies your own. You could add chopped walnuts or non-dairy chocolate chips.  You could also replace the maple syrup with 3/4 cup of vegan sugar for a sweeter brownie.
Whatever you decide, no one will ever guess that they are eating a black bean avocado brownie. I call it desserts with nutritional benefits!
If you make this recipe, please leave a comment below and rate these healthy vegan brownies. You could also snap a photo and post it on Instagram using the hashtag #ordinaryvegan. And of course, be sure to follow Ordinary Vegan on Instagram.
Don't miss any of Ordinary Vegan's recipes by signing up here.
Ordinary Vegan has a podcast on plant-based nutrition and vegan recipes. You can listen here on this website or in iTunes. This podcast is dedicated to helping people live a long and healthy life.
You can also join our health and wellness community on Facebook. There are over 316,000 healthy, vibrant community members waiting to embrace you.
Finally, many people in the wellness world are turning to cannabidiol, commonly referred to as CBD. You can now purchase safe and effective Plant-based CBD Oil made from Hemp from Ordinary Vegan. Link here.
Thanks for stopping by and hope you have a peaceful and compassionate day.
Healthy Vegan Brownies – Fudgy & Oil-Free
Healthy Vegan Brownies, Fudgy, Oil-Free & Gluten-Free
These delicious, fudgy, healthy vegan brownies have two secret ingredients. Avocado instead of oil and black beans instead of flour and don't worry, you would never know black beans were an ingredient. Also, some people prefer these sweeter and use vegan sugar instead of the maple syrup.
Ingredients
1 15-ounce carton cooked black beans, well rinsed and drained
½ of small avocado
½ cup cocoa powder
½ cup oat flour (or gluten-free, wheat or white flour)
2 flax eggs
⅛ cup soy or nut milk
1½ tsp vanilla extract
¾ cup pure maple syrup (or ¾ vegan sugar)
¼ teaspoon salt
1½ teaspoons baking powder
Optional add-ins - walnuts & dairy-free chocolate chips
Instructions
Pre-heat oven to 350 degrees F
Lightly grease a 9 x 9 baking dish and line the bottom with parchment paper.
Add all the ingredients except the optional add-ins to a food processor. Puree for approximately 2-4 minutes. You want it smooth and it will be thick.
Evenly distribute the batter into the baking dish.
Bake for 30 -40 minutes or until the the top is dry and the edges start to pull away.
Remove from oven and let cool for 30 minutes before removing from the pan.
Store in an airtight container for a couple of day or refrigerate to keep longer.
*Two flax eggs can be made by combining 2 tablespoons of ground flax and 5½ tablespoons of water. Put into the refrigerator for 10 minutes to thicken.