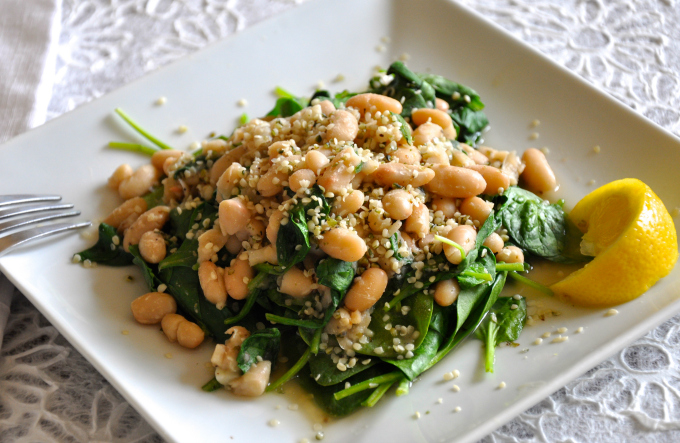 Hemp Seeds, Cannellini Beans and Greens
Plant-based, simple, hearty, nutrient packed and delicious. What more could you ask for in a meal?
Especially a meal that takes about 10 minutes to prepare like this hemp seeds, cannellini beans, and greens recipe.
As many of you know, I am crazy about hemp seeds. They pack a nutritional wallop to any meal and are second only to soybean in protein content.
The beauty of Hemp seeds is that they contain all 20 known amino acids including the 9 essential amino acids our bodies cannot produce. This is called a complete protein. Proteins are considered complete when they contain all 9 essential amino acids in a sufficient quantity and ratio to meet the body's needs.
Since we cannot produce them, it is crucial we acquire them through dietary sources. Various studies have demonstrated that many common illnesses are related to deficiencies or imbalances of amino acids in the body.
In addition to the complete protein, hemp seeds are an excellent source of fiber.
You will also like the way they taste. The seeds have a pleasant nutty flavor, crunch and seem to melt in your mouth.
Just in case you are wondering, hemp seeds have no drug value and are an entirely different plant than its cousin plant marijuana.  I hope you try them because adding small amounts of hemp seeds to your diet can make a big difference on your health.
Maintaining your health and wellness is the single most important thing you can do in your life! Hope you enjoy this easy vegan recipe as much as I did.
If you like healthy cannellini beans,  you may also like this cannellini bean salad with radicchio, pine nuts, and parsley vinaigrette. Don't miss any of Ordinary Vegan's free recipes by signing up here.

Hemp Seeds Beans and Greens
Hemp seeds pack a nutritional wallop to this dish because they are considered a perfect protein with the combination of Omega 3s and Omega 6s they possess. They are also nutty and delicious!
Ingredients
5-10 ounces of chopped greens (spinach, kale or swiss chard or combination of all)
1 15-ounce carton of cooked cannelilnii beans (or any white bean)
2 garlic cloves, chopped
2 tablespoons hemp seeds
1 tablespoon bean liquid
¼ vegetable broth for sautéing plus ½ cup vegetable broth for greens
¼ teaspoon salt
¼ teaspoon ground black pepper
Juice of one lemon
Instructions
Strain the cannellini beans reserving 1 tablespoon of the liquid. Rinse. Place on a large plate or bowl and smash half the beans and 1 tablespoon of hemp seeds with a potato masher.
Heat ¼ vegetable broth in a large sauté pan. Sprinkle with salt and pepper. Add the garlic cloves and cook for 1-2 minutes or just enough for the aroma to shine through and the garlic softens. Never brown your garlic or it will turn bitter.
Add the cannellini beans, bean liquid and cook for another minute. Add the greens and ½ cup of the vegetable broth. Cover and cook for approximately 3 minutes or until the greens have softened a bit but still shiny and green. Squeeze the lemon juice on top. Toss. Garnish with another 1-2 tablespoons of hemp seeds. If you like a little heat, add some red pepper flakes.
Nutrition Information
Serving size:
½ recipe
Calories:
3ll
Carbohydrates:
16
Protein:
15 grams