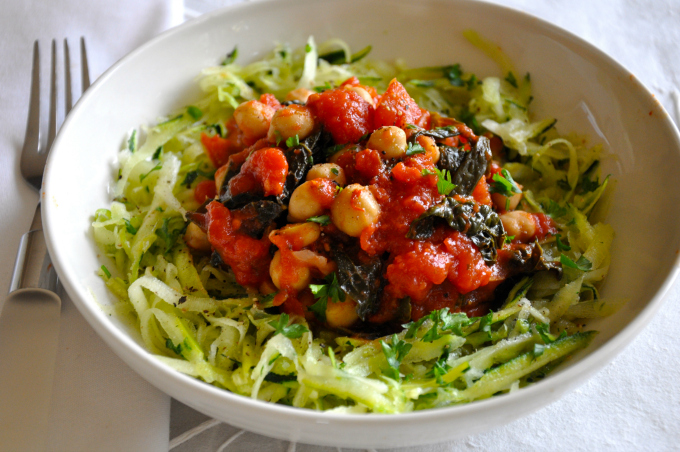 Kale Marinara with Chickpeas over Zucchini Spaghetti
I spent my childhood eating a lot of Italian food so marinara sauce holds a special place in my heart. I also adore pasta, but I don't like to overdo it because there are high amounts of carbohydrates in some refined pasta which can affect your blood-sugar level. There are also glutens in some pasta, which many people have a problem digesting. Don't get me wrong, a nice bowl of pasta once in a while is fine, but it is fun to explore some unusual pasta alternatives like this kale marinara sauce with chickpeas over zucchini spaghetti. Another pasta alternative is to bake a spaghetti squash which has many of the attributes of real spaghetti but much more healthy. I couldn't find a spaghetti squash this week so I choose zucchini.
You create long ribbons of zucchini by placing a box grater on its side with the thickest grater facing up. Use it like you would a mandolin by moving the long side of the zucchini (skin on) along it in long strokes to create ribbons. Or you can just grate shorter slices. I included preparation instructions for both the zucchini and spaghetti squash in the recipe below. The kale marinara tastes better served on top of the zucchini as shown instead of tossed.  On the other hand, the orecchiette tastes better tossed with the kale marinara. Anyway you serve it, I hope you enjoy this quick, easy and healthy kale marinara with chickpeas as much as I did. Don't miss any of Ordinary Vegan's free recipes by signing up here.
Kale Marinara with Chickpeas over Orecchiette Pasta
Kale Marinara with Chickpeas & Zucchini Spaghetti
This marinara recipe is a quick, easy and healthy vegan dish for the entire family. Instructions for serving over spaghetti squash or grated zucchini are included.
Ingredients
1 head of Tuscan organic kale, washed, veins removed and torn into bite-size pieces
28-ounce of diced tomatoes
4 garlic cloves, chopped
15 ounce carton cooked chickpeas, rinsed
crushed red pepper (optional)
¼ teaspoon salt
fresh ground black pepper
4 large zucchini (or 1 large spaghetti squash)
1½ cups of marinara sauce (use your favorite or prepared) I like to keep a couple of non-BPA cartons of Pomì marinara sauce on hand.
Instructions
Place a large sauce pan over medium high heat
Add the canned tomatoes, garlic, salt, pepper and a sprinkle of crushed red pepper if using.
Bring to boil. Add the kale. Cook down until there is no more liquid and just chunks. Add the marina sauce heat and reduce to a simmer. Cook for approximately 15 minutes. Add the cooked chickpeas and cook for another 5 minutes.
While sauce cooks down, prep spaghetti of your choice.
Zucchini Spaghetti
While sauce cooks down, prep zucchini. Grate the zucchinis using a box grater with larger holes. Cover grated zucchini with paper towels, squeeze to get out liquid and let sit for 15 minutes. Squeeze with paper towels again to get rid of water. Season with salt and pepper.
Spaghetti squash
Prep the spaghetti squash by using a sharp knife to pierce 5 times. Cook spaghetti squash in microwave for 10-12 minutes turning midway through. When squash is cool enough to handle, using a large kitchen spoon scrape the strands of squash from the inside of the skin. Season with salt and fresh ground black pepper. *If you don't want to microwave the squash, preheat the oven to 450 degrees. Split the squashes in half and scrape out the seeds. Line an baking sheet with aluminum foil. Place flesh side down and roast for 30 to 40 minutes or until fully cooked.
Orecchiette Pasta
Follow instructions on box.
Toss your spaghetti choice with the hot marinara. Serve and enjoy.