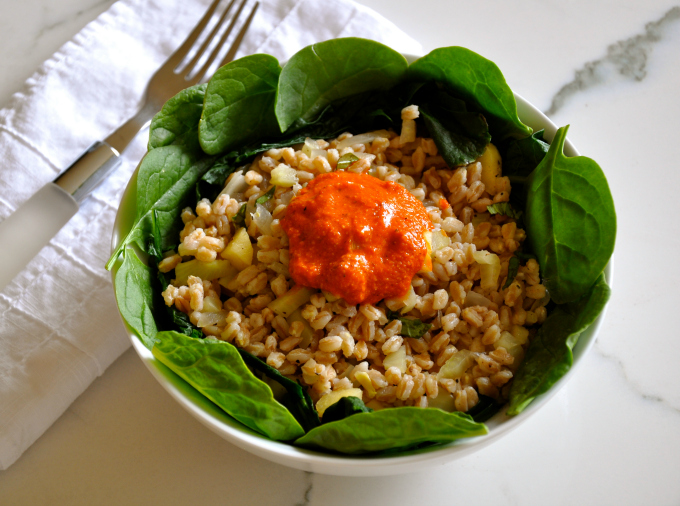 In March of 2015, I attended the Holistic Holiday at Sea for a week of island hopping, delicious food and fantastic eye-opening lectures.
One of those lectures was by American physician and author, Dr. Michael Greger. Dr. Greger specializes in nutrition and the connection between food and disease.
At the very end of his lecture, he brought up the connection between mental illness and diet. He didn't elaborate too much, but I left that lecture wanting to know more. I know I am not alone in saying that mental illness has had an impact on my family.
According to many studies, there is now an epidemic of mental illness with over 450 million people globally suffering from some form of the disease. Most are treated with pharmaceutical drugs and therapy.
But drugs and therapy aren't the only answer. Food can be your first line of defense against mental illness. Here is why.
Brain health depends on gut health. Bacteria, along with viruses and fungi, are called microbes, and we are filled with them. They live everywhere in our body including our intestines.
Together, they form our body's unique collection of microbes. Because of the sheer number of them, they have a significant impact on health. Good microbes can help prevent disease.
Bad microbes can create gut inflammation. Studies are now showing that gut inflammation can cause depression along with other brain ailments.
Scientists have also begun to explore the microbiome's potential role in autism, and forward-thinking practitioners are recommending a gut-friendly, gluten-free, casein-free diet for children with autism.
Gut inflammation can also create nutrient deficiencies which can lead to violence and aggression especially when there is a copper and zinc imbalance. In other words, what goes on in your gut can affect your brain health.
The best foods for a healthy gut are cruciferous vegetables, bananas, beans, artichokes, blueberries, polenta, kimchee, sauerkraut, and tempeh.
The worst foods are meat and dairy.
A Harvard University study says eating a diet packed with meat and cheese alters the trillions of microbes living in the gut.
Researchers found that within two days of consuming an animal-based diet, microbes found in the food itself, including bacteria, fungi, and viruses, quickly colonized the gut and promoted inflammation. These inflammation causing  microbes are linked to all kinds of serious chronic diseases.
The scientists also discovered a noted behavior change when volunteers switched from a meat and cheese diet to a fiber-rich, plant-based diet.  They discovered a plant-based diet had a positive effect on mood and disposition.
For anyone suffering from mental illness, this is all good news.
You can now treat your mental illness and depression with plant-based nutrition. Dr. Drew Ramsey, the author of Fifty Shades of Kale, says that certain nutrients play a vital role in brain health including omega-3s, vitamin D, B vitamins, zinc, iron and magnesium.
With that in mind, I recommend adding hemp seeds, ground flax seed and chia seeds daily to your diet for your omega-3s. Zinc, iron, and magnesium are abundant in legumes, grains, soybeans, nuts and leafy greens. B vitamins are found in nuts, seeds, broccoli, leafy greens, oranges, sweet potatoes, kale, fennel, squash, tomatoes, avocados, fortified coconut and almond milk, sprouted grain breads, fortified non-dairy yougurt, beans, fortified nutritional yeast, figs and dates.
The two primary ways to get vitamin D are by exposing your bare skin to sunlight and by taking vitamin D supplements. I recommend the most natural way.
You don't need to tan or to burn your skin in order to get vitamin D. Exposing your skin for a short time will make the vitamin D you need.  I also recommend you give up meat and dairy. Replace the meat and dairy with legumes, grains, nuts, seeds, vegetables, fruits and healthy fats like avocado. Here is what a plant-based power plate should look like.
I hope all this information helps you treat your mental illness, depression or anxiety.
Please always remember, mental illness is nothing to be ashamed of.  It's a disease and possibly could be helped with the right food.
We are what we eat and sometimes we are suffering needlessly and unknowingly because of our diet.  I promise, a plant-based diet can change your life in so many positive ways.
Now on to food. I love the grain farro.
It's a wonderful replacement for meat because of its chewy and hearty texture. It's also a super-food.  A cup of farro has about 8 grams of cholesterol-lowering fiber which is 4 times as much as brown rice. Farro is also a good source of iron and protein.
Although not gluten-free, farro has significantly less gluten than wheat. I like to serve this recipe warm as a main meal. Hope you enjoy this plant-based recipe as much as I did. If you don't want to miss any of Ordinary Vegan's free plant-based recipes, sign up here. Wishing you a peaceful, compassionate, plant-powered week.
Treating Mental Illness With A Plant-Based Diet & Warm Farro Bowl with Apples, Fennel, Dandelion Greens and Romesco Sauce
Farro Bowl with Apples, Fennel, Dandelions and Romesco Sauce
I love to serve this warm but leftovers taste good cold too. The no oil lime vinaigrette is light and delicious so you might want to make extra for salads during the week. You could also add a cup of chickpeas for crunch and some crushed hazelnuts on top.
Ingredients
Farro Bowl
1½ cups dry farro rinsed (cooking instructions below)
1 cup chopped sweet onion
1 cup chopped fennel
1 cup chopped apple
¼ cup vegetable broth for sautéing (or more if sticking)
½ teaspoon salt (or more to taste)
¼ teaspoon ground black pepper (or more to taste)
bunch of rinsed dandelion greens (or any greens you like)
Handful of fresh basil chopped
Lime Vinaigrette
3 tablespoons fresh lime juice
4 tablespoons rice wine vinegar
2 teaspoons of organic maple syrup
dash or two of hot sauce
Romesco
¾ cup roasted red pepper (I use jarred in water or you could use fresh)
2 tablespoons of hazelnuts (soaked overnight or 6 hours then rinsed) If you don't have soaked hazelnuts you can make it without or with almonds.
½ small red fresno chili, chopped
1 tablespoon chopped shallots
1 tablespoon red wine vinegar
½ teaspoon dijon mustard
pinch of horseradish (optional)
Instructions
Farro
Measure 1 and ½ cups farro into a fine mesh sieve and rinse with cold water. Drain. Transfer to a medium sized pot that has a lid. Add 4 cups water and ¼ teaspoon salt. Bring to a boil over high heat. Reduce heat to low, cover and cook for 25 minutes, until it is softened but still chewy. If there is liquid remaining in the pot, drain off. Use a fork to fluff. Leave lid on to stay warm.
Vegetables
Chop the onion, fennel and apple in equal small sizes.
Heat ¼ cup vegetable broth, salt and pepper in a large sauté pan. Add the onion and fennel. Sauté until soft and translucent. Add the apple and sauté another minute or two. Add more vegetable broth if needed.Top sauté pan with rinsed greens and cover. Cook for about 1- 2 minutes just to brighten the greens. Try not to overcook. The water on the rinsed greens should be enough liquid for steaming but add a little more if needed.
Garnish with lemons and crushed hazelnuts.
Lime Vinaigrette
In a small bowl combine all the ingredients and whisk until smooth. Taste for salt & pepper. Add if needed.
Romesco
In a food processor, combine all the ingredients. Process until smooth. Season with additional salt & pepper and more horseradish if using and needed.
Asembling the Farro Bowl
Add the warm farro to large bowl. Add the warm greens and onion mixture. Add about ¾ of the lime vinaigrette. Add the fresh basil. Taste for seasoning. Add more vinaigrette, salt and pepper if needed. Place servings in bowls. Top with romesco sauce.