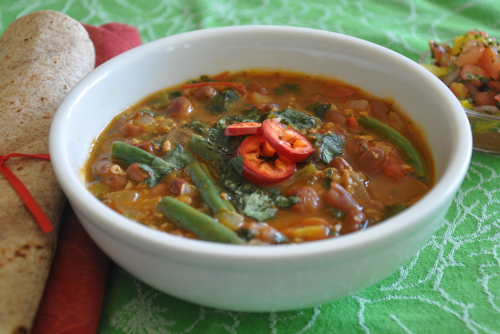 One of the great things about being vegan is that food is no longer your enemy in the battle against fat.
As a matter of fact, some vegan foods actually turn up the heat on your metabolism. Here,  is a list of  of my favorite fat burning foods and a delicious Mexican chili recipe to get your fat burning engines started.
1. Beans – Half the calories consumed from beans cannot be absorbed and they also lower blood sugar. Beans are also one of the most filling foods around and will keep you full for an exceedingly long time. By the way, if you are worried about gas, the more beans you eat, the more tolerant you become.
2. Mushrooms – You either love them or hate them,  but if you love them, they make an excellent substitute for any meat based dish with none of the fat or calories.
3. Apples – The soluble fiber in apples called pectin prevents spikes in blood sugar that lead to increased fat storage. Also, one apple a day can keep you satisfied for up to two hours.
4. Avocados – Avocados contain monounsaturated fat,  which is one of the healthiest sources of energy. One avocado will keep you going for hours and you can add them to almost any meal.
5. Red Lentils – Protein-rich and loaded with fiber, these legumes help you stay fuller for longer. A pot of lentil soup is a terrific pick me up on those days you just can't seem to fill your belly.
Also, if you are on the run, carry some pumpkin seeds. Pumpkin seeds have been shown to reduce the body's ability to store fat.  Watermelon is an excellent mid morning snack and studies have shown that women who eat water-rich foods lost 33% more weight. Try drinking green tea between meals. Green tea increases the hormone responsible for making you feel satisfied.
Hope you enjoy this delicious Mexican chili recipe to get your fat burning engines started.
Vegan Day 528 – Wish Me luck!
Mexican Chili with Pinto Beans
Mexican Pinto & Vegan Beef Chili with Cilantro
Mexican Pinto & Vegan Beef Chili with Cilantro
Ingredients
2 cans low-sodium, organic pinto beans, rinsed and drained
1 package of Helen's Kitchen Organic Veggie Ground (or other brand of meatless ground beef)
1 onion, chopped
2 garlic cloves, minced
2 tsp olive oil
2 tsp. dried Mexican oregano (if you don't have mexican oregano, use regular oregano)
1½ tsp ground cumin
1 tsp dried cilantro (optional but recommended)
1 tsp smoked paprika
½ tsp ancho powder ground (or any other smoky mexican herb)
¼ tsp red pepper flakes
sprinkle of ground red cayenne
1 jalapeno, chopped
1 large tomato, diced (or 1 can diced tomatoes)
Salt & Pepper to taste
1 to 2 cups low sodium vegetable broth (more if needed depending on how thick you want it)
½ cup chopped fresh cilantro (or more)
½ cup sliced green onions
2 tbsp fresh squeezed lime juice
Cup fresh green beans cut into 2 inch segments (Optional)
Instructions
Heat olive oil in large heavy soup pot, add onion & organic veggie ground and saute for three to five minutes.
Add garlic and jalapeno and saute another two minutes. Onion should be translucent and veggie ground should be browned.
Add all dried herbs, salt & pepper, diced tomato, vegetable broth and green beans if using.
Bring to boil, lower heat and simmer another 20 minutes.
Taste and adjust seasoning.
Remove from flame and add fresh cilantro, green onions and lime juice and serve. Sometimes I make fresh tortilla strips for a topping. Just cut a tortilla into strips, put into a 375 degree oven until crisp.