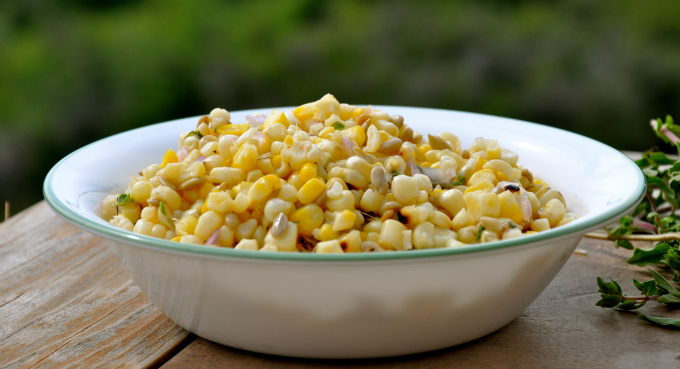 Mexican Corn Salad with Brown Sugar & Sunflower Seeds
Wow! My morning started off with a bang today when I awoke to a house full of screaming people.
I jumped out of bed to see what all the excitement was about and witnessed two black bear cubs scrambling up the hill behind the house. A perfect ending to my vacation in the glorious state of Montana.
Montana is so breathtaking especially in the summer. Everywhere you turn you see towering mountains, crystal clear lakes, streams, waterfalls and wild flowers. Today I floated down the Madison River in an inner tube. It couldn't have been more relaxing and beautiful.
That said, all the outdoor activities didn't give me much time for blogging or cooking, but I did make a few yummy side dishes including this Mexican Corn Salad inspired by one of my favorite vegetarian food blogs, 101 Cookbooks.
Thanks for joining me today and I hope you enjoy today's plant-based recipe.
If you try this recipe, please let me know!  Leave a comment, rate it, and don't forget to tag a photo #ordinaryvegan on Instagram 
Don't miss any of Ordinary Vegan's FREE recipes by signing up here.
If you want to learn more about plant-based nutrition and how to get started on a vegan diet, Ordinary Vegan has a podcast. You can listen here on this website or in iTunes.
Join our health and wellness community on Facebook. There are over 315,000 strong, vibrant community members waiting to embrace you.
Many people in the wellness world are turning to cannabidiol, commonly referred to as CBD oil, for its powerful anti-inflammatory and anti-anxiety effects. You can now purchase safe and effective vegan, gluten-free, non-GMO CBD Oil on Ordinary Vegan. Link here.
Mexican Corn Salad Recipe
Mexican Corn Salad
Ingredients
6 ears corn, grilled, kernels cut from cob
1 large shallot
⅓ cup lemon juice
¼ tsp salt
2 Tbsp brown sugar
3 Tbsp olive oil
1 cup sunflower seeds
1 tsp oregano, chopped
Instructions
Place the kernels in a medium bowl with chopped shallot.
Whisk together the lemon juice, salt and sugar in small bowl. Gradually add the oil whisking until combined.
To serve, add the seeds to bowl of corn with half of the dressing. Toss. Taste and add more dressing as necessary. Add the chopped oregano and serve.