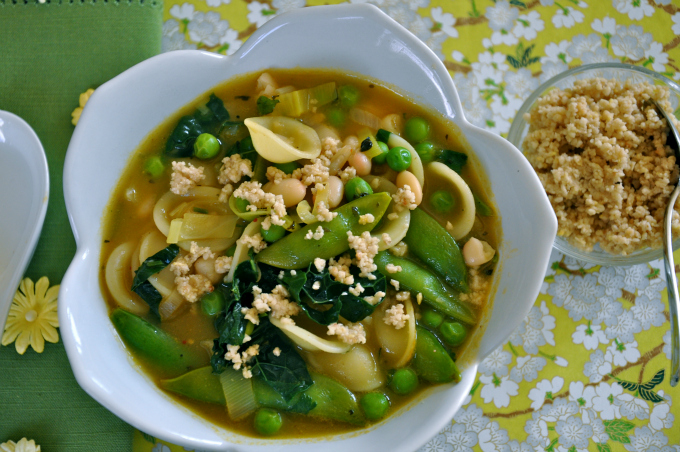 There is a small corner store in my neighborhood and every once in awhile I pop in for last minute groceries.
Recently when I pulled up, a man looking very befuddled and talking to himself,  was standing in front of the store. Unfortunately, you see transient people everywhere, but on this occasion, I was in a small, dark parking lot and a little nervous about walking by him.
Suddenly the store owner walks out the front door and said, "don't be afraid, he is fine, I'll walk you in". So the store owner leaves his store, walks to my car and walks me in.
Once inside I commented on his kindness to this man.
I knew it must threaten his business to have this person standing outside his tiny grocery store, and a chore to keep going outside to tell customers that the guy is ok.
He just said, "he won't hurt anyone and I think he feels safe here." The store owner's compassion brought tears to my eyes. I hope I can be half as kind today.
On to food. In honor of the first day of spring, I created this all green vegan minestrone soup and topped it off with ground pine nuts.
Ground pine nuts make a wonderful substitute to parmesan cheese adding a richness and salty flavor to the broth. Also, there are no rules to this vegan minestrone soup.
You can add and subtract according to your fridge. It was so delicious and truly made me feel plant-strong all day! Hope you enjoy this green vegan minestrone soup as much as I did.  You might also want to try this vegan split pea soup. Don't miss any of Ordinary Vegan's free recipes by signing up here.
Green Minestrone Soup with Crushed Pine Nuts
Green Minestrone Soup
A magnificent vegan spring green minestrone soup with vegan parmesan cheese
Ingredients
¾ cups sliced leeks
1 tbsp olive oil
1 shallot, chopped
1 cup fresh peas
1½ cups fresh whole sugar snap peas
½ cup chopped fresh kale
¼ cup fresh chopped basil
¼ cup fresh chopped parsley
⅛ cup fresh chopped mint
32 ounces vegetable broth (or more if needed)
⅛ cup chopped chives
2 tsp dried basil
1 15 ounce can low-sodium, organic white beans, rinsed (or 2 cups fresh cooked white beans)
½ cup whole-wheat orzo pasta (or pasta of your choice)
½ cup pignoli (pine nuts) ground
Salt & fresh ground pepper to taste
Instructions
Heat olive oil in a large saucepan over medium heat.
Add leeks, shallots, dried basil and saute until soft , stirring occasionally.
Add vegetable broth, peas, sugar snap peas and orzo.
Bring to a boil and lower to a simmer. Cook for 10 minutes.
Add beans, kale, basil, parsley, mint, chives and simmer another 5 minutes.
Serve hot with ground pine nuts on top.