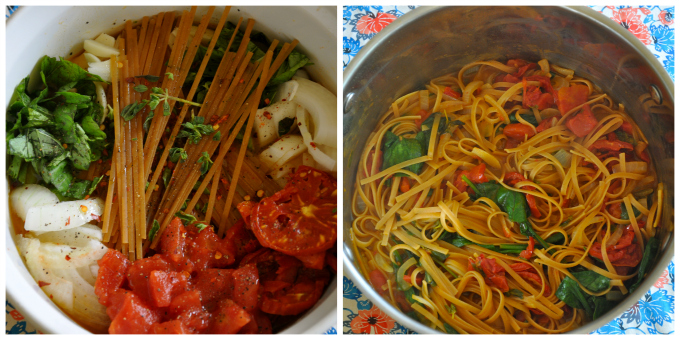 "It is never too late to take an inventory of your life
and change the things that no longer serve you"
Thich Nhat Hanh, Vietnamese Zen Buddhist monk, teacher, author, poet and peace activist
Thich Nhat Hanh recommends:
"Sit down and take an inventory of your life. If there are things you have been hanging on to that are not useful and deprive you of your freedom, find the courage to let them go. An overloaded boat is easily capsized by wind and waves. Lighten your load and your boat will travel more quickly and safely. Then you can offer the precious gift of freedom and space to yourself and loved ones, but only if it is truly there in your own heart."
On to food.
I ran across this recipe from a friend of mine. I was very skeptical. One-pot vegan tomato basil spinach pasta? Impossible. I thought something won't taste right.
To my surprise, I was 100% wrong.
This one pot pasta was delicious and so easy to make. The starch from the pasta made a wonderful sauce and the veggies were cooked just right. The biggest surprise – the pasta was al dente. Here is a link to the  blog who created it. I changed it up a bit and added sun dried tomatoes and spinach. Thanks Apron Strings!  If you haven't already, sign up for all my free vegan recipes here.
Don't miss any of Ordinary Vegan's recipes by signing up here.
Ordinary Vegan has a podcast on plant-based nutrition and vegan recipes. You can listen here on this website or in iTunes.
Join our health and wellness community on Facebook. There are over 315,000 strong, vibrant community members waiting to embrace you.
Many people in the wellness world are turning to cannabidiol, commonly referred to as CBD, for its powerful anti-inflammatory and anti-anxiety effects. You can now purchase safe and effective CBD Oil on Ordinary Vegan. Link here.
Thanks for stopping by and hope you have a peaceful and compassionate day.
One-Pot Tomato Basil Spinach Pasta
One-Pot Vegan Tomato Basil Spinach Pasta
Ingredients
12 ounces spaghetti
1½ cups diced tomatoes with liquid (of 1 15 ounce can)
½ cup sun-dried tomatoes
1 sweet onion, cut in julienne strips
4 cloves garlic, thinly slices
½ teaspoon red pepper flakes
½ tsp salt
Fresh ground black pepper
2 teaspoons dried oregano leaves
handful of basil, chopped
handful of spinach (optional) *
4½ cups vegetable broth
1 tablespoons extra virgin olive oil (optional)
Instructions
Place pasta, tomatoes, sun dried tomatoes, onion, garlic, in a large stock pot. Pour in vegetable broth.
Sprinkle the pepper flakes and oregano on top.
Drizzle with olive oil if using
Add ½ tsp salt and some ground black pepper
Cover pot and bring to a boil. Reduce to a low simmer and cook for about 10 minutes, stirring every 2 minutes. Cook until almost all the liquid has evaporated until there is about one inch of liquid left in the bottom of the pot. Add the fresh basil and serve.
*Add the spinach 7 to 8 minutes into cooking.