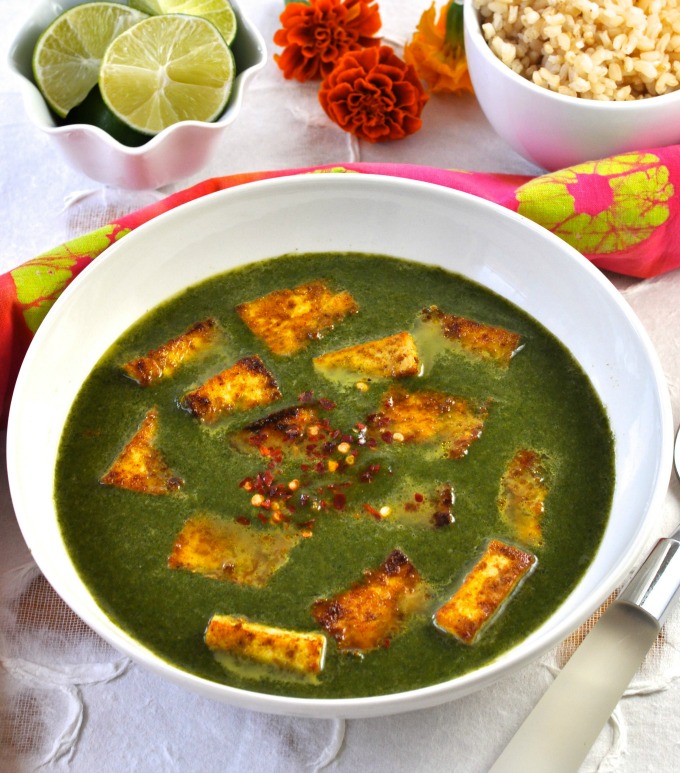 Before I became vegan, I had absolutely no experience with Indian spices. But when I started a plant-based diet, I knew I had to try new spices to change up the flavor profiles of grains, legumes, and vegetables. My go-to spices were always basil, oregano, rosemary and thyme.
And for some reason I thought I disliked Indian food, but boy was I wrong. Now I realize that Indian spices are a vegan's best friend and I highly recommend getting some of these aromatic seasonings into your spice rack asap.
I suggest starting with cumin,  coriander and turmeric. This shouldn't break the bank and  you can use them in many of Ordinary Vegan's recipes like this vegan chicken masala.
Other Indian spices include nutmeg and cloves but since we use those spices so much in American cooking, I am assuming you have those condiments in your cabinet.
If you want to get really fancy, you could buy cardamon, mace, cassia bark and mustard seeds but todays recipe sticks with the holy trinity of Indian spices – cumin, coriander and turmeric.
This is my first go around with Palak Paneer. When I saw a picture of it, I was very drawn to the gorgeous green color. It just screamed healthy. After further investigation, I found out paneer is a cheese made from a goat or a cow. I thought why not make the Palak Paneer with crispy seared tofu instead of the cheese, so that's what I did.
I began by creating a sweet and tangy Indian inspired rub for the tofu. I wanted to maintain some crispiness because I find it's very important as a vegan to have lots of layers of texture to help satiate.
The palak part is essentially a thick spinach gravy seasoned with ginger, shallots, chile, cumin, lime juice and coconut milk. Simple and straight-forward. If you don't like coconut milk, substitute any non-dairy unflavored milk.
I served the Palak Paneer with a side of brown rice and lime wedges.
Also, tofu gets a bad rap. I don't understand why because there are so many health benefits. Tofu is rich in calcium, phosphorus, and magnesium which are essential minerals for bone growth and development. It is also high in protein, but the best part of replacing the paneer with tofu is that you are not consuming any high-fat, antibiotic laden cow's milk.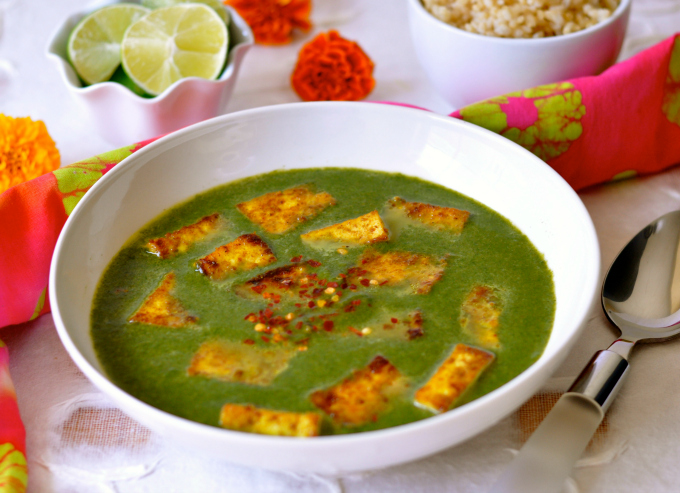 Palak Paneer with Tofu and Spinach Gravy
Hope you enjoy this Palak Paneer recipe with tofu and spinach as much as I did. Don't miss any of Ordinary Vegan's free recipes by signing up here. You can also listen to my podcasts on iTunes or right here on my website.

Palak Paneer with Tofu & Spinach Gravy
No reason to use more than one large sauté pan for this recipe. Sear your tofu first,
Ingredients
Indian Spice Rub
½ tsp ground cumin
1 tsp ground coriander
½ tsp ground ginger
¼ tsp ground turmeric
¼ tsp ground cinnamon
1 tablespoon brown sugar
1 package 14-ounce of extra firm organic tofu
1 teaspoon extra-virgin olive oil
Spinach Gravy
⅓ cup of vegetable broth for sautéing plus ½ cup for spinach gravy
⅓ cup chopped shallots
3 garlic cloves, chopped
1 tablespoon of grated ginger (grating brings out more flavor than chopping)
1 serrano chile, chopped (if you like heat, add two)
1 teaspoon ground cumin
⅛ teaspoon nutmeg
pinch of cayenne
1 tablespoon maple syrup
¼ cup coconut milk (lite if you are using can)
juice of one lime
¼ teaspoon salt or more
Fresh ground black pepper
1 large bunch of spinach (approximately 5 ounces)
Instructions
Press the water out of the tofu by wrapping it in a clean dishcloth. Manually press the water out into the dishcloth gently for one minute. Cut into cubes and place in a medium bowl.
Make the rub. Combine the cumin, coriander, ginger, turmeric, cinnamon and brown sugar. Sprinkle over the tofu covering evenly. Set aside.
Heat ⅓ cup of vegetable broth in a large sauté pan. Season with a pinch of salt and ground black pepper. Add the shallots and sauté for about 3 minutes. Add the ginger, garlic, chile, cumin, nutmeg and cayenne. Sauté until everything is soft and translucent. This should take another 3 minutes. Top the sauté mixture with the spinach. Add ½ cup of vegetable broth. Cover and let steam for 3-4 minutes or until the spinach is wilted,
Add the spinach mixture, salt, pepper, maple syrup, coconut milk and lime juice to a food processor and process until smooth. Taste and adjust seasonings. Set aside.
Take the same sauté pan, rinse it out, dry with a paper towel and heat the teaspoon of oil. Add the tofu cubes and sauté until they are crisp and brown on all sides. This will take about 3-5 minutes. Remove from sauté pan and set aside.
Pour the spinach mixture back into the sauté pan and cook until bubbly about 3-5 minutes. Remove from stove and add in the crispy tofu.
Serve with rice and lime wedges and a sprinkle of red chili flakes if you desire.