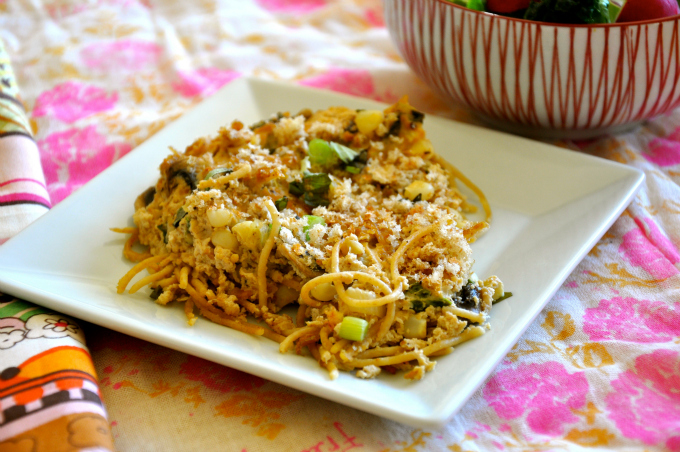 August 18, 2014 – National Serendipity Day
It was one of those days. I was in a bad place. My life as I knew it felt over and I didn't know what to do so I went to the movies.
It was such a happenstance that I choose the movie "Forks Over Knives." I hadn't read any reviews about it but as I was pondering my choices in front of the movie marquee, I noticed it was starting in 5 minutes, so I figured why not.
101 minutes later I walked out of the movie theater and made the decision that I was never going to eat animal protein again. That unplanned action led to an entire new life.
Over three years later, here I am writing a food blog and advocating health and wellness through plant-based nutrition. It didn't happen overnight, but over time I discovered I was happier and healthier than I ever felt before in my life. I also unearthed who I truly was. That single movie experience is what I call serendipity;  the act of finding something valuable or delightful when you are not looking for it.
You never know what is going to change your life but I can promise you that if you do something that has a powerful impact on your health and body, change will come.
Happy Serendipity Day and I hope you choose new activities to open up your possibilities for serendipity to walk into your life. Now on to delicious plant-based food.
This pasta frittata was Sunday's brunch. I must say I really loved it and I think it was especially delicious because I cooked it in my Chamba Clay Burner to Oven Pot.  You can read my blog about safe cookware here.
By the way, this pasta frittata would make a wonderful family dinner and you can substitute any of your favorite vegetables like peas or a couple of cups of chopped spinach. I like to serve it with a hearty salad and leafy greens. Hope you enjoy this healthy pasta frittata recipe as much as I did.
Just a reminder you can sign up free for all my healthy vegan recipes here.
Pasta Frittata with Corn & Mushrooms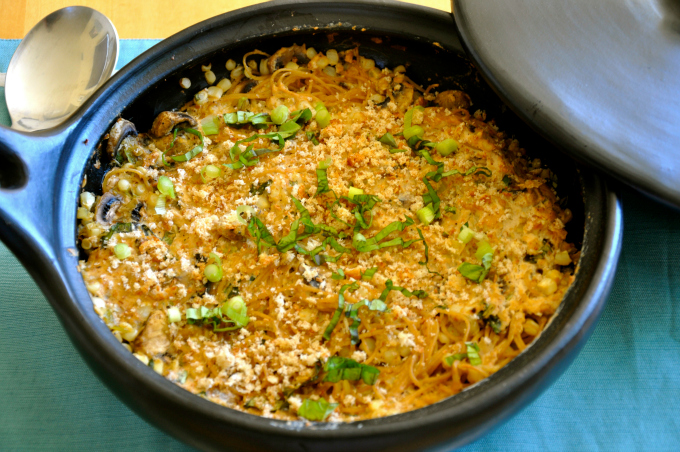 Corn & Mushroom Pasta Frittata
Don't worry if you don't have an oven saft saute pan. Just transfer the mixture from your saute pan to a baking dish.
Ingredients
2½ cups of drained extra firm tofu
1 tablespoon nutritional yeast
3 tablespoons of soy sauce
¼ teaspoon black pepper
¼ teaspoon hot sauce (sriracha or tabasco)
½ cup dry breadcrumbs (and some for sprinkling on top)
2 tablespoons of vegetable broth for sauteing
3 cups sliced mushrooms (approximately 8-9 ounces)
⅓ cup green onions, chopped
1½ cups fresh organic corn kernels (about 2 ears) - or you can use frozen
½ cup fresh chopped basil (and a handful for garnish)
1 cup cooked whole-wheat angel hair pasta
½ teaspoon salt
Fresh ground black pepper
Instructions
Preheat oven to 375 F
In a blender or food processor, add tofu, nutritional yeast, soy sauce, black pepper and hot sauce. Process until mixture is creamy and thick. Add breadcrumbs and stir. Set aside.
Heat 2 tablespoons of vegetable broth in an oven safe saute pan* over medium-high heat. Add the green onions, mushrooms, and corn and saute until soft.
Stir in the cooked pasta and combine.
Stir in the tofu mixture and basil until well blended. Turn off burner. Sprinkle with bread crumbs.
Put in oven and bake for 20 minutes. Should be firm and brown on top. Garnish with extra green onions and fresh chopped basil.
*If you don't have an oven safe saute pan just transfer to a baking dish or pie pan.