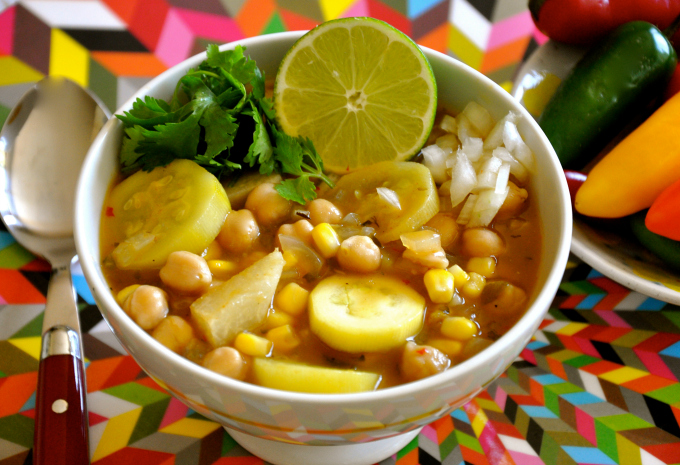 Vegan Red Chile Posole with Chickpeas, Jicama, Corn & Squash
Just in case you have never tried it, posole (also know as pozole) is a savory and hearty stew and a classic New Mexico dish. It is traditionally served at Christmas but this lighter, vegan version can be eaten anytime.
This is my first go at a plant-based version of posole, but I must say, I hit it out of the park. I thought it was rich and delicious and the purée of red chiles gave it an incredible kick.
In most posole recipes, the foundation is hominy which are dried large white corn kernels that have been simmered for hours. The other foundation is a rich, warm red chili sauce. Unfortunately, I couldn't find any organic hominy (non-GMO) so I replaced the hominy with organic corn kernels and crunchy jicama.
I substituted hearty chickpeas for the traditional meat. All great posole recipes are served with many garnishes that can include limes, cilantro, chopped onion, radishes, and avocado. Don't nix the garnishes. They add so much flavor and texture to the recipe and are part of the flavor profile.
I like limes for acid, cilantro and chopped onions.  I have also seen posole topped with a big mound of chopped red cabbage which would also be delicious. I recommend making this plant-based recipe for a dinner party and passing around a number of condiments for each guest to add on.
Hope you enjoy this vegan red chili posole recipe as much as I did. Don't miss any of Ordinary Vegan's free recipes by signing up here.

Vegan Red Chile Posole with Chickpeas
This hominy-based stew, posole (pooh-pooh-leh) has been replaced with crunchy chickpeas and corn. The ruddy red purée of dried New Mexico chiles gives this stew a delicious kick.
Ingredients
Red Chili Sauce
12 dried New Mexico or similar dried red chiles
3 cloves garlic, chopped
¼ cup vegetable broth (or more if needed)
½ teaspoon salt
2 tablespoons of flour
Stew
1 small sweet onion, chopped (or regular onion)
¼ cup of vegetable broth for sautéing (or more if needed)
½ teaspoon salt
½ teaspoon ground black pepper
1 tablespoon of oregano
1 teaspoon cumin
2-3 cups yellow squash or zucchini sliced (or combination of both)
1 cup frozen organic corn
1 cup Jicama, chopped in bite-size pieces
1 13-15 ounce carton of cooked chickpeas
4 cups vegetable broth
Garnish
Limes, quartered
Fresh cilantro, chopped
White onion, chopped
Radishes, thinly sliced (optional)
Avocado, sliced (optional)
Instructions
Red Chile Purée
Remove stems and seeds from chile pods and rinse. I recommend using plastic gloves to protect hand eye contact.
Place the chile pods in a saucepan with the 2 cups of water and bring to a boil. Reduce the heat and simmer, uncovered, for 10-15 minutes until the pods are very tender.
Remove from heat and pour the chiles and water into a food processor. Add the garlic. Purée until well blended and set aside.
In a medium sauté pan, heat ¼ cup of vegetable broth. Add the salt and a few grinds of pepper. Whisk in the two tablespoons of flour until smooth. (If it isn't perfectly smooth, don't worry - it won't be lumpy once you add it to the soup.) Add the red chile broth. Bring the mixture to a boil, whisking constantly. Reduce the heat to a simmer and cook for 5 minutes, Add more water if needed to thin. Remove from heat and set aside.
Stew
In a large soup pot, heat the ¼ cup of vegetable broth. Add the salt and pepper. Add the chopped onions and sauté until the onions are soft and translucent about 4-5 minutes. Add the oregano, cumin, vegetable broth, squash, frozen corn and jicama. Once the mixture comes to a boil, stir in ½ cup of the chile sauce and reduce the heat to a simmer. You can add more of the red chile sauce later if you would like more heat.
Cook for 20 minutes, stirring occasionally. Taste and add more chile puree if needed. Cook another five minutes if you add more red chile puree.
Spoon into bowls. Garnish the bowls with cilantro, diced onion and a large lime wedge. You could also add thinly sliced radishes and sliced avocado.