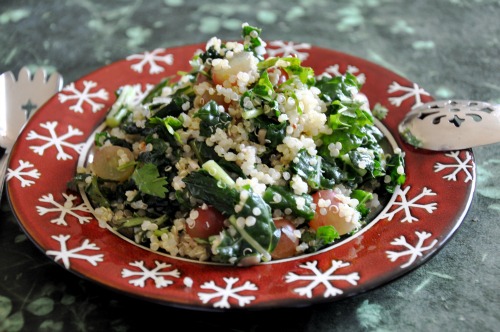 Much like 9/11, Friday, December 14, 2012 has changed our lives. We are now shadowed by a fear that didn't exist the last time we sent our children to school. I cried when I first heard the news, and my tears continue today, but I also know we have to hold on to our faith in people and the world.
I bring this up because of all the postings, arguments and discussions trying to make sense of this tragedy when it makes no sense.  Who and what is to blame? Is it as simple as not letting a mentally handicapped young man have access to a semi-automatic rifle? As much as I personally hate guns, I think not.  I believe we have to accept the fact that there is no reason for this tragedy. It just is. So right now, when you can't feel any ground under your feet,  let faith be your armor.  Sending love and compassion to all the families affected by this tragedy and to all of you.
Last night, I attended a lovely Christmas party with lots of kids and a visit from Santa. The sound of children laughing and screaming never sounded so good. I enjoyed every minute of it.
I also loved the kale and quinoa salad I prepared for the party.  It was a light, bright, delight and a crowd pleaser. I made two versions – a vegan version for myself and a vegetarian version with cheese.  I loved my vegan version,  but I will share both. Hope you enjoy this kale and quinoa salad as much as we did.
 Kale & Quinoa Salad
Kale & Quinoa Salad
Vegan kale and quinoa salad
Ingredients
Vinaigrette
4 TBSP Champagne vinegar
1½ TSP minced shallots
pinch kosher salt
3 TBSP extra-virgin olive oil
¾ TSP chopped chervil (If you don't have chervil, use tarragon. Fresh cilantro is another option but I would use more)
Ground black pepper, to taste
Kale & Quinoa Salad
½ cup quinoa
salt
4 cups loosely packaed julienned kale, from 1 large bunch
3 TBSP toasted sunflower seeds
¼ cup diced red bell pepper
⅔ cup red seedless grapes, halved
Instructions
Kale and Quinoa Salad
Bring a large saucepan of lightly salted water to a simmer.
Place the quinoa in a strainer and rinse well then drain and add to the simmering water.
Cook the quinoa until the grains are translucent and tender, about 10-15 minutes - don't overcook.
Remove from heat and drain any remaining liquid. Fluff the quinoa with a fork.
The quinoa can be made ahead of time and stored, covered and refrigerated up to 3 days before using.
In a large bowl, place the kale and ¼ cup of the vinaigrette. Using your hands, massage the kale until the kale is softened, 2 to 3 minutes.
To the bowl, add the cooled quinoa, the sunflower seeds, bell pepper, grapes and toss to combine.
Add some of the additional vinaigrette to taste, but don't overdress. The extra vinaigrette can be used for other salads and will keep, covered and refrigerated up to 4 days.
To make vinaigrette
In a small bowl, combine the vinegar, shallots and salt. Set aside for 20 minutes to soften the shallots. Slowly drizzle in the olive oil while whisking to emulsify the vinaigrette. Whisk in the chervil (or tarragon), salt and pepper. Taste and adjust seasonings.