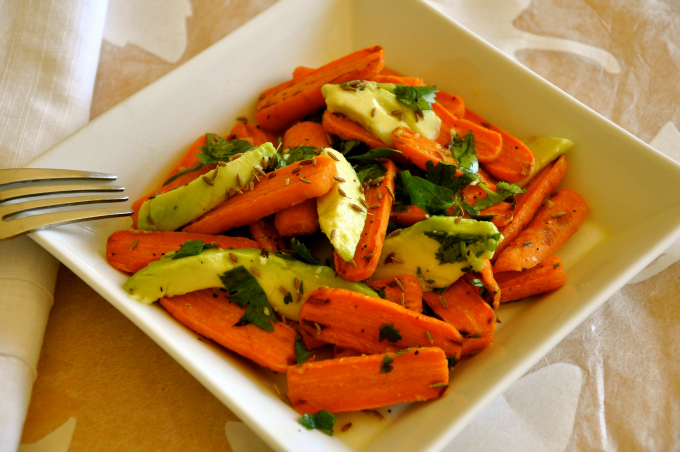 Sometimes the yummiest plant-based recipes are the simplest combination of flavors and textures like these colorful roasted carrots and avocado tossed with lemon juice and cumin seeds.
This roasted carrots recipe is the perfect combination of crunchy and creamy, and the cumin seeds impart a distinctive aromatic flavor. The best part is you can nibble these sweet, savory, low-calorie, guilt-free treats whenever you feel like a snack.
Carrots, along with other orange and red vegetables are a source of vitamin A. Vitamin A  protects and improves the skin, the eyes and helps slow down aging cells.
A 10-year study in the Netherlands revealed that a 1/4 cup of carrots a day could significantly lower your risk of cardiovascular disease.
The avocado in this recipe is also a nutritional powerhouse of protein, dietary fiber and Vitamin K and B vitamins which play a role in lowering cholesterol, protecting you from heart disease and diabetes.
So what more could you ask for from this healthy, plant-based snack?
Hope you enjoy this easy vegan recipe as much as I did. This roasted carrots and avocado recipe was inspired by a restaurant in Los Angeles called Huckleberry.
Don't miss any of Ordinary Vegan's plant-based recipes by subscribing here free. Also, please join or community on Facebook. It is fun and full of wonderful compassionate people like  you.
Roasted Carrots and Avocado with Cilantro Dressing
& Cumin Seeds
Roasted Carrots & Avocado with Cilantro Dressing & Cumin Seeds
When you feel like snacking - this is better than french fries!
Ingredients
1½ pounds carrots (about 5 large)
1 large avocado
1 teaspoon extra-virgin olive oil
¼ teaspoon salt
¼ teaspoon pepper
1 tablespoon cumin seeds
¼ cup lemon juice
¼ cup chopped cilantro
Instructions
Heat the oven to 425 F
Peel the carrots and cut into french-fry shapes about one-half inch thick pieces.
Toss lightly with a little olive oil to coat. Add the cumin seeds, salt & pepper and toss.
Spread the carrots onto a baking sheet and roast until the carrots are tender and golden brown, about 30 minutes, tossing occasionally.
Place the carrots (hot or cooled) in a large bowl and toss with lemon juice and cilantro.
Peel and seed avocado. Cut into same size shapes of the carrots and toss with the carrots.
Taste and adjust seasonings. Chill or eat warm.