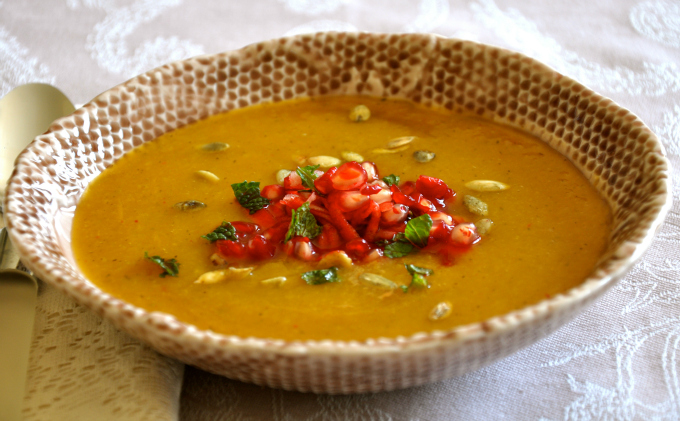 Butternut Squash Soup
Creamy soups, casseroles and even muffins shine with the addition of sweet and golden butternut squash. Aside from being a delicious versatile ingredient, there are many, many health benefits. Let's discuss a few.
Butternut squash is loaded with antioxidants including beta-carotene. Beta-carotene is considered one of the most powerful anti-oxidants. Anti-oxidants protect the body from free radicals that attack healthy cells. Also, our body converts the beta-carotene into vitamin A. Vitamin A is essential for good vision, overall eye health and for a strong immune system. Butternut squash also provides significant amounts of potassium which is a very important mineral for the human body. Don't forget to save those seeds.  Butternut squash seeds may not be as familiar as pumpkin seeds, but they are an excellent source of protein and fiber. Rinse, dry and roast them at 180 degrees F for 15-20 minutes for a wonderful snack. Now on to our delicious plant-based recipe.
Today's recipe is a simple, but elegant,  vegan apple and butternut squash soup.  Perfect for a chilly autumn evening or anytime of year. I jazzed it up by topping it with a pomegranate and apple, mint and pomegranate seed salsa. Hope you enjoy this vegan butternut squash soup as much as I did. Sign up here for all Ordinary Vegan's free recipes. If you love soup, here is a link to Ordinary Vegan's most popular soup recipe of 2014.

Apple & Butternut Squash Soup with Apple Pomegranate Seed Salsa
This soup can be satisfying for everyone's taste. Switch it up by adding a tablespoon of red curry paste and ½ cup coconut milk into the broth.
Ingredients
Soup
4 cups vegetable broth + 4 tablespoons for sauteing
1 carrot, diced
1 onion, diced
1 celery stalk, diced
2 teaspoons minced fresh ginger
½ cinnamon stick or ¼ teaspoon of ground cinnamon
sprinkle of nutmeg
¼ teaspoon salt (or more to taste)
Freshly ground pepper, to taste
1 tablespoon maple syrup
1 large McIntosh or other apple, peeled and cubed (approximately 1 cup) *or use all squash
3 cups cubed Butternut squash, fresh or frozen
¼ cup roasted Pepita seeds
Salsa (optional)
½ cup pomegranate seeds
¼ cup fresh grated apple
3 tablespoons lime juice (or more to taste)
⅛ cup fresh mint, chopped
drizzle of maple syrup or pomegranate
Instructions
Heat 4 tablespoons of vegetable broth in a large soup pot. Add onion, carrot, ginger and celery. Cook vegetables until they soften, approximately 5 minutes. Add the cinnamon, nutmeg, salt and pepper and cook another minute. Add the 4 cups of vegetable broth, squash and apple and bring to boil. Reduce heat and simmer until squash and apple are fork-tender, about 30 minutes. Add the maple syrup. Remove the cinnamon stick . Use an immersion blender to puree soup or let cool and puree in batches in a food processor or blender. Taste and adjust seasonings.
While the soup is cooking, make the apple pomegranate salsa.
Combine all the salsa ingredients.
Ladle the soup into large bowls. Sprinkle pepita seeds over top. Top with a small mound of apple pomegranate salsa.