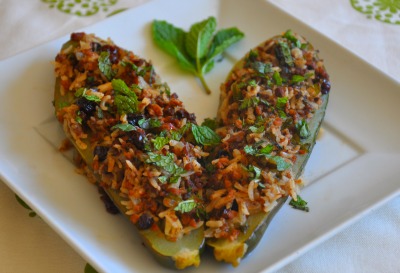 Stuffed Zucchini with Brown Rice
Today was my yearly physical and I was very excited to talk to Dr Chai about my diet and blood tests.
My doctor was very encouraging about the plant based diet but also brought up how closely linked genetics were to some diseases and how important it is to do everything in moderation.
He did tell me his wife went on all plant diet ten years ago and her cholesterol went from 250 down to 180. She didn't stick with it but now eats about 50% plant based.
He took my blood and I will have the results in a couple of days.  He will do another blood test in a month to see if this diet has made any difference. I hope so, because I am going to need something to keep me going.
To be honest, the last two days have been the most challenging mainly because I have had no time to cook and finding restaurant food that is plant based continues to be difficult even in LA.
Fortunately, I made a big pot of pink lentil soup over the week-end so I had something to eat when I got home at night but I woke up so hungry in the morning and had strong cravings.
I think my cravings are simply emotional. We certainly do crave certain foods because of the memories and emotions relating to that food in our lives.
For example – every summer we go to Cape Cod and have big seafood dinners and I almost cried yesterday thinking about not enjoying that with everyone this summer.
Sitting there with my plant based dinner while everyone eats lobster and clams…ugggg. It actually made me sad. Does the plant based diet lead to depression? Maybe I need more Omega-3s. I definitely need more willpower.
Tonight I made this stuffed zucchini with brown rice and pine nuts. It was satiating so that helped my cravings. Hope you enjoy this stuffed zucchini as much as I did. Wish me luck on my plant-based journey.

STUFFED ZUCCHINI WITH BROWN RICE AND PINE NUTS
VEGAN STUFFED ZUCCHINI WITH BROWN RICE AND PINE NUTS
Ingredients
BROWN RICE
¾ cup brown rice, long grain
1½ cups water
1 bay leaf
½ tsp fennel seeds
ZUCCHINI AND FILLING
2 tbsp pine nuts
2 lbs zucchini, green or yellow (2-3 large)
l medium onion diced
2 garlic cloves minced
8 ounces mushrooms thinly sliced (any kinds)
1 tsp dried thyme or oregano
1 tbsp sweet paprika
14 ounces tomatoes (1 tomato medium, dice) (2 tomatoes sliced ¼")
2½ cups swiss chard or spinach shredded
½ cup fresh basil shredded
Instructions
In medium sized saucepan, combine rice, water, bay leaf and fennel seeds and simmer, covered for about 35 minutes. Remove rice from heat and let stand for 10 minutes. Discard bay leaf and fluff rice with fork. cover and set aside
ZUCCHINI AND FILLING
Wash and trim both ends of zucchini, then cut in hallf lengthwise. Use a spoon to scrape out zucchini pulp leaving about ½" thick walls for "zucchini boats" - Coarsely chop zucchini pulp an set aside
PRE-HEAT OVEN AT 350 Degrees
Spray a shallow baking pan, just large enough to contain zucchini with vegetable spray and set aside
In small non-stick saute pan, lightly brown pine nuts over medium heat - set aside
In a medium sized, non stick saute pan, heat olive oil over medium heat. Add onion and garlic and saute until translucent. Add sliced mushrooms, thyme and paprika. Saute mushrooms until soft, then add zucchini pulp and cook for 2 to 3 minutes. Add cooked brown rice, diced tomato and swiss chard. Stir and saute until chard wilts and mixture binds together. Add shredded basil and toasted pine nuts.
Generously mound filing in zucchini boats. Let it overflow
Transfer filled zucchini to prepared baking pan. Top each zucchini boat with sliced tomatoes. Sprinkle black pepper over tomato slices. Add ⅓ " water to bottom of pan. Cover pan with foil and bake for about 35 minutes or until tender.