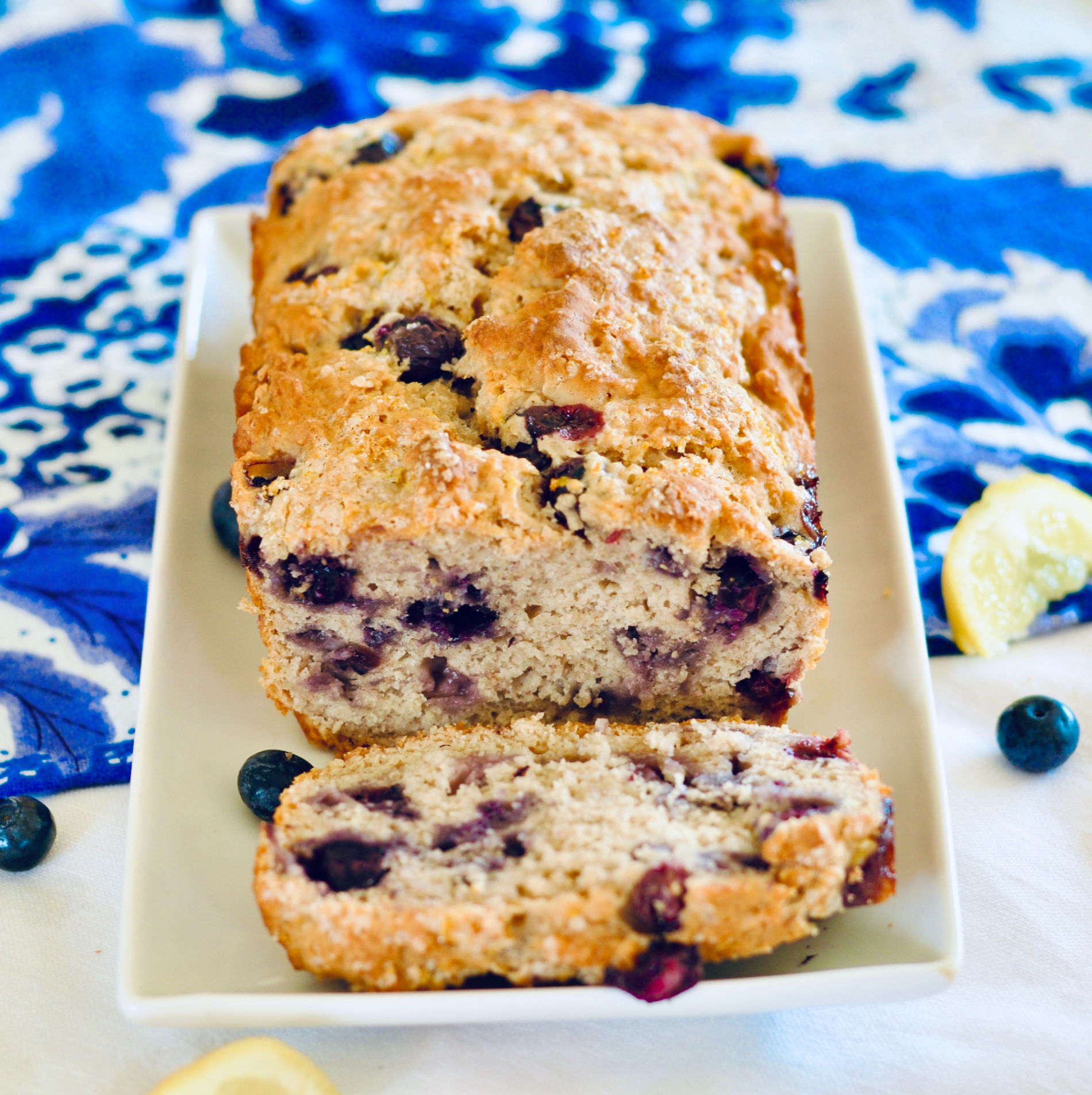 What I like most about this vegan blueberry banana bread is that it tastes healthy and decadent at the same time. If you follow me, you know I have a sweet tooth. Especially now that I am stuck indoors all day. I find that moist, sweet breads with fruit satisfy my sugar cravings.
Furthermore, this vegan blueberry banana bread is simple to prepare. The only real requirement is making sure your bananas are super ripe. Once the skins start to develop freckles and it feels soft to the touch, then it's banana bread time.
Blueberries are part of my daily diet because they are full of nutrients! They are also among the world's most potent sources of antioxidants.
At this moment in time, it is so important to keep your body in tip-top shape. Please don't use this time to eat unhealthily. Even though I know, it is tempting to feel sorry for ourselves and say who cares?
Yes, it is hard right now. But that is even more reason for us to be creative and put our energy into something positive. Yesterday, I cleaned out my pantry and wrote a list of everything I had. When I finished, I realized I have enough food for six months or possibly more.
That's what inspired me to make this vegan blueberry banana bread. I had oat flour, white flour, wheat flour, semolina flour, garbanzo bean flour, and I was like what the heck am I doing with all this flour?
Cooking with the food you already have at home can save money and reduce waste. It also inspires you to be creative.
Unquestionably, my number one goal is to help you live and long and healthy life. If there is anything, I can provide to help you accomplish that during these challenging times, please reach out to me. Also, stay home. There is no reason to go outside unless it is for a walk in nature without people or for essential items.
Please stay strong, safe, and well.
You can find my new cookbook, "The Easy 5 Ingredient Vegan Cookbook" on Amazon. My vegan, organically grown CBD oil from hemp is available here.
Vegan Blueberry Banana Bread Recipe
Vegan Blueberry Banana Bread Oil Free
A delicious, wholesome, naturally sweetened loaf that takes about 10 minutes to throw together. For a fun twist, try adding some vegan dark chocolate chips.
Ingredients
Wet Ingredients
½ cup unsweetened, unflavored almond milk (or plant-based milk of your choice)
2 tablespoons lemon juice
1 teaspoon real vanilla extract
1 cup ripe chopped banana
⅓ cup vegan yogurt (plain or vanilla)
⅓ cup + 2 tablespoons pure maple syrup
1⅓ cup fresh or frozen defrosted blueberries
Dry Ingredients
2 cups all-purpose flour
2 teaspoons baking powder
¼ teaspoon baking soda
1 teaspoon cinnamon
¼ teaspoon salt
Topping
1 teaspoon sugar
1 teaspoon lemon zest
Instructions
Preheat the oven to 375 degrees F. Lightly grease a 9x5 loaf pan.
In a small bowl combine the sugar and lemon zest.
Add the plant milk and lemon juice to a food processor. Let sit for 10 minutes to create a buttermilk.
Next add the yogurt, maple syrup, banana and vanilla extract to the processor and process until combined.
Sift together the dry ingredients into a large bowl.Stir the wet mixture into the dry ingredients. Add the blueberries. Stop stirring when here are no flour patches.
Spoon the batter into the prepared loaf pan and spread out evenly. Sprinkle on the topping.
Bake uncovered for 55-60 minutes or until a toothpick inserted in the center comes out clean.
Place the loaf pan on a cooling rack for 30 minutes. Slice the loaf once cooled.
The loaf will keep in the fridge tightly wrapped for 3 to 4 days, or slices can be individually frozen for up to 6 weeks.