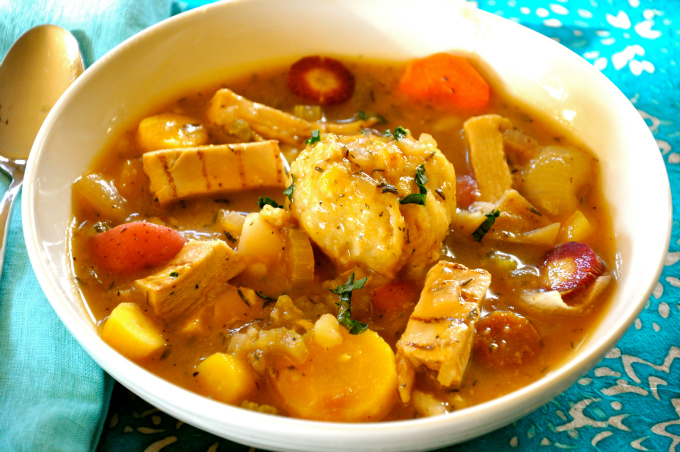 Vegan Chicken and Dumplings
Many parts of the USA are getting pounded with snow this week and a delicious plant-based recipe is the perfect remedy for those cold, wintery days.  I have lots of friends and family on the East Coast and I wanted to come up with something that would help keep them warm and cozy. I choose my vegan chicken and dumplings recipe because nothing says warm and cozy like dumplings. I've been making this recipe for years and don't miss the chicken because of a delicious chicken replacement called Beyond Meat Chicken Strips.  It is made with non-GMO pea and soy protein and tastes better than animal protein. When I first started my blog, I had the opportunity to visit their corporate headquarters and met the team and founder Ethan Brown. I was very impressed with their passion for their product and their dedication to health and the environment. If you don't want to use a chicken replacement, you could also make this stew with some mushrooms or eggplant to replace the vegan chicken. At any rate, hope you enjoy this vegan chicken and dumplings no matter you live. Don't forget to join our list for all our free and delicious plant-based recipes.

Vegan Chicken and Dumplings
I used a product called Beyond Meat Chicken in this recipe. Beyond chicken is made from pea protein and really mimics the real thing quite well.
Ingredients
Dumplings
1 cup flour
½ cup cornmeal
2 teaspoons baking powder
½ teaspoon salt
2 tablespoons vegan butter
⅔ cup unflavored non-dairy milk (I like unflavored almond)
Stew
12 ounces Beyond Meat Chicken grilled strips, cut in half (you can add them frozen too - no thawing)
5-7 cups of vegetable stock plus ¼ cup for sautéing
½ small onion, chopped
2 celery ribs, sliced
4 medium carrots, sliced
4-5 small yellow potatoes cut into fourths
6-10 tiny whole white onions, peeled and halved (you can also add frozen)
2 teaspoons of dried thyme leaves
1 bay leaf
½ teaspoon salt
¼ teaspoon ground black pepper
1 small bunch of kale, veins removed and chopped into ribbons (optional)
Instructions
Dumplings
In a medium bowl, toss together the flour, cornmeal, baking powder and salt. With your fingertips, work the butter into the flour until the mixture is crumbly. Using a fork, stir in the milk until blended.
Stew
In a medium to large stock pot, heat ¼ cup vegetable broth. Add the onions, celery, thyme, salt and pepper and sauté until soft and translucent (about 4-7 minutes). Add more vegetable broth if sticking.
Add the vegetable broth and bring to boil. Add the carrots, potatoes and tiny whole onions and reduce to a simmer. Cook until the carrots, potatoes and onions are just tender, about 10-15 minutes. Stir in the kale and vegan chicken. Taste for seasonings and add more salt and pepper if needed.
Drop tablespoons of the dumpling batter in 16 clumps over the top of the stew. Reduce the heat to low, cover and simmer until the dumplings are cooked through, about 10 minutes. Discard the bay leaf and serve.