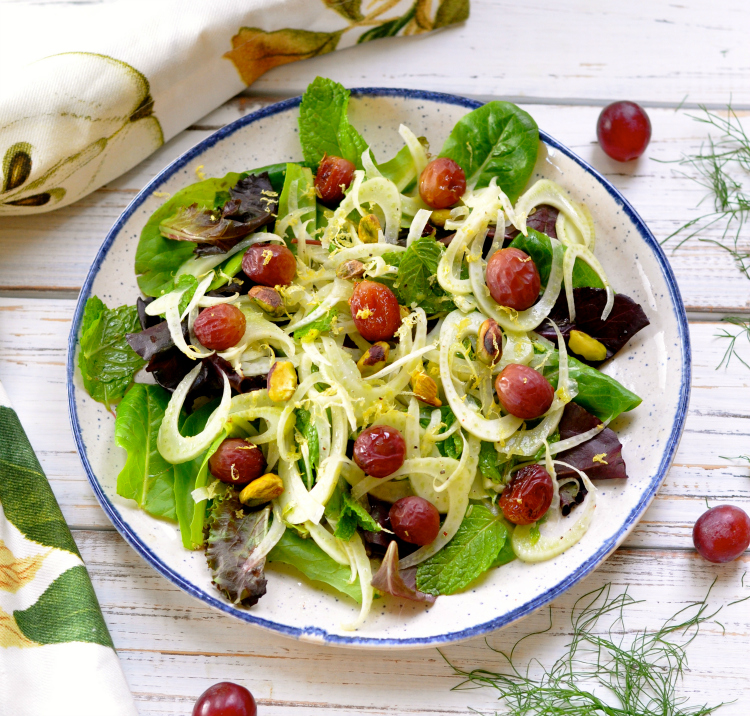 When is the last time a salad stopped you in your tracks?  I promise, this vegan fennel salad with roasted grapes and pistachios will. It's even hard to call it a salad. So I decided to call it my glorious vegan fennel salad!
If you have never had fennel in a salad before, you are missing out. Fennel when softened has a bright, brilliant and crunchy texture.
Also, don't underestimate the health benefits of this outstanding vegetable. It is loaded with minerals like potassium, manganese, calcium, iron, phosphorus, and magnesium. It also contains high amounts of Vitamin C which helps prevent and treat the common cold and builds the immune system.
Most noteworthy is how it tastes. Think of those roasted grapes as a giant upgrade to your salad. Roasting brings out a super sweet burst of flavor. Make a big batch of them and use them over ice cream or on top of a vegan cheese and cracker.
Fall is also one of the best times of year to purchase grapes. My favorites are the ruby red seedless.
If you don't want to spend the hour slow roasting the grapes, this vegan fennel salad will taste delicious with any seasonal fresh grape or dried tart cherries.
I wouldn't omit the nuts, and I especially like pistachios in this salad. They have a distinctive flavor and color, and they taste rich and nutty. Pistachios also contain fewer calories and more potassium and vitamin K per serving than other nuts.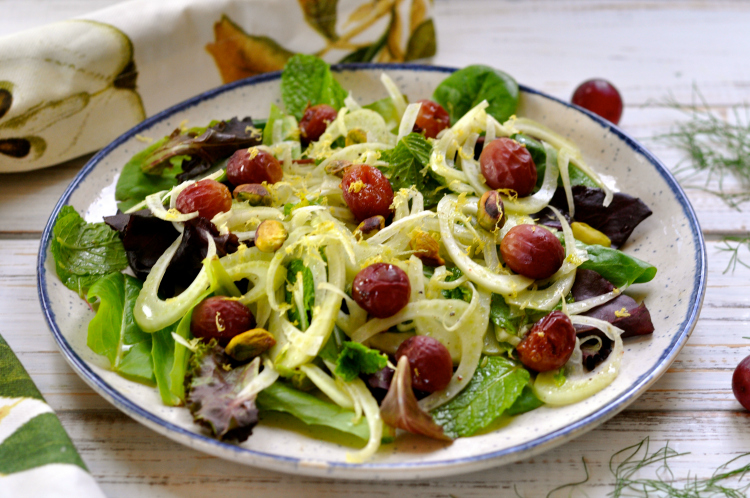 So if you are tired of your ho-hum salad, I highly recommend my new favorite – vegan fennel salad with roasted grapes and pistachios. Hope you enjoy it as much as I did!
Sign up here, so you don't miss any of Ordinary Vegan's free recipes.
Also, don't miss my podcasts on how to get optimal nutrition on a plant-based diet. You can listen here on my website or on iTunes. Don't forget to subscribe.
This recipe was inspired by Yotam Ottolenghi's fennel salad.

Glorious Vegan Fennel Salad with Roasted Grapes, Mint and Pistachios
For health reasons, I always recommend using small amounts of oil and this salad is in an oil-free dressing. Feel free to add olive-oil instead of water if you want.
Ingredients
Grapes
1 lb.seedless red grapes
2 teaspoons fennel seeds, crushed
2 teaspoons of brown sugar
Salad
2 fennel bulbs, cut into very thin slices (for really thin shaved slices use a mandoline) Reserve the fronds
¼ cup or more pistachios
½ cup fresh mint leaves, roughly torn
4 cups of baby romaine lettuce
4 tablespoons lemon juice
1 lemon zest
3 teaspoons maple syrup or brown sugar
1 tablespoon champagne vinegar
1 tablespoon water or olive-oil
¼ teaspoon salt
Fresh ground black pepper
Instructions
Heat the oven to 290 F. Line a baking sheet with parchment paper.
Combine the fennel seeds, brown sugar, 2 tablespoons of water, and an ⅛ teaspoon salt in a medium bowl. Add the grapes and toss to coat the grapes in the mix.
Place on the prepared baking sheet and roast for an hour or until the grapes are shrivelled and soft. let cool.
Put the sliced fennel in a large bowl. Whisk together the lemon juice, maple syrup, oil or water, ¼ teaspoon salt and some fresh ground black pepper.Taste and adjust acidity - adding more water or oil if needed.
Pour the lemon mixture over the fennel and toss so it is all coated in the dressing.
Set aside for ten minutes to soften.
Strip some of the leafy fronds from the fennel.
Just before serving, mix the lemon zest, mint, fronds and half the pistachios into the fennel bow. Add half the roasted grapes and lightly toss.
Place the romaine leaves on a large platter. Top and spread with the fennel mixture. Scatter the remaining grapes and pistachios over the top. Top with fresh ground black pepper.