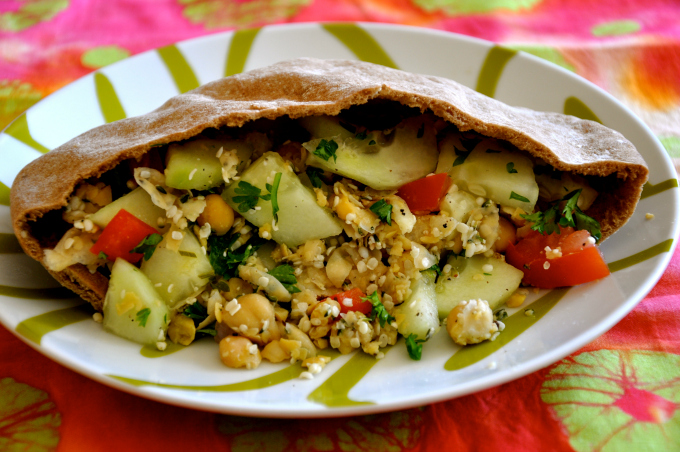 Hummus & Hemp Seeds Pita Pocket
I discovered this hummus and hemp seeds pita pocket recipe in an old issue of Vegetarian Times. Of course, I made a few of changes. I removed all the olive oil and replaced it with lemon juice and increased the amount of hemp seeds. Hemp seeds are my new favorite ingredient. Hemp is considered one of the world's most nutritious plants, and I love the mild nutty flavor and texture they add to a recipe like this. But the best part is hemp seeds contain all 10 essential amino acids and over 3 grams of protein per tablespoon making it one of the healthiest foods you can consume.  Hope you enjoy this high protein, plant-based humus and hemp seeds recipe as much as I did. If you want to receive all of Ordinary Vegan's free vegan recipes, sign up here. Wishing you a compassionate and peaceful weekend.

Hummus & Hemp Seed Pita Pockets
Ingredients
hummus
1½ cups cooked chickpeas
2 teaspoons garlic
½ cup water
4 tablespoons hemp seeds
2 tablespoons lemon juice
salt and ground black pepper
cucumber and tomato salad
½ cup cucumber, diced
½ cup tomatoes, diced
¼ cup red pepper, diced
¼ cup parsley, chopped
2 tablespoons green onion (or shallots)
2 tablespoons lemon juice
1 whole-wheat pita
Instructions
Boil ½ cup of water and add cooked chickpeas, garlic and boil for one minute. Remove from heat and coarsely mash. Stir in the hemp seeds, lemon juice and season with salt & pepper.
Combine the cucumber, tomato, pepper, parsley, green onion and lemon juice in a small bowl. Season with salt and pepper, if desired.
Fill ½ whole-wheat pita with ⅓ cup hummus and ½ cup cucumber salad.
Nutrition Information
Serving size:
½ stuffed
Calories:
355
Fiber:
13 grams
Protein:
20 grams