The key to a successful crudite platter is to use all the season's best vegetables. Today I choose green for my crudités because sugar snap peas, green beans, asparagus, cucumbers and green cauliflower were all available at my local farmer's market. I recommend taking a few minutes to properly prepare each vegetable. Here is what you do.
Asparagus: Make sure you remove the tough fibrous ends. My trick is to bend the thick end of each stalk until it snaps off. Then boil some water and blanch the asparagus for no longer than 60 seconds.
Green Beans: Line your beans up in a row and trim off the inedible stem ends with a knife. Blanch the beans for 1 minute in boiling water.
Broccoli and Cauliflower: Cut broccoli and cauliflower florets into bite-sized pieces. Blanch the cauliflower for about 60 seconds and do the same with the broccoli.
Sugar Snap Peas: Remove the tough, fibrous string that runs along the side of the peas. Blanch for 30 seconds.
Green With Envy Crudites Platter
Also, add something unusual to your crudite. Today I added some green figs and bittersweet melon. It was my first go with the bittersweet melon and probably my last. It was too bitter: hence the name. I read later that you could reduce the bitterness by blanching it in boiling water for 2-3 minutes, so that is probably the way to go. On the other hand, the green figs were delicious.
I made the creamy ranch dressing with vegan buttermilk, dijon mustard, tofu and lots of herbs.
Vegan buttermilk is easy to make. Just add one tablespoon of lemon juice to one cup of non-dairy, unsweetened almond milk or non-dairy milk of your choice.
I chose Silk non-dairy unsweetened almond milk. Let it sit for 10 minutes and viola you have buttermilk. If you don't have lemon juice, apple cider vinegar or white wine vinegar will also help the milk curdle giving it a buttermilk flavor.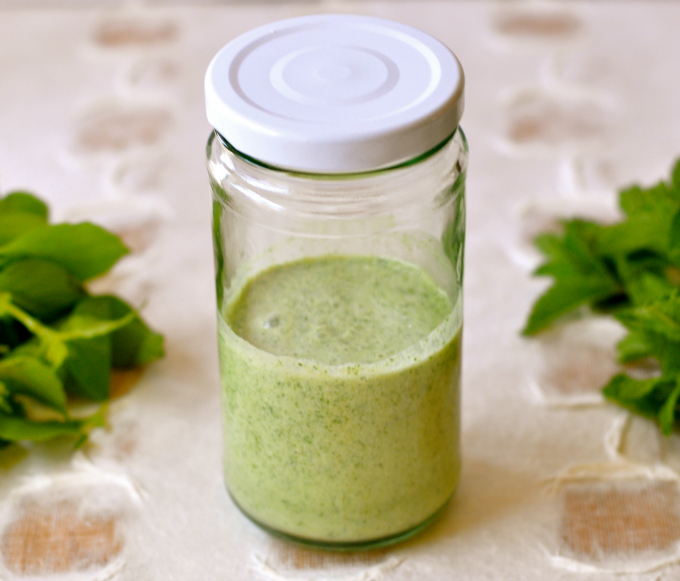 Crudite Platter with Creamy Vegan Ranch Dressing
The best part of this creamy ranch dressing is that there is no added oil, and I promise you won't miss it. Hope you enjoy this delicious crudités platter as much as we did.
As many of you know, I teamed up with Silk Non-Dairy Milk in 2016 because I want to keep all of you as healthy as possible.
You can find Silk non-dairy milk at most mainstream grocery stores. They have many non-dairy options that include almond milk, soy milk, coconut milk, and more.
Unsweetened almond milk is my favorite, and I use it any of my recipes that calls for milk like today's creamy vegan ranch dressing. Here is a store locator.  You can also sign up for their excellent newsletter which has coupons and  recipe ideas.
Don't miss any of Ordinary Vegan's free recipes by signing up here. Learn more about health, wellness and nutrition on my newly launched podcasts here on my website or in iTunes. This week's  podcast unveils the secrets of longevity.
This is a sponsored conversation written by me on behalf of Silk. The opinions and text are all mine.

Creamy Vegan Ranch Dressing
No oil needed in this creamy ranch dressing! Don't be afraid to use all your favorite herbs. Sometimes I add chopped mint.
Ingredients
¾ cup non-dairy unsweetened almond milk
1 tablespoon of lemon juice
½ cup organic tofu, chopped
1 tablespoon apple cider vinegar
2 teaspoons Dijon Mustard
1 garlic clove, minced
2 tablespoons fresh basil, chopped
1 tablespoon fresh dill, chopped
¼ cup fresh parsley, chopped
¼ teaspoon salt (or more to taste)
Fresh ground black pepper
Instructions
In a bowl, combine the non-dairy milk and 1 tablespoon of lemon juice. Let it stand for 10 minutes.
Add the non-dairy milk, tofu, vinegar, mustard and garlic to a food processor or blender and process until smooth.
Add the herbs, salt and ground black pepper and process another 10 seconds.
Taste and season with more salt or ground black pepper if needed.
The dressing will last 3 to 4 days.