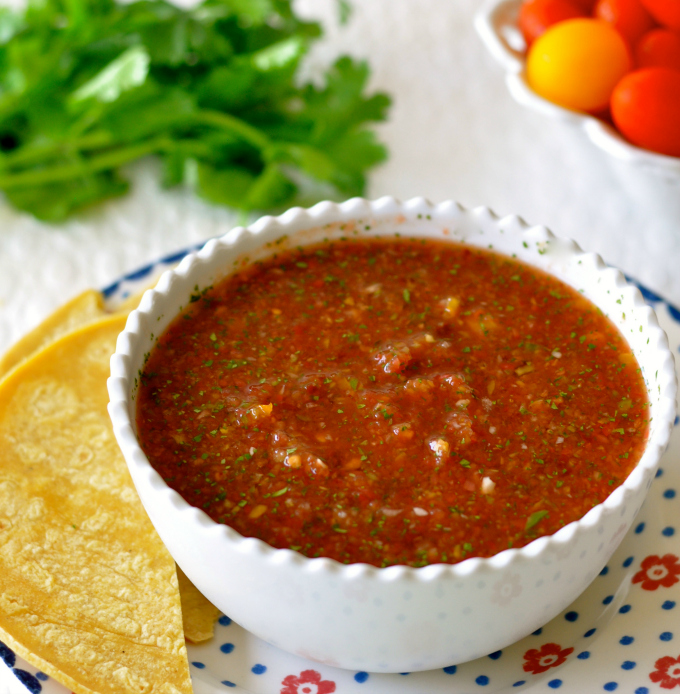 I love a fresh and easy salsa, and I rarely buy store-bought. Especially during tomato season.
Utterly addictive, this bright and spicy easy salsa combines vine-ripened  tomatoes, chipotle peppers, onions, cilantro and garlic to bring out a rich and smokey flavor. I promise you will never want to buy commercially bottled again.
I like to celebrate tomato season by making easy salsa,  tomato vinaigrette, roasted cherry tomatoes over pasta or a simple, delicious tomato sauce with a soffrito of carrots, garlic and onions. You can also freeze a large batch of tomato sauce to enjoy all year long.
Bottom line, try to get the most out of this time of year and take advantage of this treasure of richness.
Also, most people don't know that tomatoes are a primary dietary source of the antioxidant lycopene which is linked to many health benefits.  Lycopene has the ability to extinguish free radicals that cause damage to our cells. Excessive free radical damage is responsible for the development of many chronic diseases.
Tomatoes are also a great source of fiber, vitamin C, potassium, vitamin K and folate (B9).
Hope you enjoy this easy salsa as much as I did.  I will be celebrating tomato season all month. Don't miss a recipe by signing up here.  Also, please check out my health and wellness podcasts here or on iTunes.  Like my blog, my podcasts are dedicated to making you as healthy and as happy as possible.
Easy Salsa Recipe
Easy Salsa Recipe for Tomato Season or Year-Round
Utterly addictive, this bright and spicy salsa combines vine-ripened tomatoes and chipotle peppers for a smokey and rich flavor.
Recipe type:
side, appetizer
Ingredients
4 cups of fresh tomatoes, chopped (if it's not tomato season, use 1 28 ounce can whole tomatoes)
¼ cup onion, chopped
2 cloves garlic, chopped
1 10-ounce can diced tomatoes with green chilies (drain liquid)
1 chipotle pepper in adobo sauce (sold in small cans - optional but adds a smokey richness)
1 jalapeno, chopped (or two if you like heat)
½ teaspoon sugar
½ teaspoon salt
Fresh ground black pepper
½ cup cilantro, chopped
Juice from one lime
Instructions
Add everything to a food processor or blender. Pulse until you get the salsa consistency you like. I like mine a little chunky. Taste and adjust seasonings.