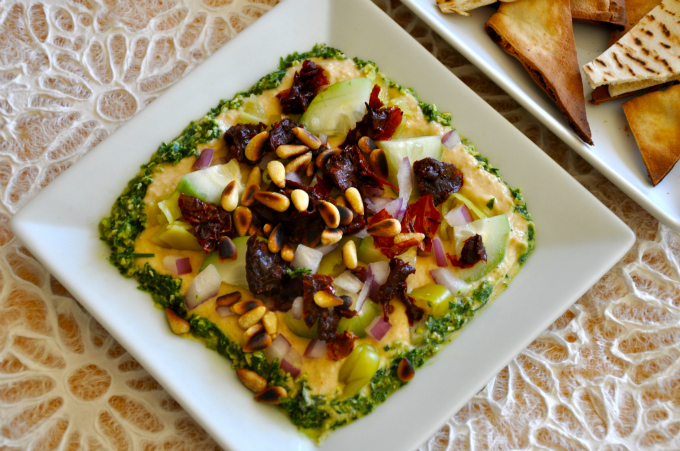 Vegan hummus doesn't have to be boring!  You can get some pre-packaged organic hummus and create this in 10 minutes. High protein and yummy!
The pesto adds enormous flavor to this vegan hummus dip and it's quite easy to prepare. Then you just start layering your cucumber, pepperoncini, red onion, sun-dried tomatoes and roasted pine nuts. Now dig in.
Hope you enjoy this Mediterranean layered vegan hummus dip as much as we did.
Don't miss any of Ordinary Vegan's recipes by signing up here..
Ordinary Vegan now has a podcast on plant-based nutrition and vegan recipes. You can listen here on this website or in iTunes.
Join our health and wellness community on Facebook. There are over 315,000 strong, vibrant community members waiting to embrace you.
Thanks for stopping by and hope you have a peaceful and compassionate day.
Mediterranean Layered Hummus Dip with Pita Chips
Mediterranean Layered Hummus Dip with Pita Chips
Vegan mediterranean layered hummus dip with pita chips
Ingredients
For the pesto:
1 large or two small cloves garlic
⅓ cup half veggie broth - half olive oil (or all veggie broth if you desire)
1-1/2 cups fresh cilantro, woody stems discarded
¼ cup pine nuts
Kosher salt and freshly ground black pepper, to taste
For the dip:
2 cups hummus
Cilantro pesto (above)
¼ cucumber, peeled and chopped
¼ cup pepperoncini, stems removed, chopped
¼ cup red onion, diced
¼ cup sun-dried tomatoes, julienned
¼ cup toasted pine nuts (heat small dry frying pan and toast for a minute or two until fragrant)
Instructions
Pita Chips
Heat oven to 400 degrees F.
Cut pita bread into triangles and lay in a single layer on cookie sheet.
Cook for 5-10 minutes or until desired crispiness. Keep an eye on them so they don't burn.
Dip
Add the garlic, olive oil, and pine nuts to a blender or food processor and blend until smooth. Add the cilantro and blend until smooth.
Transfer the pesto to a bowl, and season to taste with salt and pepper.
Dollop hummus onto a 8- to 10-inch serving dish, and spread it out into an even layer using an offset spatula. Rinse the spatula off, and then dollop the pesto on top of the hummus layer, and spread it out, taking care to disturb the hummus as little as possible; leave a ½-inch border free of the cilantro pesto.
Sprinkle even amounts of cucumber, pepperoncini, onion, sun-dried tomatoes and pine nuts on top. Drizzle with olive oil, and serve with pita chips.